Teachers are some of the most important and influential people in our lives. They help us grow into adults, teach us new things and support us when we're going through tough times. It's no wonder that Teacher Appreciation Week is such an important event!
This year, take the time to thank your teachers for all of their guidance, patience, and moral support. Thank them for all they've done as your child's teacher, and let them know how much you appreciate their positive influence. You can show your appreciation in many different ways, but a handwritten thank you card is one of the simplest and most appreciated.
These free printable cards are a great way to thank your perfect teacher. Print out a few of these cards, and hand them out to your favorite teachers!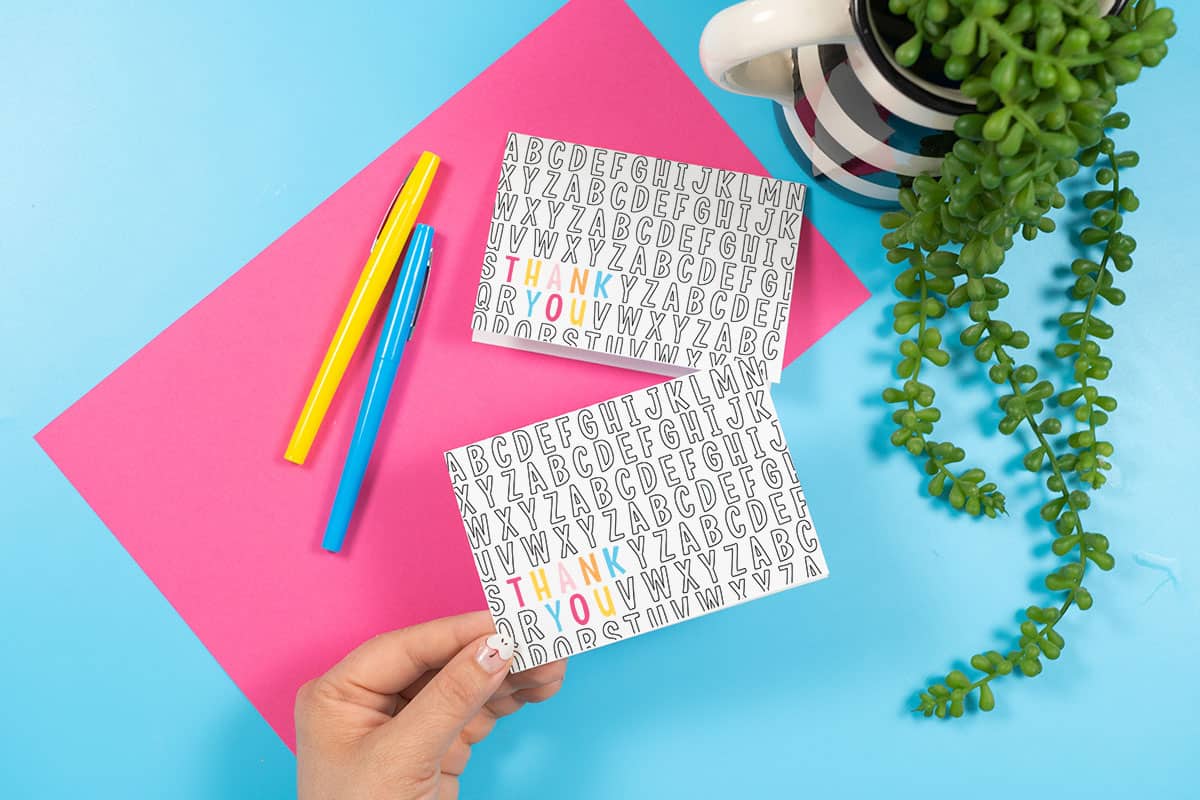 What is Teacher Appreciation Week
Teacher Appreciation Week is an event that celebrates all the hard work that teachers do throughout the school year and beyond. It's a time to show our gratitude for all they've done for us and let them know how much we appreciate them.
Teacher Appreciation Week is usually the first week of May, but it can vary from year to year. Teacher Appreciation Day is always the first Tuesday of May.
Most schools celebrate the week with different activities for students and families to participate in. There's usually ample creativity, cookies, candy, affection, and handwritten notes during the week. Nothing is too great for the best teacher!
How to Show Your Teacher Appreciation
There are many different ways to show your teacher appreciation. Some people like to buy their teachers gifts, while others prefer to write them heartfelt thank you notes. Whatever you choose to do, make sure it comes from the heart and that your teacher knows just how much you appreciate them.
Here are a few ideas to get you started:
1. Buy your teacher a small gift. A mug or a plant is always appreciated.
2. Write your teacher a thank you note from you or your kid. Take the time to express how much they mean to you and how much you appreciate all they've done for a great school year.
3. Give your special teacher a gift card (Starbucks perhaps?). It's a great way to let them know you're thinking of them, and it allows them to buy something they want or need. You can even get a digital gift card for last-minute gift giving!
4. Make a homemade gift. If you're crafty, put your skills to use and make your teacher a one-of-a-kind gift.
5. Volunteer in your teacher's classroom. Show your support by offering to help out in their classroom. They'll appreciate the extra help, and it's a great way to show you care.
Tried & True Creative Library members can use their password and download the free file immediately. Not a member yet? Just enter your info below, and we'll email you the password!
How to Make a Free Printable Thank You Card for Your Teacher
One of the best ways to show your teacher appreciation is a handwritten thank you card. These cards are simple to print out, and they're sure to make your teacher feel appreciated.
All you need to make your thank you card is a printer and some paper. My absolute favorite printer ever is the Epson EcoTank ET-8550. It's a bit more expensive than your standard conventional printer but it can print a huge variety of paper sizes and the quality is just amazing.
After you've printed out my Teacher Appreciation Alphabet Thank You Card, take some time to write out a thoughtful message to your child's teacher. Good teachers are truly such a lifetime gift to students and deserve all the compliments you could possibly write in a thank you card.
If you're having a difficult time finding the inspiration or the right words to write in a teacher appreciation card, another option would be to have your child write it out instead. Is there anything sweeter than a child talking about their wonderful year with a magical teacher and then signing it with the child's name? I think not!
Want more free alphabet Printables?
If you love our free printable thank you cards, check out these other free printables from some of our favorite bloggers! There are a ton of different alphabet printables, perfect for teaching your little one their ABCs.
Teachers do many things for us, but during Teacher Appreciation Week, we should take time to thank them for all their hard work. These printable cards can be an excellent way to show your appreciation with a heartfelt note and make them feel loved! Teachers deserve more than just one week or a single day of thanks – they deserve our support every day!