I love Halloween for the colors, flavors, and decor! The only downside is how expensive it can be. I like to shop at dollar stores when looking for decorations. They have plenty of great items that you can use to make fun crafts like this "The Witch Is In" Really Easy Dollar Tree Halloween Decor!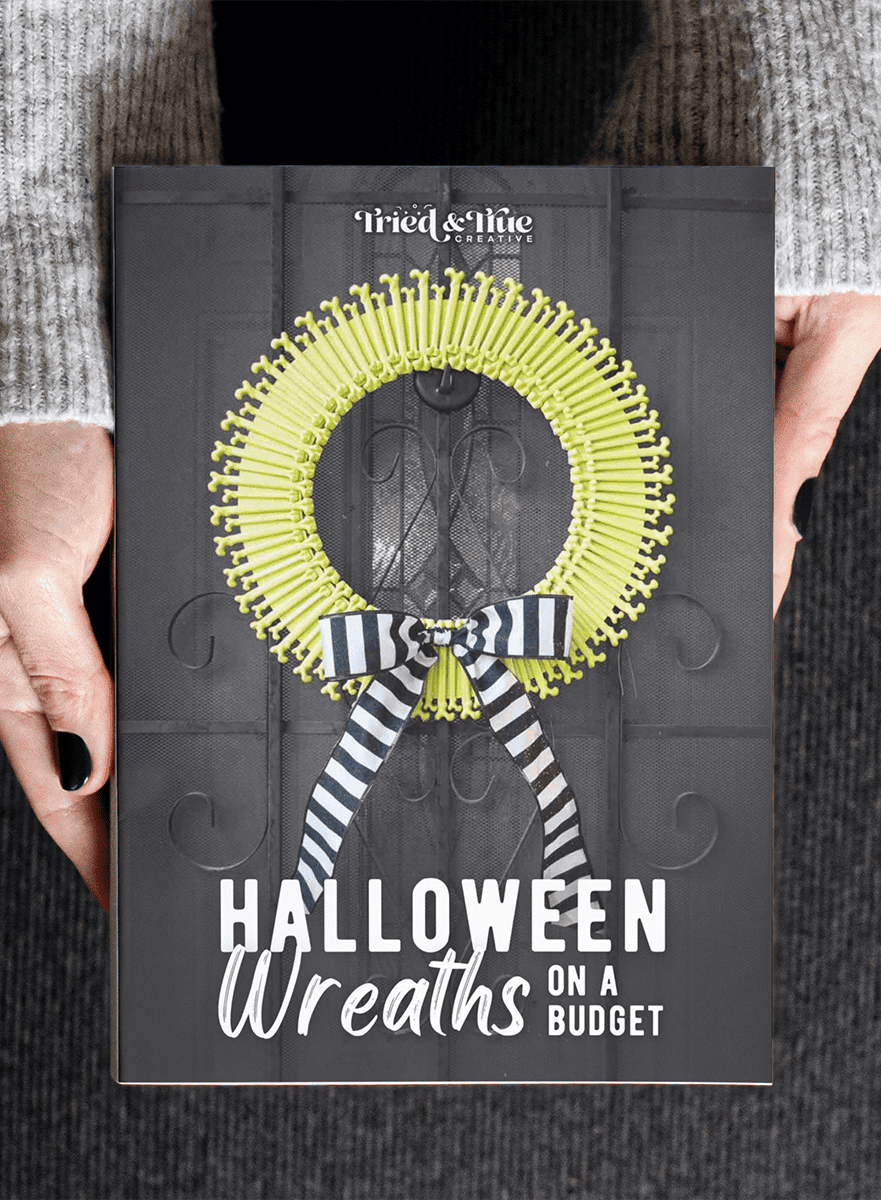 Halloween Wreaths on a Budget
Find all of my dollar store wreath tutorials all in one place! You'll get 18 of my favorite wreaths with supply lists, step-by-step tutorials, and hints I've learned through the years!
Original price: $8.99
SALE price: $4.49
What to buy for Halloween from Dollar Tree
A frugal way to do Halloween decorations is by going to the dollar store for supplies. For example, you can buy fake spiders, cobwebs, and other spooky decorations inexpensively. Dollar store supplies can be a great way to add some holiday spirit without spending much money. Here are other supplies I like to get at Dollar Tree for Halloween:
foam skulls
plastic skull
mini skeletons
supplies for skull wreath
kids treats
candle holders
baskets
front porch decor
front door decor
balloons
mantle items
plastic spider
foam pumpkins
plastic pumpkins
glitter
fake broom
candy
The list could seriously go on and on! Most of the materials for this Easy Dollar Tree Wall Decor are from a dollar store (Dollar Tree), and even though I created them years ago, they still sell many of the same items during Halloween.
"The Witch Is In" Halloween Decor
Materials:
Wooden Painting Panel
Dollar Tree "Witch Is In" Sign
Dollar Tree Plastic Cauldron
Dollar Tree Plastic Eyeballs
Paint
Hot Glue Gun / Glue Sticks
Step 1. Use a pair of scissors (not your fabric ones!) to cut off the back portion behind the handle of the plastic cauldron. Be careful and go slowly, as there may be cracks along the way. Don't worry, though—the crack filler will cover them up!
Step 2. Prepare the painting panel with your chosen paint colors. I went for orange and purple to keep the item lighthearted and whimsical, but it's entirely up to you!
Step 3. Adhere the halved cauldron in place using hot glue. Since this is only temporary until the crack filler dries, don't worry about putting too much glue.
Step 4. First, follow the directions on the can of Great Stuff. It's an easy task, but don't fill the cauldron too high, or you'll end up with a mess (like in the pictures below!). Instead, only fill it to the top of the rim and then press down on the eyeballs. The foam will expand over time so give it about 24 hours before checking back again.
Step 5. Separate the shoes from the sign and glue expanding foam onto the handle. Again, don't worry if it's not stable because the foam will expand and secure the feet. Take the "Witch Is In" sign and glue it to the bottom of the plaque.
That's all there is to it! Attach a hanger to the back of your piece once the foam has dried. No one will realize that you only used a few dollar store items to create this amusing "Witch Is in" Halloween décor!
Dollar Tree is the perfect place to find affordable Halloween decorations. This tutorial will show you how to make a fun "The Witch Is In" sign using materials from Dollar Tree. Check out this project if you're looking for an easy and inexpensive way to add some holiday spirit!
More Dollar Store Halloween Projects