If you've been around Tried & True long enough, you've probably already realized how much I love to make Halloween Wreaths. There's just something about Halloween that makes me to hang skeleton parts off my door! This Halloween Skull Wreath is super easy and inexpensive to make. I got these skulls from Dollar Tree last year but I saw them there again this year. The supplies were really limited so run out now!
Halloween Skull Wreath
Materials
Styrofoam Mini Skulls
16.5 Gauge Rebar Tie Wire (or any other wire that is super sturdy, not floral wire!)
Hot Glue & Gun
Ribbon
Instructions
Step 1. Cut a 3′ length of wire and begin adding the skulls by pushing the wire through the styrofoam. You're going to want to insert the wire in approximately the same area for each skull. This will help the symmetry of wreath later on.
Step 2. Once all the skulls have been impaled laced, make a tight circle (you're going to want all the skulls touching) and bend the wires to secure.
Step 3. Add some hot glue between each skull to prevent the heads from rotating on the wire. I know that usually hot glue and styrofoam is a "no-no" but these skulls have so much paint and glitter, the glue works perfectly well without melting anything.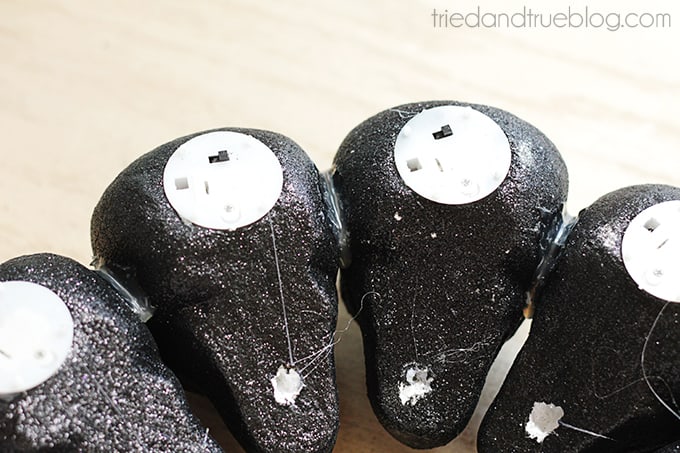 Step 4. Add pretty orange ribbon (also found at Dollar Tree) to the top and hang!

Time To Get Spooky!
Your front door is now ready to greet all those horribly adorable trick-or-treaters! The skulls at The Dollar Tree had little lights in them which made for a fun nighttime wreath that the kids absolutely adored. Hope you enjoy making your own Halloween Skull Wreath! Let me know if you have any questions!
Don't forget to check out some of my other Halloween/Fall wreath ideas!