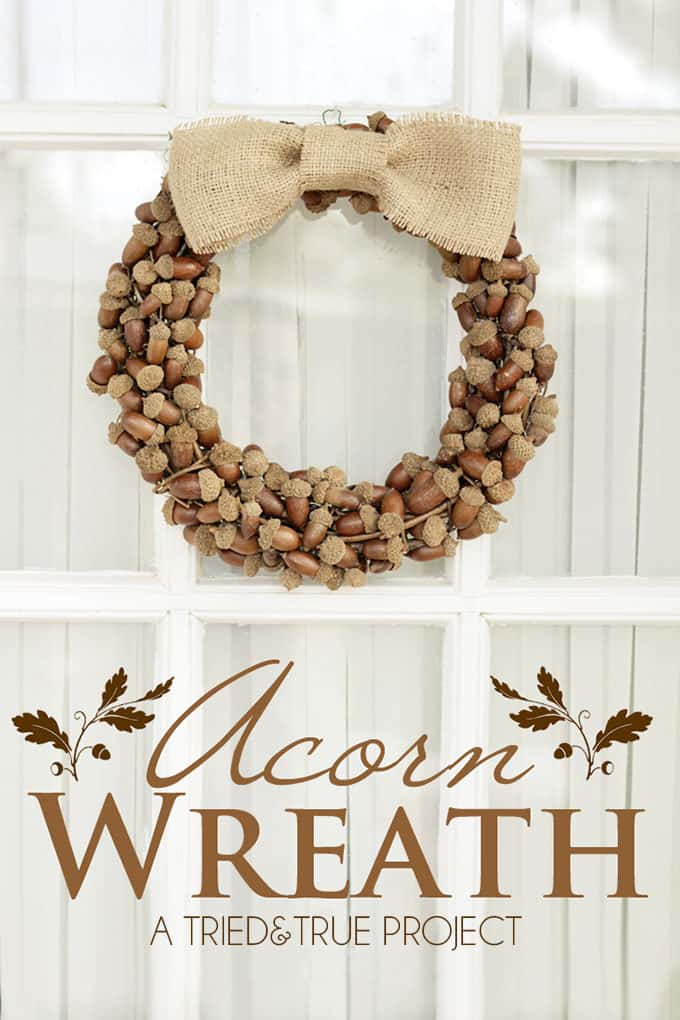 I know it's just barely August but since my favorite season is just around the corner, I can't stop daydreaming of crisp breezes, apple cider, and sweet little boys in Halloween costumes. I know I say it every year but I absolutely adore everything about Autumn! The colors, the scents, the food…love it all. Since so many of you are crazy about Fall as well, I thought you might want to get a heads up on your Fall wreath door decor. I originally created this tutorial for Crafts Unleashed where I received supplies and compensation for the post.
Fall Wreath with Acorns
Materials
Instructions
1. Collect acorns. If you're lucky, you live in an area where you can naturally find acorns. I, unfortunately, live in a part of the country that is more well known for blistering heat and cacti than for gorgeous towering oaks. Luckily, Consumer Crafts offers great value bags full of perfectly sorted acorns. They're clean, easy to use, and you don't have to worry about any unwanted pests catching a ride in the acorns!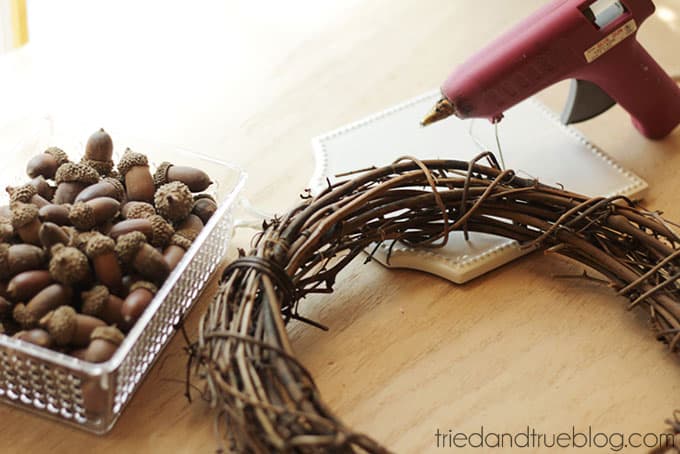 2. Begin by randomly gluing acorns all around the wreath. Spacing out the acorns as you go (instead of completely covering a section at a time) will ensure that you have even coverage with the amount of acorns you have.
3. Continue working until you're happy with the look of your acorn wreath. Make sure that all the glue has hardened before attempting to lift!
4. (Optional) You can add some Gold Glimmer Mist if you're looking for just the tiniest bit of shine. Go with Gold Spray Glitter if you want more pizazz!
5. Cut a 4?x20? strip from the burlap fabric. Fold and hold in place with a piece of the awesome double sided Hercules tape. (One of my favorite craft supplies!) Pinch in the middle and wrap a smaller piece of burlap (2?x5?) around it to create a bow. Glue in place.
All that's left to do is hang in place on your front door and wait for the cooler weather of Fall to arrive! Make sure to check out my other Fall themed projects such as the Fall Leaf Printing (fun project to make with kids!), Travel Picnic Blanket (Autumn is the perfect time for picnics!) and these Cinnamon Sugared Biscuit Donuts (dangerously addictive!). Thanks for visiting!