A friend asked me the other day what I do with all the projects and printables I make. Honestly? I try to give them away or disassemble them for parts. Sometimes I just throw them away. I know that sounds kinda terrible but I live in a small house (as I mentioned in my Teeny Tiny Craft Room tour) and only have so much storage room for unnecessary things. That's not to say my projects wouldn't be helpful to someone else but for me, at this point in my life, I just don't need some of them.
Not so with this Travel Picnic Blanket! I totally need this and there's no way I'm giving it away. Interestingly enough, this project falls under the "Not-Going-To-Buy-One-Because-I-Can-Make-It" category which turns out to have a subcategory called "Should-Have-Just-Bought-One-Because-It's-Taking-Years-To-Make." But finally I have one and it's wonderfully useful and cute all at the same time!
Making a Travel Blanket of your own is really easy and you can customize it as much or as little as you want. First of all, you're going to want to pick up a 5'x5′ Poly Backed Canvas Dropcloth from The Home Depot. I like that the poly backing gives the blanket some water-resistance and the price (10 bucks!) was totally in my budget.
If you decide to add some decoration to your Travel Picnic Blanket, you can use any stencil or make your own with the Silhouette Stencil Material (thank you Silhouette America for sending me a package to sample!) I went with a fun bicycle motif but if you have a Silhouette, you can make pattern. Here's the Bicycle Repeating Pattern in case you want to make the exact same blanket. (Studio File, SVG File)
Full disclosure: this part took foooooor-ever! I love the final result but having to stipple that many bikes took a few sessions with some coffee breaks in between. I don't know that I would do it differently if I were to do this project over again because I seriously love the look but just wanted to give you a heads up!
After you've stenciled the entire fabric and allowed the paint to dry, fold up the blanket and mark where you want the handles to go. You can fold it my way or any other way you like. Doesn't really matter, although, I kinda wish I would have folded mine so that the bike print would be upright in the front but that's just me being my normal particular self.
Use a strong 1/16″ hole punch (I love mine from We R Memory Keepers!) to punch holes in a few strips of leather. I used a package of craft leather meant for belt making but you can use strong ribbon or even an old belt that might have seen better days.
Use strong thread to attach the leather strips to the blanket in the spots you marked previously. If you don't have strong thread on hand, you can just double up on normal thread. Almost done!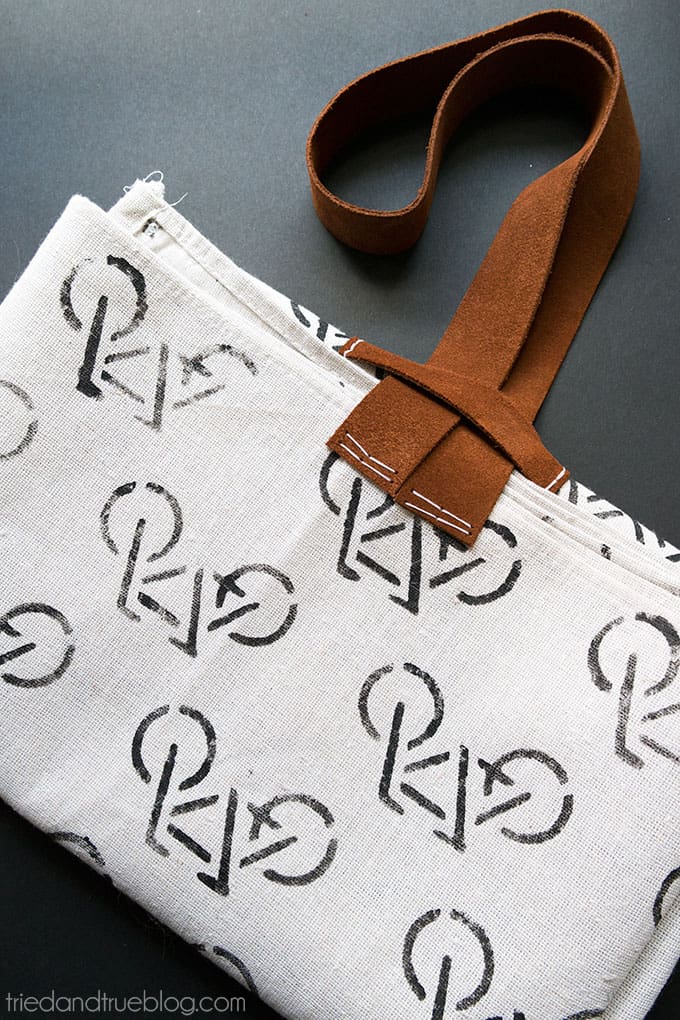 Fold up your blanket, interlace the leather straps, and throw over your shoulder. You're now ready to hit the park! Hope you enjoyed this tutorial and give the Silhouette Stencil Material a try. It was a breeze to cut and the sticky back really helped with placement. Have a great picnic!