One of the things people don't prepare you for when you're the mother of boys is the insane amount of sticks, rocks, and feathers they'll collect over the span of their childhood. Seriously. Not a day goes by that one of my boys doesn't pick up an outside object and comment on it's perfection. I do love their genuine appreciation for the little things (which turn out not to be so little) and I'm constantly try to foster that joy so that maybe,  just possibly a shred of it can survive through adulthood.
That's why I made this Treasure Keeper. I know it looks kind of funny but I swear, it's a perfect addition to any natural playground. With just three supplies, you can create a space that allows your children to organize and show off Mother Nature's treasures!
This post may contain affiliate links for your convenience and to assist in the maintenance of this site.
All you need to make your own Treasure Keeper are some screw eyes (I found some in a picture hanging kit at the dollar store), at least 15 ft. craft bungee cord, and a large wood embroidery hoop or picture frame. I highly suggest you find the hoop/frame at your local thrift store. Just makes sense using recycled materials for a project that celebrates nature, right?
Begin by measuring and marking every 90 degrees with a ruler on the frame. Dissect those in half and mark an additional four spaces. You should now have a radial with eight markings. Start by adding screws to those points and then add more evenly spaced screws if you're frame is large enough. Don't worry if it's not perfect, your kids won't even notice!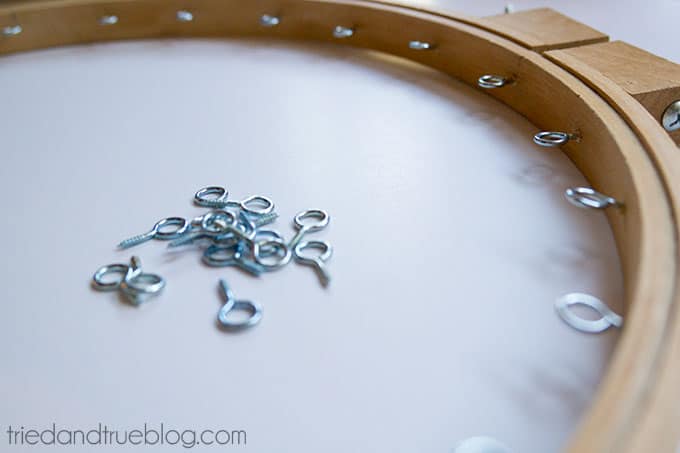 Begin lacing the screws with the bungee cord by starting in one and going across to the exact opposite screw. Loop back around and in through the screw just to the left of the one you started with. Go through that third screw and back to the screw just to the right of the second screw. Continue until all screws have been threaded. Tie off ends and trim. I promise, these directions make it sound more difficult than it is! You're just threading in a circle until you meet back around. Easy peasy!
Tie a piece of the trimmed off end to the top of the hoop/frame and hang near your natural playground area to collect all the amazing treasures. You might have to explain to your kids what this strange contraption is for but eventually they'll be collecting and admiring all on their own!
Sticks, check. Flowers, check. Rocks, check. Pine Cones, check. Feathers, check. Wonder what I'm going to find in the Treasure Keeper next? What natural artifacts do your kids love to collect?
Looking for another fun way to entertain your dirt-loving kids during the Summer? Check out this Travel Sandbox tutorial I wrote for Craftaholics Anonymous!
I'm taking part in the Summer Survival Series for Moms of Boys and there have been so many great ideas already! Every week is a different theme so don't forget to come back for more fun projects!