I created these Muppet Party Favors as a sponsored post on behalf of Blueprint Social and Disney.
I absolutely adored the Muppets growing up and still do to this day. They were such an important part of my childhood and thanks to new releases like Muppets Most Wanted (available on Blu-ray Combo Pack and Digital HD August 12th), my boys have the opportunity to grow with them as well. I designed party favor boxes for a few of my favorite characters and thought some of you might be interested in them as well! (Please refrain from using for commercial purposes or I'll send Sweetums after you!)
There's not a whole lot of instructions involved with this project. Just print out Muppet Party Favors free printables, use the patterns to cut out the coordinating color of felt, and glue in place on the lid of a 12 oz. disposable paper soup cup. Done and done.
I absolutely love the size of these soup cups! They're small enough for little hands to hold easily but large enough to fit a good amount of little treats in. I was even able to fit in one of those fruit snack packs that kids love and are reasonable inexpensive!
Of course, no Muppet post would be complete without a shot of just Ms. Piggy, front and center. She's still just as sassy and awesome after all these years!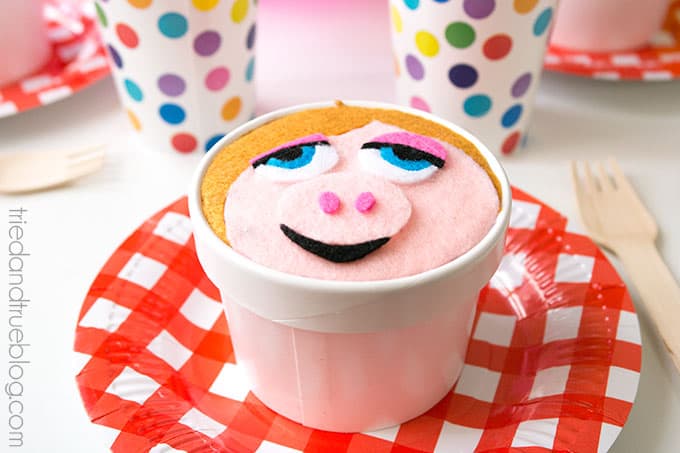 Hope you find these Muppet party favors useful for your next party! Don't forget that Muppets Most Wanted is available on Blu-ray Combo Pack and Digital HD August 12 at Disney.com. With deleted scenes, extra songs, and tons of fun cameos, it's the perfect movie to show during your party that everyone will enjoy! Keep up to date on all things Muppet via Facebook, Twitter, and Pinterest.