Modern Dollar Store Halloween Wreath Craft
The Halloween wreath craft is a tradition that has been around for centuries. It's not just a symbol of Halloween but a way to ward off spirits and other evils from the house. In recent years, Halloween decorating has shifted from being dark and scary to colorful and modern. If you're looking for an easy Halloween decoration this year, then read on!
One of my favorite times of year is when stores start putting away their Summer supplies and stock their shelves with Halloween decor instead. Don't get me wrong, I love the carefree feel of Summer, but nothing makes my heart flutter more than bags of skulls and bones. Since Halloween is all about just having fun, some of my favorite places to pick up supplies are the dollar sections of big stores. Why spend a ton of money on DIY Halloween decorations when you don't have to?
You can check out all of my Halloween Wreath tutorials HERE!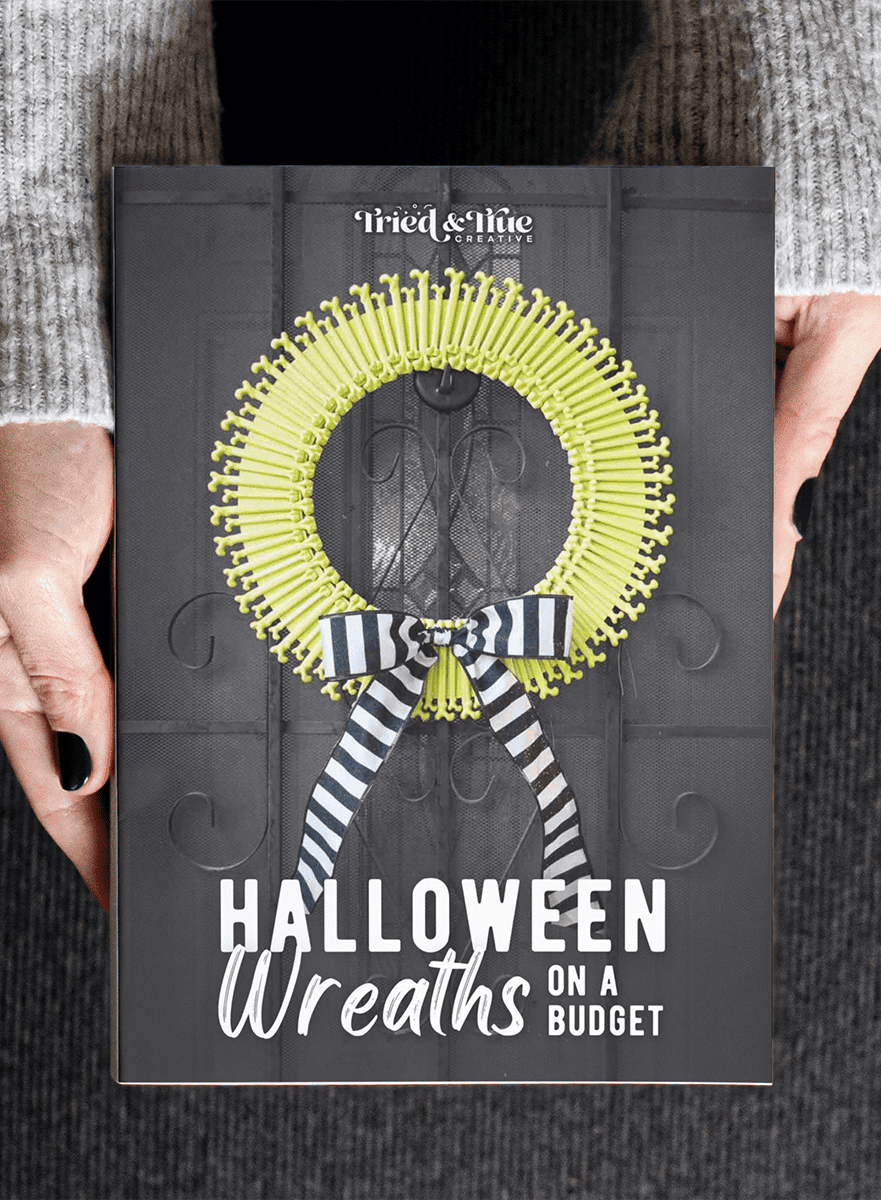 Halloween Wreaths on a Budget
Find all of my dollar store wreath tutorials all in one place! You'll get 18 of my favorite wreaths with supply lists, step-by-step tutorials, and hints I've learned through the years!
Original price: $8.99
SALE price: $4.49
A colorful Halloween
Every year I'm kind of torn between decorating with super traditional vintage Halloween decor or the uber-modern colorful trend that's popular right now. Vintage usually wins out since that's what I have more of, but I decided to try something different this year.
Since I have a 4-year-old daughter, I wanted to make sure that our Halloween decor was age-appropriate. I also wanted something less traditional and a little more modern. I found just the thing in the dollar section of Target!
I love how it turned out, and so did she!
Before we get too far, I want to do a quick shout-out to Kailo Chic. Kara's projects are all fantastic, but her Halloween products are my favorite. She was the first person I saw using this bright color palette for Halloween, so I thought I should credit her. Seriously love everything she makes!
How to make a modern dollar store Halloween wreath
This Modern Halloween DIY Wreath is so easy to make, you almost don't need a tutorial! But if you're looking for one, I'll break it down in detail below. Make sure to check out the Tips & Tricks section below for hints on making this wreath!
You only need three supplies to make the wreath:
brightly colored skulls from Target Bullseye's Playground
16.5 Gauge Rebar Tie Wire (or any other wire that is super sturdy, not floral wire!)
Step 1. Use an awl or any other sharp tool to pierce holes in the sides of the skulls. Try to keep them as symmetrical as possible. (See tips section if you don't have an awl.)
Step 2. Use wire cutters to cut a large section of wire (approx. 48″ long). I like to cut mine larger than I need to make sure I have enough. Straighten the end of the wire and begin stringing the skulls.
Step 3. Continue adding the skulls to the wire until you're happy with the length. Use pliers to twist the wires shut.
Step 4. Add a line of hot glue to the back of the skulls to prevent them from rotating on the wire.
Step 5. Finish the wreath by adding a big decorative bow. I got this wired ribbon from Michaels. I love their seasonal ribbons!
That's it! Super easy, right?
Tips and Tricks for Dollar Store Halloween Wreath:
Here are a few tips and tricks I've learned from all the years of making Halloween wreaths:
Make sure the wire is thick enough that it can hold its shape. Last thing you want is a saggy wreath!
If you can't find the exact same colorful skulls I used, you could always spray paint the standard white ones.
Don't have an awl? A large nail would also work. Just make sure to be careful when puncturing!
Make sure the skulls aren't pushed too tightly together. It'll be harder to get them to lay flat if you squeeze them together.
You can expand or shrink the size of this wreath by adjusting the number of skulls and length of wire. Perfect for any door size!
This is a great project for older kids! Stringing the skulls on the wire really works on their hand/eye coordination and fine motor skills. If you have younger children, hold off on adding hot glue to avoid any burns or splatters. I was very careful with her around the heat from the glue gun and she never got burned once.
Customize Your Wreath
Of course, you can take the basic premise of this tutorial and customize it to make it 100% your own! Use natural colored skulls if you're looking for more of a classic Halloween look, or spray paint everything black for a full-on goth feel.
Colors aren't the only way to change up this wreath. Adding moss or colored tulle in between each of the skulls will create a totally different look!
Don't forget to share with me on social media how you made this wreath all your own. I absolutely love to see your unique takes on all of my projects!
The Halloween wreath craft is a great way to show off your creativity. With just a few supplies, you can make the Halloween decoration of your dreams. The Halloween trends are changing from traditional colors and patterns to brighter ones that pop! Halloween is all about having fun, so feel free to take this opportunity to be festive with bright yellows, greens, purples, or any other color combination you want.
Pin this craft to your Halloween ideas board so you can come back and make it again next year!
More DIY Halloween wreaths
If you're looking for more dollar store Halloween wreath-making tutorials, this is the place to be! I've been using Dollar Tree DIY Halloween supplies for years to make modern and unique wreaths. You can click on any of the images below to go directly to the Halloween DIY wreath tutorials: