If you're looking for a unique way to welcome your guests, then our Natural Wedding SVG Free Welcome Cut File is just what you need! The natural elements of the free SVG cut file are perfectly fitting for an outdoor or rustic wedding. Your unique wedding is one-of-a-kind, so why not start it with a one-of-a-kind welcome?
Scroll to the end of this post to see tons of free wedding SVG files from some of my blogger friends!
The perfect natural wedding
Most couples spend months preparing for their big day. They plan the venue, choose their menu, and more. But you're not just inviting your friends and family members to your wedding; you're inviting nature!
And that means that this is a great time to think about how you want it all to look. If you want an outdoor wedding with lots of natural elements, then consider getting married under a tree or on the beach. Or maybe even at home in the garden!
After all, there are many different ways to make your wedding special – it's important to consider what matters most for making this day perfect for you and your beloved.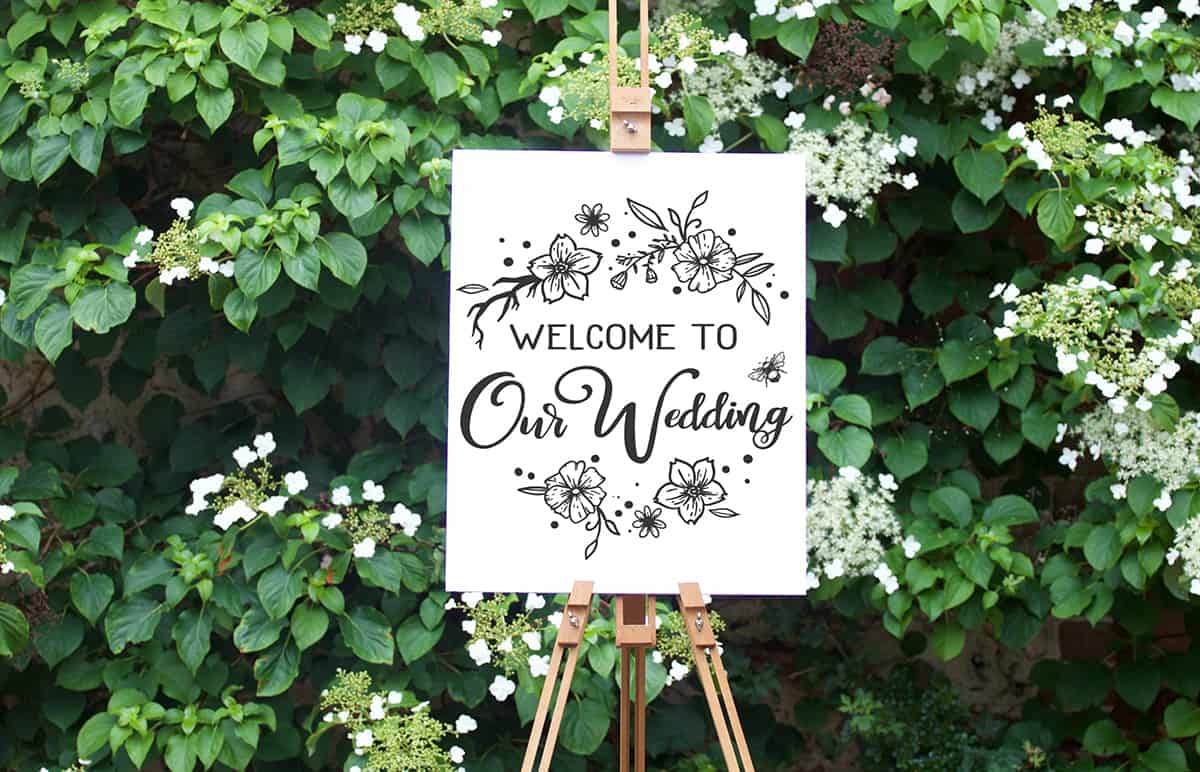 What is the Natural Wedding SVG Free Welcome Cut File
I created this Natural Wedding SVG Free Welcome Cut File after seeing the most gorgeous wedding pictures online. It was so beautiful seeing a couple that was starting their new life together while still respecting Mother Earth!
I wanted to make this wedding SVG cut file free for all of you lovely people so that your special days could be even more amazing with the addition of beautiful natural elements!
This SVG Welcome Cut File is perfectly fitting for an outdoor or rustic wedding. Your guests will appreciate the beauty and charm of your day while they wait to be seated for the ceremony or dinner.
How can you use it for your wedding
There are so many ways to use this free cut file! Of course, a digital cutting machine is a must if you plan on cutting the design out. I highly recommend a Cricut Maker or Cricut Explore. I've used them for years and still love them!
Cut it out and frame it for your wedding guestbook table
Set up a welcome station where guests will sign the cut file as a guest book
Hang the cut file on a simple string from a tree branch, porch, or tent
Apply the cut file to a small easel for a unique sign
Hang it from the ceiling of your reception area
Use it on your ceremony pamphlet or reception menu
Create a sticker for your scrapbook
Cut a stencil from vinyl and apply design with paint on table runner
No matter how you choose to use this SVG Welcome Cut File, it will create an inviting atmosphere that everyone is sure to love.
Why should you consider a natural wedding
Everyone loves a wedding! And what makes a wedding even better? The love from family and friends. But you know what other types of love are fitting for this day? Mother Earth's love!
I'm sure by now everyone has seen pictures of brides with amazing dresses, hair, makeup, flowers… the list goes on and on. But why not consider the aesthetic of Mother Nature for your special day?
The look can be still elegant and charming, while also being more natural. A natural wedding keeps it simple and isn't that what weddings are supposed to be about? Keeping it simple so you can focus on the person standing in front of you?
A natural wedding means that less is more, which means you can spend less on all of those wasted decorations and spend more time with your family. Mother Earth will thank you for having a natural wedding!
How to download the Free Welcome Cut File
Downloading the Free Wedding Welcome Cut File is super easy! If you're already a member of the Tried & True Creative Library, just use the password you were emailed and click on the image of this file. You'll have full access to all of the files in our library, which includes this one!
If you aren't yet a member of the Tried & True Creative Library, you can sign up completely free right here. Just enter your information in the box below and you'll get the password email right away.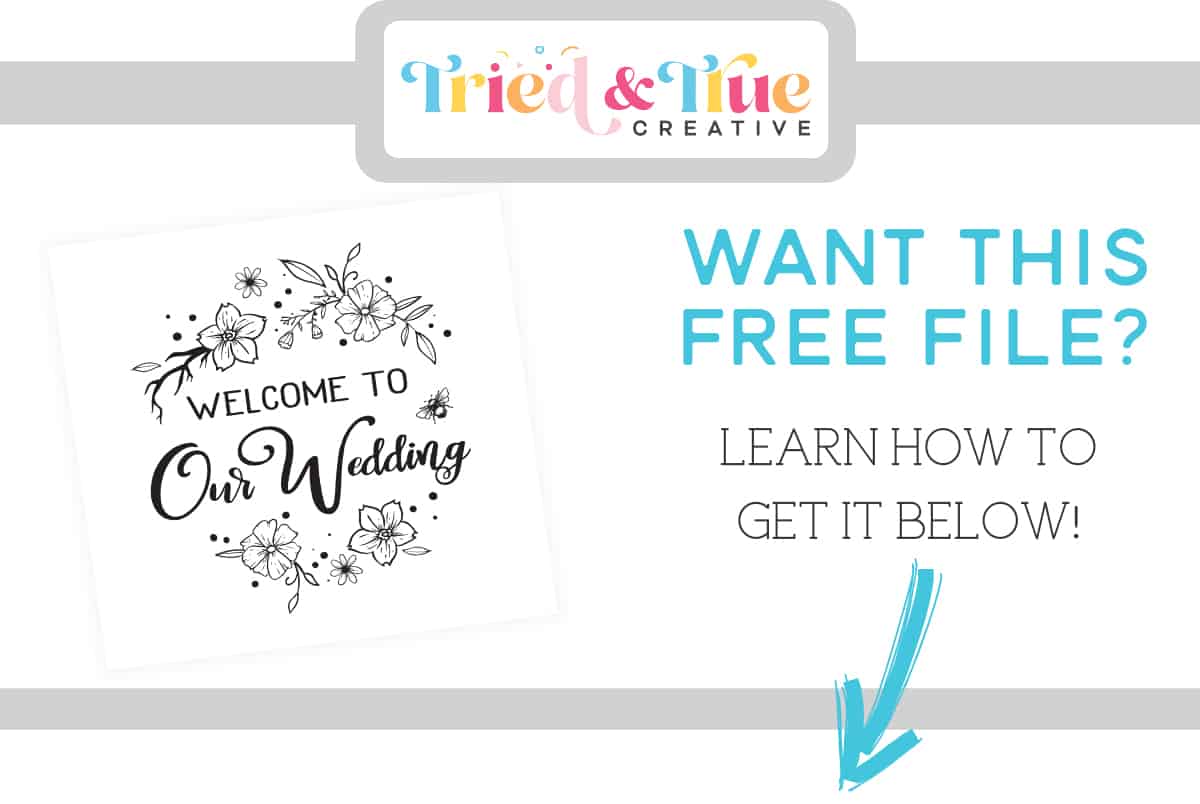 Want more Wedding Free SVG Cut Files?
I've partnered with some amazing bloggers to bring you even more awesome wedding free SVG cut files! Just click on the links below to go grab them.
Happily Ever After
by Persia Lou
3-D Diamond
by Amy Robison
Bride Denim Jacket
by Creative Overload
Wedding Heart Mini Pinata
by Studio Xtine
Will you be my bridesmaid?
by Polka Dotted Blue Jay
Will you be my Maid of Honor?
by Polka Dotted Blue Jay
Wedding Invitation Pocket
by Gina C. Creates
Bride T-Shirt
by Pen + Posh
Merry and Married
by Kayla Makes
Miss to Mrs.
by Poofy Cheeks
Bride Tribe
by Crafty Life Mom
Just Married
by Liz on Call
Side Easel Wedding Card
by The Bearded Housewife
Dibs on Forever with You
by The Walnut Street House
Just Married
by Lettered by Stephanie
Bride/Bride Squad
by Tam's Sweet Life
Faux Leather Earrings
by Craftara Creates
All-Inclusive Wedding Couples SVG Cut File
by Spot of Tea Designs
Guardian of the Rings Wedding SVG
by Simply Made Fun
Wedding Welcome Sign
by Tried & True Creative
There are many ways to make your wedding special, but it is important that you consider what will be most meaningful for the two of you. A natural wedding may be just for you!
Not ready to download yet? Save this article by pinning it on Pinterest!
If you have any questions or need help, feel free to contact me anytime. Thanks so much! Happy Cutting 🙂
Want more fun projects?