Wedding season is upon us and soon you'll be elbow deep in gift wrapping and bows! Why not forgo the standard white lace wrapping paper and instead go super elegant just a plain white box and a gorgeous Big Bloom paper flower from Michaels? So pretty and you don't even have to pull out your own wrapping paper or tape!
Stunning
Look how gorgeous those flower colors are, perfect for wedding or baby shower gift giving! Each Big Bloom kit includes everything you need to put these flowers together, including all the petals, center pieces, and double-sided tape. They're great for decorating your special event or as permanent decor in a nursery. How pretty would these look bunched in the corner of a little girl's room?!
Wedding Gift Wrapping
Materials
Gift Box
Ribbon
Craft Knife
Step One. You're going to follow the instructions for making the flowers almost exactly! The only difference is cutting a few strips and weaving in a long piece of ribbon before you start adding the petals to the base circle.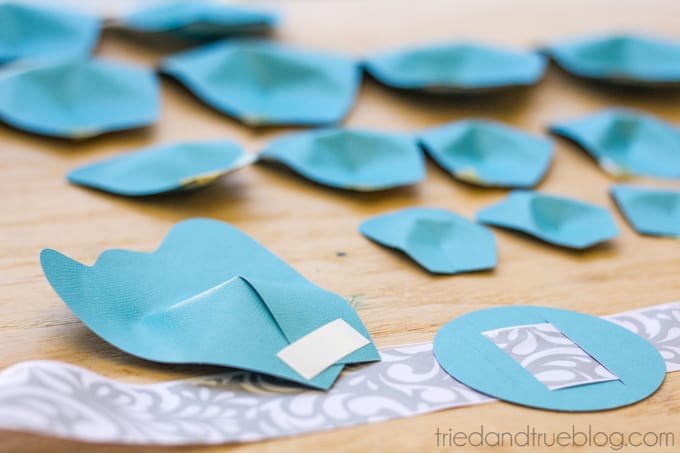 Step Two. Start laying out the petals around the base circle. You can either lay all the large petals in one layer or make a fuller flower by making two levels. Don't worry if you have a petal or two left over, no two flowers are perfectly the same!
Step Three. Continue layering the flower petals until you're happy with the look. Add the center section and your flower is complete!
Step Four. All that's left to do is wrap the ribbon around your gift box and secure in place with a couple pieces of the double-sided tape. If you've got a smaller box you want to put a flower on, just omit the larger petals. Your beautiful gift is ready to give on that special day!
Perfect for everything
I absolutely adore these gorgeous Big Bloom flowers! They're easy to use and put together and come in tons of gorgeous colors.  I love using them for wedding gift wrapping but they would be equally nice for a special birthday or baby shower. Super easy and sweet!