The Raven Halloween Wreath combines two of my absolute favorite things, Halloween and reading! What started off as a basic chain wreath tutorial morphed into a hanging tribute to everyone's favorite author of woe, Edgar Allan Poe. I mean, who wouldn't love to have the entire length of The Raven hanging on your door? Plus, there are so many ways to customize this wreath and, honestly, finding the small accessories to add is the majority of the fun!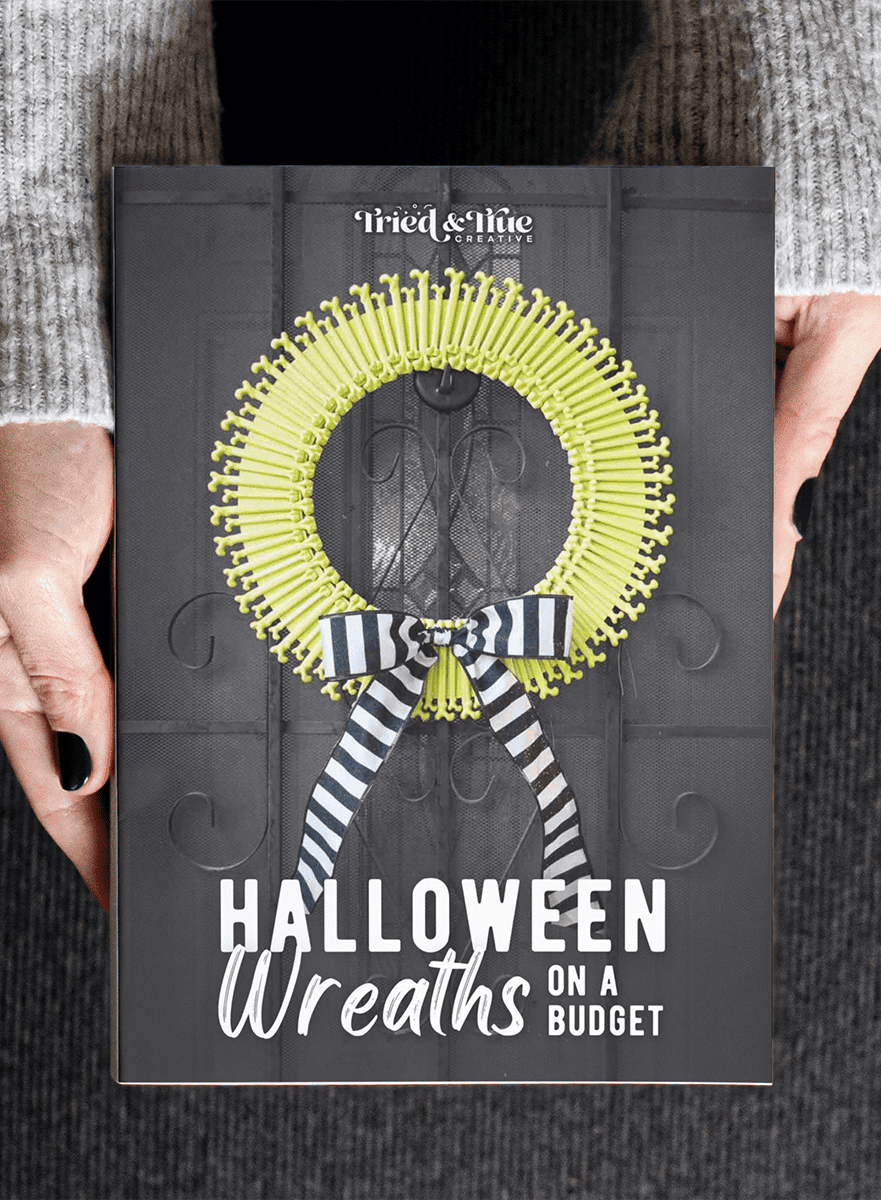 Halloween Wreaths on a Budget
Find all of my dollar store wreath tutorials all in one place! You'll get 18 of my favorite wreaths with supply lists, step-by-step tutorials, and hints I've learned through the years!
Original price: $8.99
SALE price: $4.49
The Raven Halloween Wreath
Materials:
Plastic Fake Metal Chain (I found mine at Dollar Tree)
18 gauge wire
Large Black Raven (I found mine at Michaels)
Random Small Accessories (Large Black Raven, feathers, etc.)
Step 1. Begin making the "chain" wreath by wrapping the garland around the wreath form and securing with the wire. I forgot to spray paint the wire wreath gray before I began and totally regretted that! Not that big of a deal but you can see the green slightly in between the chain so spray paint totally would have fixed that.
Step 2. Continue wrapping and tying until the entire wreath is filled in. I ended up using 5 short lengths of chain garland from the dollar store. They were really easy to connect the end of one to the beginning of another. I saw a similar set of chain at Michaels that was a little more expensive but longer too.
Step 3. Print out "The Raven" free printable onto cream paper, cut through the middle and tape together to create one long sheet.
Step 4. Use Distress Ink on the edges to create a vintage look.
Step 5. Use strong Hercules Double-Sided Tape to adhere the paper in place. I loooooove this tape!
Step 6. Use wire to attach your bird to the wreath. Mine came with a wire stand so it was super easy to just use that to wrap around.
Step 7. Tie a simple bow around the side of the wreath. Of course, you can omit this step if bows aren't your thing!
Step 8. Use hot glue to attach smaller accessories in place. I added a smaller morbid-looking skull and a few feathers I found in my backyard but it's totally up to you what you want to add!

Nevermore…
How fun would it be to have the entire length of "The Raven" by Edgar Allan Poe hanging on your door? It really is the perfect way to celebrate the awesomeness of Halloween! Hope you enjoy making one!