I'm a big fan of making wreaths and Halloween wreaths are my absolute favorite! I've made my fair share of spooky wreaths but this has got to be one of my favorites. It combines the sophisticated look of Victorian glam with eeriness of black crows. From a distance it just looks like a rustic black wreath but your guests are definitely in for a surprise when they get closer!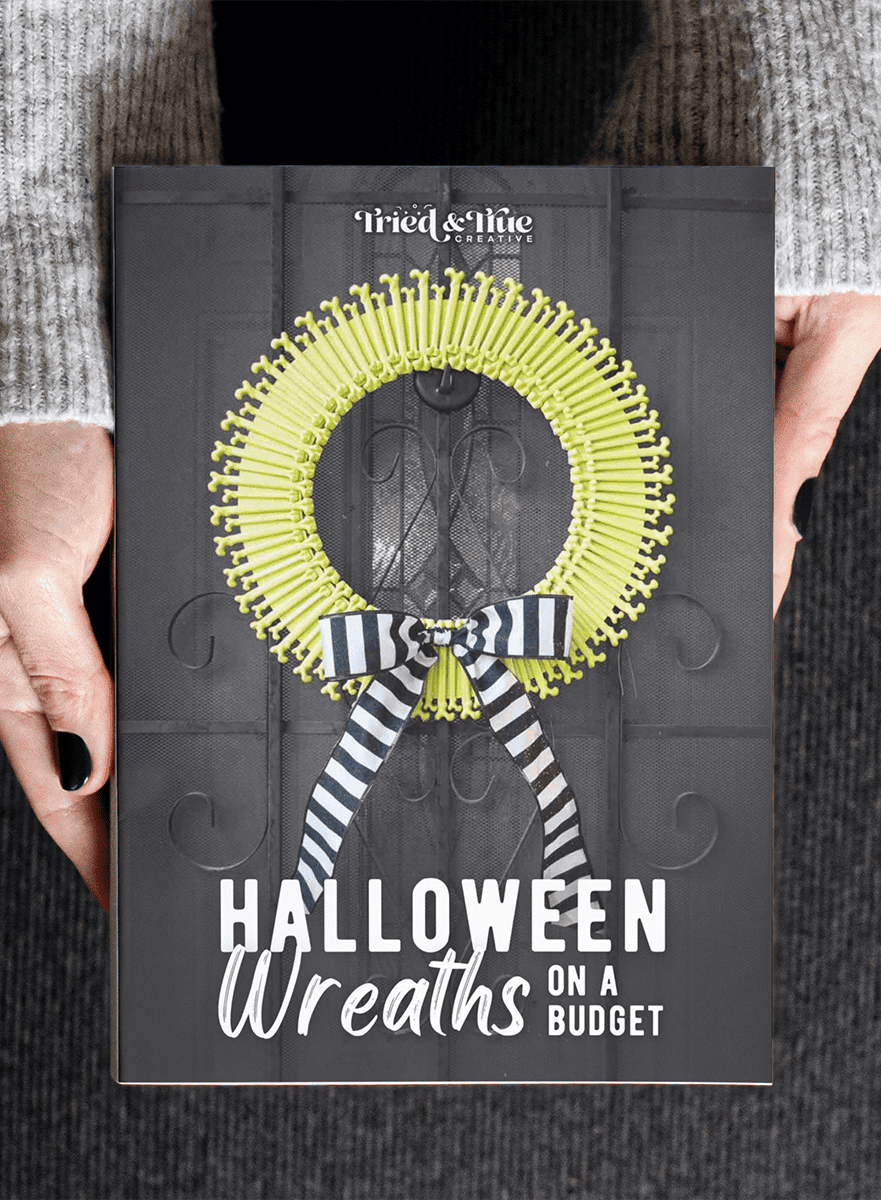 Halloween Wreaths on a Budget
Find all of my dollar store wreath tutorials all in one place! You'll get 18 of my favorite wreaths with supply lists, step-by-step tutorials, and hints I've learned through the years!
Original price: $8.99
SALE price: $4.49
Black Crow Halloween Wreath
Materials:
Step One. Gather necessary supplies. Keep in mind that this is a Halloween wreath so you can do pretty much anything with this tutorial! Don't have Spanish Moss? No problem, rafia will work well too! Don't have a wire wreath? Just cover a piece of cardboard cut into a wreath shape! Other than the crows, nothing is absolutely necessary!
Step Two. Pack the Spanish Moss into the wire wreath and use a ample amount of filament wrapped around to secure. I wanted more of a rustic look to my wreath so I let a good amount of the moss stick out a bit. It all depends on what look you're going for!
Step Three. Before gluing in place, layout the birds to make sure you have enough to fill the wreath completely and that you're happy with the look. Glue in place with a good amount of hot glue. I would suggest trying to get at least one section of each bird glued onto the wire frame. It'll make the whole wreath just a bit more stable.
Step Four. Print and assemble the Free "Halloween Crow Wreath" Banner. Use markers or an ink pad to add shade and extra dimension. Glue in place.

Once all the glue has dried, the only thing left to do is hang on your door to greet all all your ghoulish guests. I can't tell you how many people had no idea the wreath was made out of crows until the got a few feet from it. Cracked me up every time! Hope you all have a great October and an even better Halloween!