It doesn't get easier than this Dollar Store Halloween Skull Wreath! All you need is a few basic craft supplies and you'll be ready to greet all the ghosts and goblins at your doorstep!
The dollar store is one of my favorite places to find Halloween craft material . I've been making wreaths from these inexpensive supplies for a few years now and I've got to tell you, this one may be my favorite yet! Done in 15 minutes, this wreath is the perfect way to greet your guest at your next Halloween party!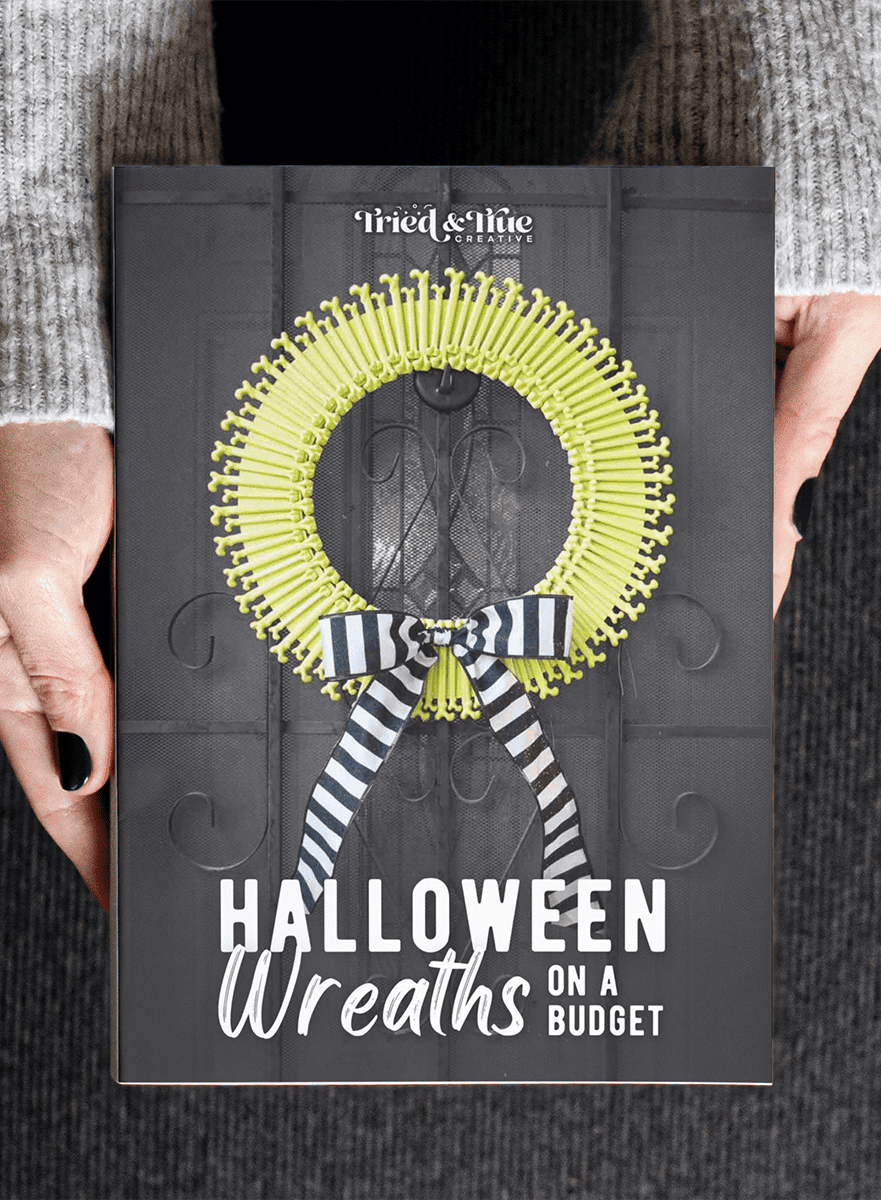 Halloween Wreaths on a Budget
Find all of my dollar store wreath tutorials all in one place! You'll get 18 of my favorite wreaths with supply lists, step-by-step tutorials, and hints I've learned through the years!
Original price: $8.99
SALE price: $4.49
Materials needed for Dollar Store Halloween Skull Wreath :
Black Sheer Ribbon (also from Dollar Tree)
16.5 Gauge Rebar Tie Wire (or any other wire that is super sturdy, not floral wire!)
Hot Glue & Glue Gun
Watch this video or check out the tutorial below!
Time needed: 15 minutes.
This Dollar Store Halloween Skull Wreath is super easy to make and looks great hanging on any door or mantle!
Punch Holes

If your skulls are plastic, take a sharp pair of scissors or a large awl and punch holes in the sides of all the skulls. You don't have to worry about this step if the skulls are the foam versions.



String Onto Wire

Cut a 3′ section of wire and string the skulls one at a time.



Twist Wire

Once all the skulls are in place, twist the wire to close and cut off excess with wire cutters.



Secure with Glue

Position the skulls and secure with a good amount of hot glue in between each one. I found it helpful to add a bit of glue to the front and a ton of glue to the back!



Add Bow

Wrap the ribbon around the bottom of the wreath and tie a bow in place. Your Dollar Store Halloween Skull Wreath is done and done!


Yay for Dollar Stores!
You almost don't even need a tutorial this Dollar Store Halloween Skull Wreath is so easy to make! I chose to make mine with three different colors of glittered skulls but you can also make it with just one color like this Halloween Skull Wreath I made a few years ago. It's the perfect welcome to your Halloween party!
Don't forget to check out all the other great Craft Lightning party ideas through the link below!
Want more fun Halloween projects?