Have you started planning your Halloween party yet and wondering just what you're going to do to entertain all those little ghouls and witches? I've got the perfect Halloween party game for you…Halloween Cornhole! It's super fun to play and as an added bonus, the kids can make their own spiders and take them home as party favors. Win/win, right?! This project doesn't take a lot of materials to make but they are kind of specific. I got my supplies from Consumer Crafts (whom I originally wrote this project for) but you can always try to make the board and spiders yourself!
Cornhole Halloween Party Game
Materials:
Step One. Use the activity bucket to assemble the beaded spiders. As I mentioned above, this is a great project to begin the party with. If the party attendees are really young, you can do a little pre-assembly before they arrive by attaching the legs with a glue gun. The kids can then have a great time adding different colored beads and eyes. Don't forget to fold up the ends of the pipe-cleaners after the beads have been strung!
Step Two. Paint the wood cornhole board black and allow to dry completely. Use the double-sided tape to create a spider web design, remove the protective backing, and sprinkle with the glitter. So much fun, right?! Use a paintbrush to remove any extra glitter.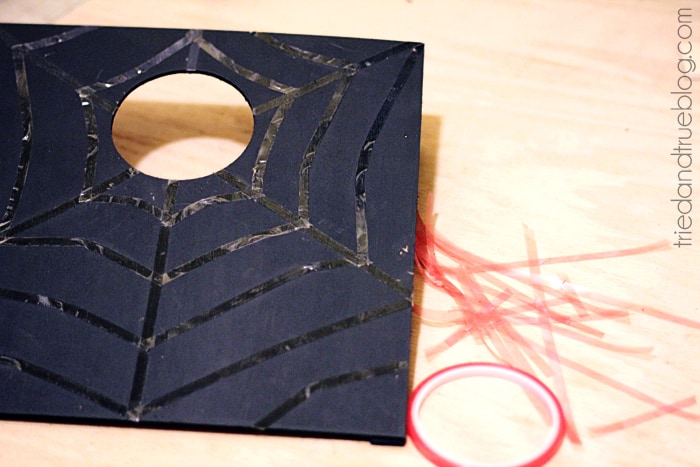 Step Three. Have the kids line up and one at a time, try to throw the spider into the hole. You can either keep it simple (if you're playing with kids under 5) or get more complex by keeping score (10 points for hole, 5 points if the spider lands on the board, etc). There are tons of different ways you can play this Halloween party game, all of them fun!
I hope you have a great Halloween party and that the kids love playing Halloween Cornhole! Don't forget to check out all my other Halloween Crafts for kids like these Halloween Treat Boxes, "Eye Love You!" Halloween Gift, and Halloween Bucket List!