Start the year off right with this"Get Your Cray-On" Teacher Gift Card Holder! An adorable way to give your teacher a handy and practical gift card.
I know that gift cards are somewhat impersonal but I just love how practical they are! That's why I designed this "Get Your Cray-On" Teacher Gift Card Holder. Giving a gift card may not be the most exciting gift but at least the holder can be cute!
This post has been sponsored by Xyron and contains affiliate links. All thoughts and opinions are my own.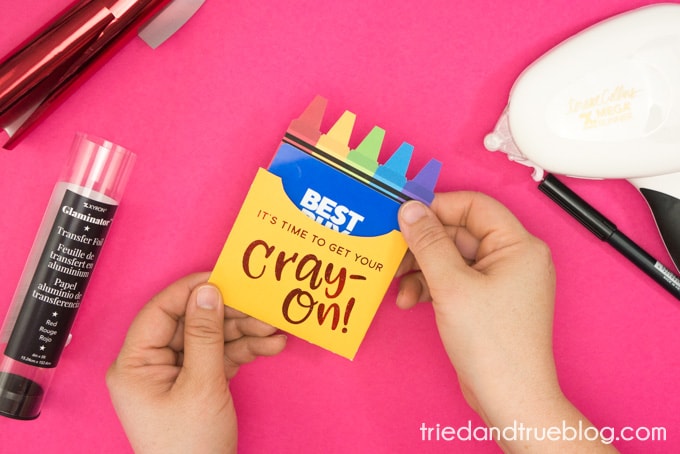 Crayon Teacher Gift Card Holder
Supplies you'll need:
"It's Time To Get Your Cray-On" Free Printable (found below)
Time needed: 15 minutes.
Using the Glaminator to add the foil detail is optional but really makes this project pop!
Print & Cut

Print out the "Get Your Cray-On" file and use a pair of sharp scissors to carefully cut out both images. Keep in mind that if you want to foil the words, you'll have to print the crayon box with either a laser printer (this is the little one I have!) or use a copy machine.



Add red foil

Place the crayon box cutout inside of the protective sheet and layer a piece of red foil over the words. Run through the Glaminator. Peel back foil to reveal the awesomeness!



Assemble both

Use the Mega Runner to assemble the crayon box. Run a strip of the adhesive on the back of the gift card and place on the crayon cutouts.



Give to teacher!

Place the crayons inside of the crayon box and give to your favorite teacher!


Welcome Back To School
I designed this "Get Your Cray-On" Teacher Gift Card Holder especially for those super patient instructors in our life but it would also work as a gift for almost anyone else. Sending a gift card through the mail? This would look perfect in any greeting card! Or what about a graduation gift for a new student teacher? So many options!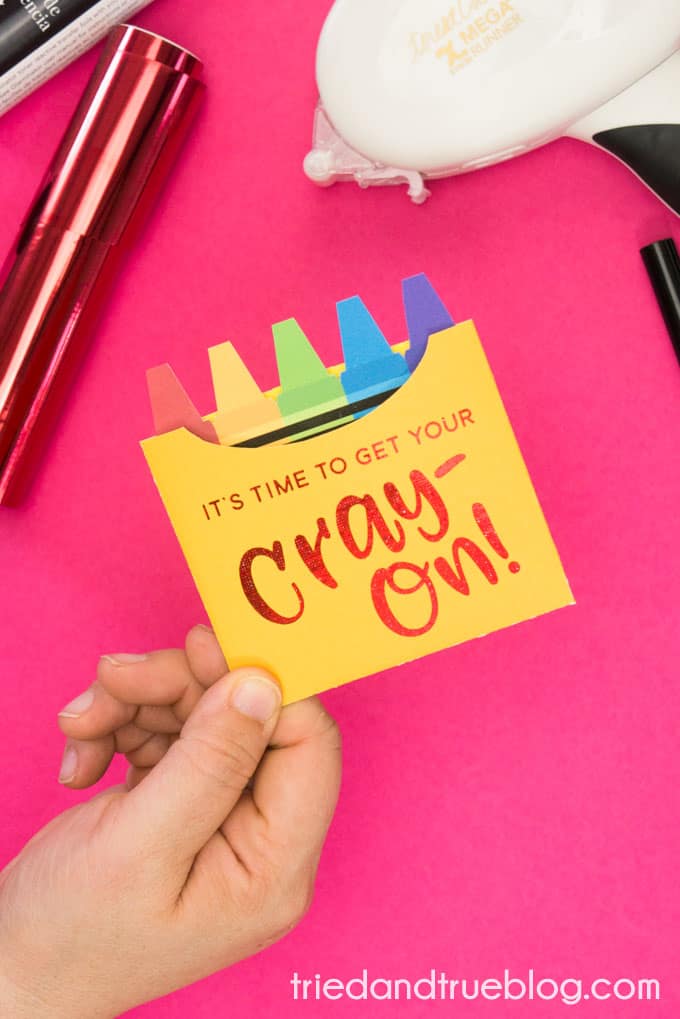 I'd love to see how you customize this project so make sure you tag me on my social media accounts!
Instagram | Facebook | Pinterest
Want more fun free printables?