This End of Year Classmate Bubble Gift comes together easily thanks to the free printable labels you can find below. You'll love how inexpensive these are while your kids will love giving their friends a fun "Happy Summer" gift!
Every year my kids want to give their friends a gift before school lets out and every year I'm left scrambling to figure out an inexpensive and easy option. Not this year! It seriously doesn't get any easier than this!
Everyone Loves Bubbles
Seriously. Who doesn't love bubbles, right? The kids probably won't care about the cute label or the handmade bubble wand but we had tons of fun making them it's a win/win for everyone. I found these bubble containers at a dollar store but I also found some similar options on Amazon.
If you're looking for a different end of year classmate gift, these Pencil Gift Boxes or My Sunshine Lip Balm Gift would be perfect too!
Making your own bubble wands is totally optional and the End of Year Classmate Bubble Gift will still look great without them. If you do, however, have the time, these bubble wands couldn't be easier! Just use some thick wire to make a basic wand shape and use plastic beads to cover the handle. My 8 year old son had fun making them pretty much by himself!
One of the greatest things about this end of year gift is that once kids are done with the bubbles they can keep the cute wands for future use. We used some colorful heart beads that were also found in at a dollar store but there are a crazy amount of shaped beads that your kids can choose from to make this craft. How fun would car-shaped beads be too?!
Hope you enjoy making this super quick project for your kids' classmates and have a wonderful summer full of memories! We'll be either at the swimming pool or camping in the back yard!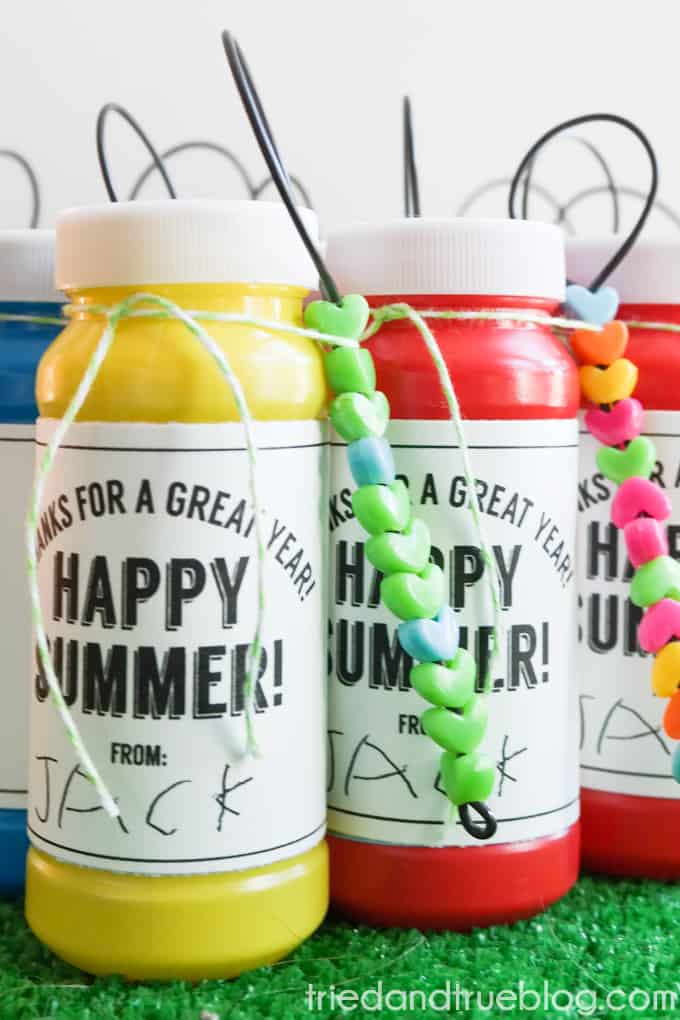 I'd love to see how you customize this project so make sure you tag me on my social media accounts!
Instagram | Facebook | Pinterest
Instagram | Facebook | Pinterest
Want more Tried & True projects? You're going to love these: