My 4 year old son has been fascinated with the inner workings of our bodies lately so I went looking for x-rays that we could use with our light table to fully explain skeletons to him. Unfortunately, all the pins I found either went to forbidden pages or items for sale. Oh well, guess I'll just whip some up…how hard could it be?!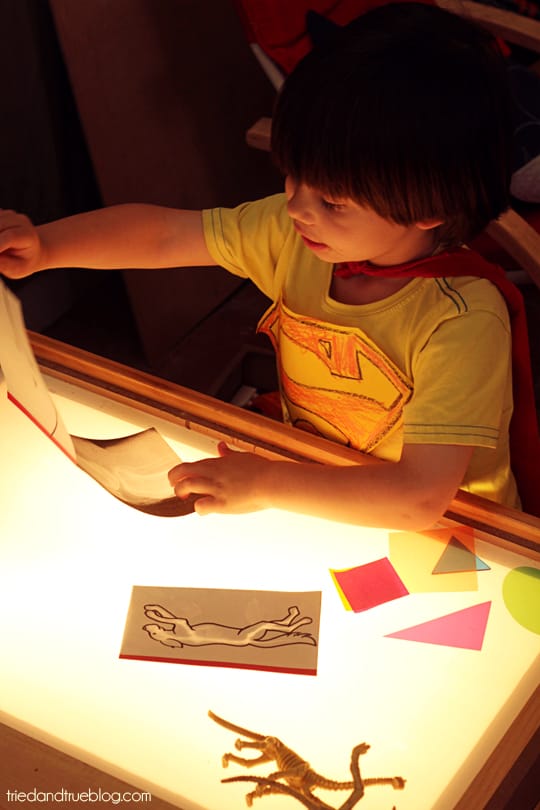 It was actually more involved than I thought it would be! Turns out, googling "Head X-Ray" brings up a lot of really disturbing images. And while a nail in the middle of someone's head is scientifically amazing, not really the lesson I was going for with my little one!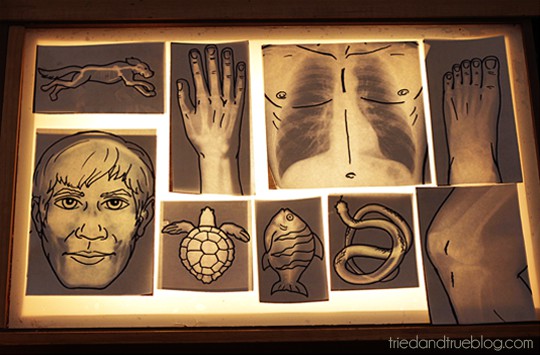 After hours of looking for just normal x-ray images (as much as I can tell!), I resized and adjusted the contrast to make them as clear as possible and then had my husband draw the corresponding line drawings. Awfully handy having an amazing artist in the family! 😀
I printed the x-rays on vellum paper with the drawn images printed on just standard printer paper.  You can either tape the x-rays and drawings together to create a flip book or just leave them separate and have your kids be able to match the drawing to the x-ray. These work great with light tables but you can also just hold them up a window to see the "x-ray" action!
I thought I would put these up on T&T just in case there are any other parents out there who don't want to go through page after page of grizzly x-rays. Your stomach can thank me later!