Make this easy Fake Sand Recipe the next time the kids are screaming for something to do! Only needs two basic ingredients!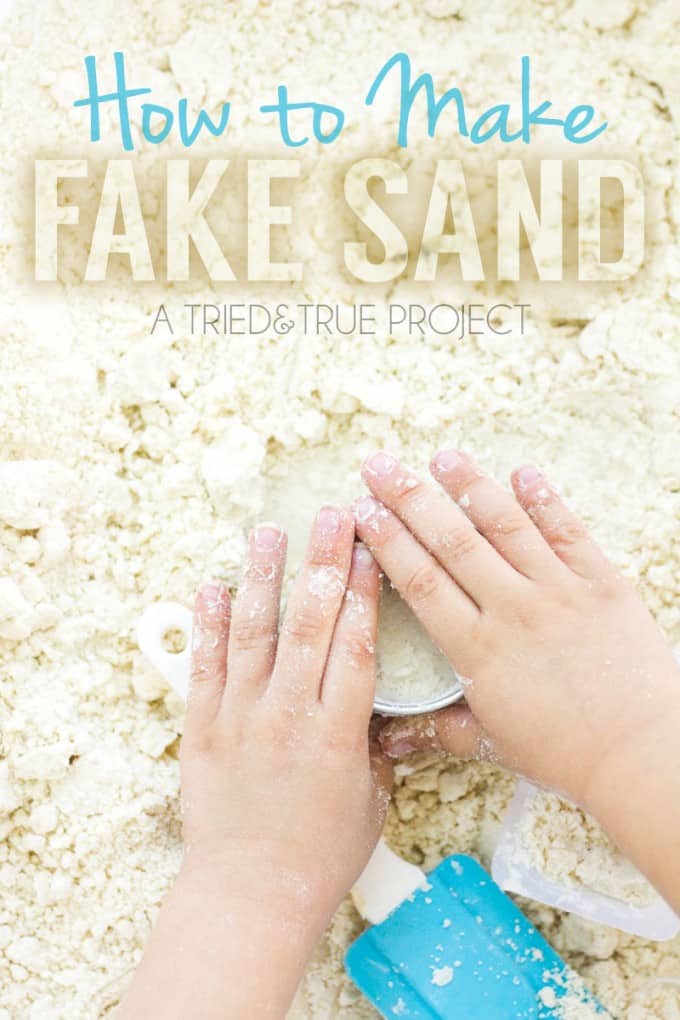 How many of you live near a beach? I don't care if it's the ocean, a lake, or even a man-made one, I'm so crazy jealous of you right now! Don't get me wrong, I absolutely love the Desert Southwest I live in but the nearest seaside beach is about 15 hours away so it's not like we're going to just jump in the car for a day of adventures by the sea.
In true mom style, I've had to get a bit creative with our limited options so a few years ago I made a huge bin of Fake Sand for my kids to mess around with and they love it to this day!
Make a Beach
Making Fake Sand really couldn't be easier and if you keep it in a container with a tight lid, you can enjoy it for years to come. All you have to do is mix 8 cups of flour with 1 cup baby oil (I used JOHNSON'S® baby oil gel with shea & cocoa butter because it smells just like Summer to me!) If your "sand" is too wet, add more flour and if it's too dry, add bit more oil. Super easy, right?
Day At the Beach
I couldn't keep my boys away from this big bin of Fake Sand I made yesterday. They shifted their play from scooping and packing the small containers I gave them to bringing out their mini-figures for a sandy adventure. All the while working on great hand/eye coordination development in a sensory rich environment. My kids have some slight sensory quirks so seeing them be ok with LOVE getting sandy is a real joy!
White Sands Forever
While we don't have easy access to a beach, we actually get our fair share of sand play when we visit White Sands National Monument (about 1.5 hours away.) It's such an amazingly gorgeous natural playground that during the Summer we try to visit at least once a month.
With over 275 miles of gypsum dunes, the boys spend hours sliding down and climbing back up the slide-like dunes. We absolutely love going to White Sands and in fact, the only downside is trying to clean off the sand before getting back in the car. 

Best Hint Ever
Did you guys know how easy it is to wipe off sand with baby powder? I just put a bunch of baby powder in a small sock with a knot at the end and let the kids wipe off the sand with it. The baby powder removes moisture from your skin so that the sand just falls right off. It's become an absolute necessity to take to White Sands (or beach trip)!
Hope you guys are having a great summertime and don't forget the baby powder if you're going anywhere with sand…even if it's just the desert!
More Fun Projects!