This post on STEM Subscription Boxes for Kids contains affiliate links. The small percentage I may earn off your purchase comes at no extra cost to you and helps T&T continue to offer free printables and tutorials!
My 7 year old son (soon to be 8!) is absolutely crazy about anything STEM related. I was able to keep up with his insatiable curiosity for a long time. Now he's expressed interest in circuitry and coding and those just aren't my area of expertise.
Thank goodness there are now amazing STEM-focused subscription boxes for kids that can fill in the gaps and continue feeding my child's natural interests!
A month ago, I reached out to six STEM subscription box services. You know that there's no way I'd give you an opinion without having seen them first! Here are the boxes:
[feast_advanced_jump_to]
I'm happy to report that while the contents and focus of each is drastically different, all six boxes were thoughtfully assembled, extremely well made, and totally able to hold my child's attention. Since I was happy with the quality of the boxes, the only thing left to talk to you all about are the specifics like categories, price points, and targeted age brackets.
I hope having all of this information in one place helps you make the right STEM subscription box choice for you and your child!
Below you'll find the name, suggested ages, and price of each box. Age requirements can fluctuate depending on child maturity and adult interaction. Prices will vary depending on length of subscription.
5-10 years old & 9-14 years old, $24.90 & $34.90 (Use code JULY25 for 25% off first box!)
Description: MEL Science "is about exploration, experiments, discovery, and asking questions – all of which comes naturally to all children." They provide a Chemistry monthly subscription box that contains 2-3 experiments appropriate for ages 9-14. They also have a younger box option that comes with a hands-on wood device model and colorful activity booklet.
Mom P.O.V: I'm waiting on my first box to arrive but based on the videos I've seen, MEL Science Chemistry subscription box is going to be tons of fun for the entire family! I'm really hopeful that it'll be able to keep the attention of my older kids. I'll update this post once I've played around with it.
UPDATE (1/9/2021): The MEL Science box is absolutely AMAZING. It definitely kept the attention of my 11 yr. old with minimal supervision from me.
The starter box comes with everything you need to complete the monthly chemistry kits. This includes beakers, stands, phone magnifier, and two sizes of safety goggles. I love that I didn't have to provide anything other than water!
He was totally amazed by the chemical reactions and immediately asked when the next experiments were going to arrive! We're planning on incorporating the boxes into our homeschool schedule.
My 9 year old worked on the MEL Kids kit. I was really impressed with how fun the delivery of all the information was. My son enjoyed it but went through it really fast. They suggest the kit for 5-10 year old but I'd probably go with 5-7 year old instead.
If you've got a science-loving kid that has moved beyond the basic STEM subscription boxes and asking for "serious" science, MEL Science is the answer!
MEL Science gave me an awesome discount to share with you all! Use code "JULY25" for 25% off the first month! >>>CODE HERE<<<
Kindergarten – 6th grade, starts at $14.99
Description: The Spangler Science Club is all about giving kids hands on science experiments and real world STEM activities. Each STEM subscription box contains at least 5 projects focused around a central theme (such as Solar Science). Also contains instructional booklets for both the child and adult guide.
Mom P.O.V: Steve Spangler is almost a legend when it comes to getting kids excited about STEM. It should come as no surprise that his subscription box service is completely on point.
The science experiments were thought-provoking and entertaining for both my kindergartner and my 2nd grader. The box did require a few additional supplies but they were pretty standard household items that weren't difficult to find.
Suggested Ages: 12+, $29.99/mo
Description: Creation Crate is focused on teaching children and adults alike how to build electronics without any prior experience. Each tech subscription box contains a combination of hardware and programming software. Since each month builds on the skills learned previously, your child will gradually become more and more proficient in the basics of electronics.
Mom P.O.V: My seven year old was practically foaming at the mouth when he saw the wires and circuit board in this box! He's still a bit too young to complete the Mood Lamp entirely on his own. It's a great project to work on with either his father or me. To tell you the truth, I'm kinda excited to begin learning about electronics too!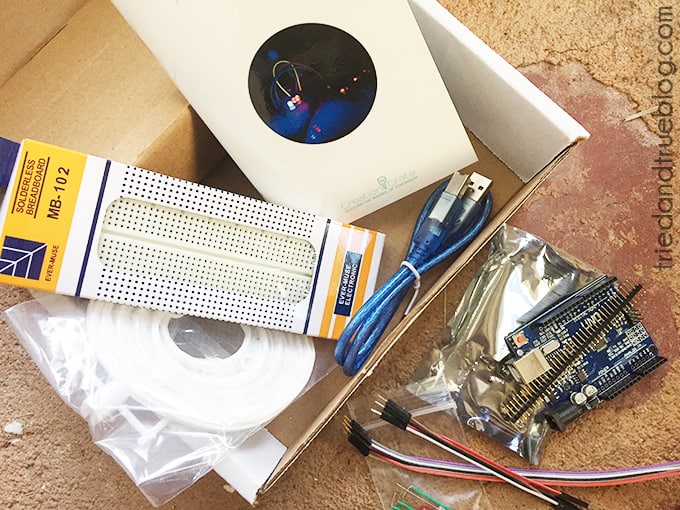 UPDATE 11/10/2019: My son is now 10 years old and still loves this box! He's able to do the projects almost completely by himself. He's now working on the Memory Game box and can't wait to do more!
Suggested Ages: 2 – 10+, $19.95/mo
Description: Green Kid Crafts was created by a working mom and environmental scientist. It offers children 2 – 10+ a monthly STEM subscription box dedicated to science, tech, engineering, art, math activities. Each box comes with 4 -8 STEAM projects and a 12-page magazine all focused around one central theme.
Mom P.O.V: I love that each of the projects are completely enclosed in their own packaging. I can grab one and throw it in my purse for on-the-go learning. Perfect for doctor's offices or restaurants. LOVE that they have a sibling discount too!
Suggested Ages: 6 – 12 years, $40/month
Description: Bitsbox is a monthly subscription box that shares easy coding projects that teach kids to program apps. Because the kids learn by copying small bits of code into an online editor, it's essential that they have access to an internet ready computer with a physical keyboard. Once written, the apps can be shared and viewed on any mobile device.
Mom Point-Of-View: I was initially worried that this was going to be above my child's head. We don't allow much screen time but as soon as I explained how to use the "shift" key, he was ready to go! I'm really impressed with the quality of the book design and the fun little trading cards. If you feel like your child doesn't need physical copies, there's also a $20/mo. PDF-only option as well.
Update: Bitsbox has improved their already great box by including a Trapper Keeper (for reals!) to store all the perfectly sized coding worksheets. My son had a difficult time laying out the previous workbook while trying to type so this improvement is awesome. Same great kid-friendly apps!
Suggested Ages: 9-16+, $19.96/mo
Description: Tinker Crate provides hands on STEM projects straight to your door. Each box contains supplies to make a single project. Also includes additional materials to allow your child to "tinker" with the completed project. Since they are part of the Kiwi Crate umbrella, you also have the option of switching your subscription to one of the other box options.
Mom P.O.V: They recommend ages 9-16 but my 7 year old was totally able to complete the project without any assistance. This, of course, may vary with each box but it's a good baseline to go off of. I'm totally digging the solid wood supplies and love the basic problem solving skills this box provided.
UPDATE 11/27/2018: KiwiCo has expanded to offer 7 different boxes for different interests and age groups. From 0 months (Panda Crate) to 104 years (Eureka Crate), there's a subscription box for everyone!
Suggested Ages: 8+, $29.99/mo
Description: Groovy Lab In A Box is your classic STEM subscription box for kids. It has enough supplies to complete approximately 5 projects for the month. The 20+ page lab notebook was easy enough for my 7 yr old son to read through by himself. It taught him the beginning basics of the engineering design process. Our box sample contain projects that were themed around water and ice.
Mom P.O.V: I absolutely love that every single supply needed to complete these projects was delivered in this box. That meant my son could open the box and start working immediately without any frantic runs to the drugstore. The five different experiments plus the design challenge at the end continued to engage my son throughout the entire month.
UPDATE 4/15/18: We'll be signing up for this box during summer break. Perfect for "I'm bored!" moments!
Suggested Ages: 10+, $39.99/mo
Descriptions: Each Girls That Make box features a wearable tech project that can be made with the step-by-step instruction booklet and included components. Projects include flashing bracelet, cloud pillow, and singing cat hat.
Mom P.O.V: Made by the same company as Creation Crate (see above). The Girls That Make box is equally challenging and educational. My 10 year old son was absolutely fascinated but did need some assistance. (Totally okay with that because I was learning too!)
I love that they're focusing on getting girls interested in electronics. Please don't let that deter you from getting a box for your boys though. My son turned the bracelet into a flashing door hanger after assembly!
Looking for even more STEM Subscription Boxes for Kids?!
There are so many great options over on Cratejoy that I haven't tried yet! Let me know if you have any personal experience with them!!
UPDATE 1/9/2021: We absolutely love ordering from Cratejoy! We recently signed up for the Finders Seekers escape room box and spent 2 hours as a family working on it.
There's seriously a subscription box for every interest on Cratejoy!
Want more great kid projects?!