Not only is this Father's Day Gift Can fun to fill and give to that special guy in your life, it's also crazy easy to make! You only need a couple supplies and a few minutes to make this super cute gift. Fill it with his favorite treats or a new tie and you'll be good to go!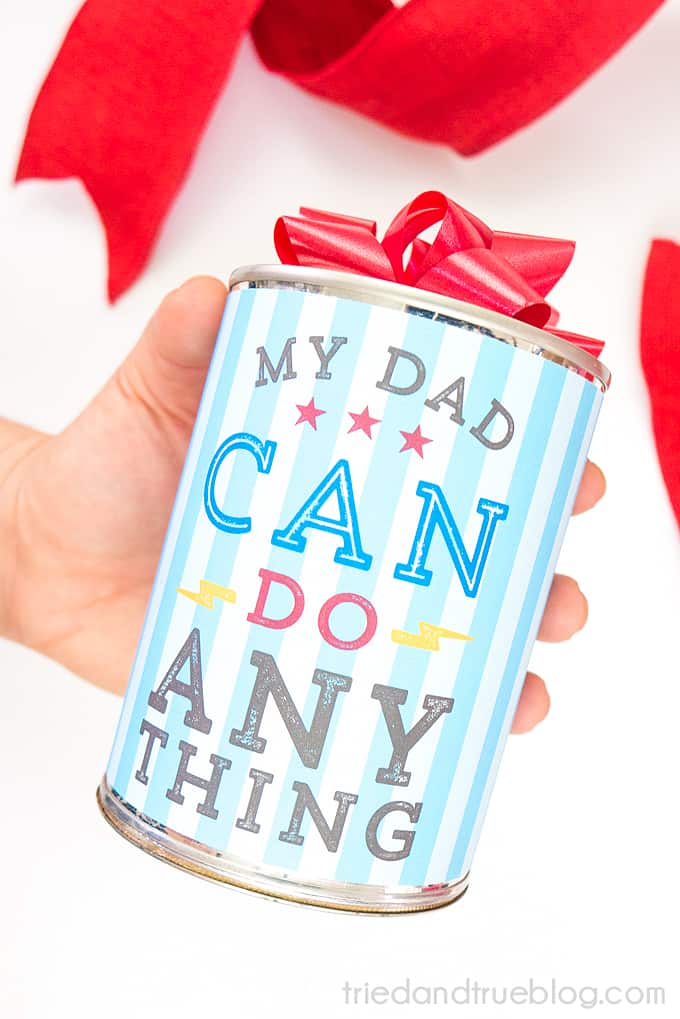 Am I the only one that has the hardest time finding Father's Day gifts? Seriously. The. Hardest. Time. Sometimes the best gifts for him can be kind of boring (hello socks!) so why not use this Father's Day Gift Can to make the gift giving process a little more fun. Plus, it only takes a few minutes to make so it's definitely a win/win!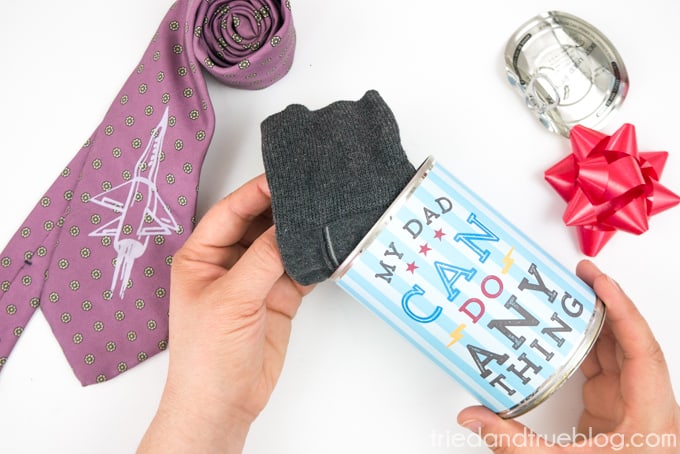 Watch this quick video tutorial or follow the instructions below!
This tutorial contains affiliate links. If you purchase through these links, I receive a small percentage (at no cost to you!) that helps me continue to offer original tutorials and free SVG cut files!
The How-To!
Time needed: 15 minutes.
Make this super cute Father's Day Gift Can in just minutes. It's Perfect for holding gift cards, treats, socks, or ties!

Supplies:
– Fruit Can (make sure the bottom can be cut away with can opener!)
– Smooth Edge Can Opener
– Free "Father's Day Gift Can" Label (download below)
– Hercules Double Sided Tape (.125″)


Prepping the can

As I mentioned in the supply list, you're going to have to make sure to use a can where the bottom lid can be removed with the Smooth Edge Can Opener. I found this can of candied apples at a dollar store and it worked perfectly. Once open, remove contents and clean the can.



Download the label

You can download the free label at the bottom of this post. Trim and wrap around the empty can. Make sure that you add the label right side up (the open end of the can should be facing downward).



Add gift

You can either add either candy, baked treats, or small objects to the can. I went with a tie and pair of socks and they fit perfectly!



Close bottom lid

Once your can is filled, take the bottom lid and add a strip of the double-sided tape to the edge. Press the lid back onto the can and hold until secure.


Download the Father's Day Gift Can free label
I've got two different labels for you to enjoy! One in full color just like what you see in the pictures above and one with just outlines for your kids to use as a coloring page.
Fun Father's Day Gift
Who wouldn't love to open this fun Father's Day Gift Can and find their favorite candy or pair of socks in it! Plus, they'll be able to display their super cute gift can on a bookshelf or use as a pencil holder for years to come. Hope you enjoy making one of these for your father or husband this year!
Want more Tried & True projects? You're going to love these:
Earth Day Recycled Tin Can Planters
Father's Day Matching Aprons
Vintage Father's Day T-shirt
Father's Day Popcorn Gift
Father's Day Personalized Coasters
I'd love to see how you customize this project so make sure you tag me on my social media accounts!
Instagram | Facebook | Pinterest