My husband is a huge fan of popcorn. Like "get-your-own-bag-at-the-movies-because-this-is-mine" kind of fan! It's pretty much just a given that he'll get some sort of popcorn gift for Father's day. I'm assuming that there are other dads that love popcorn so I made this Easy Popcorn Gift for Father's Day free printable tag and thought I would offer it to you all too!
This project originally appeared on Live Craft Love and contains affiliate links for your convenience and to assist in the maintenance of this site.
Easy Popcorn Gift For Father's Day
Materials:
Popcorn
Hole Punch
"To The Best Pop" Gift Tag (download below)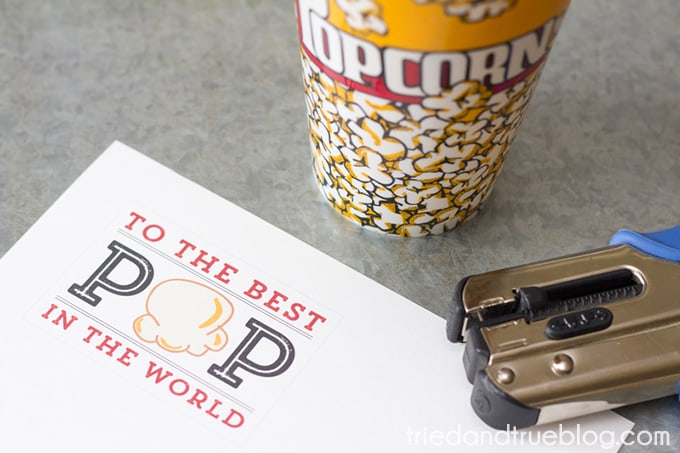 Step One. Making this Easy Popcorn Gift for Father's Day couldn't be easier! Just fill a cellophane bag with either homemade or store-bought popcorn. Punch a hole in the corner of the gift tag, add the baker's twine, and tie around the cellophane bag to close. And that's it, not even a second step!
[wpdm_package id=12038 template="link-template-default.php"]
And that's it! You can make this project as simple or as complicated as time permits by including homemade popcorn (this Samoa Popcorn recipe looks amazing!) or just going with some yummy store-bought gourmet popcorn (love Popcornopolis!) Thought it would be a fun Summer activity to have my boys come up with a few favorite varieties of popcorn this year to give my dad and husband. Anything to keep them busy, right?
Hope you enjoy this free Easy Popcorn Gift for Father's Day!