This post was sponsored on behalf of Sequoia Grove via One2One Network.
All opinions stated are my own.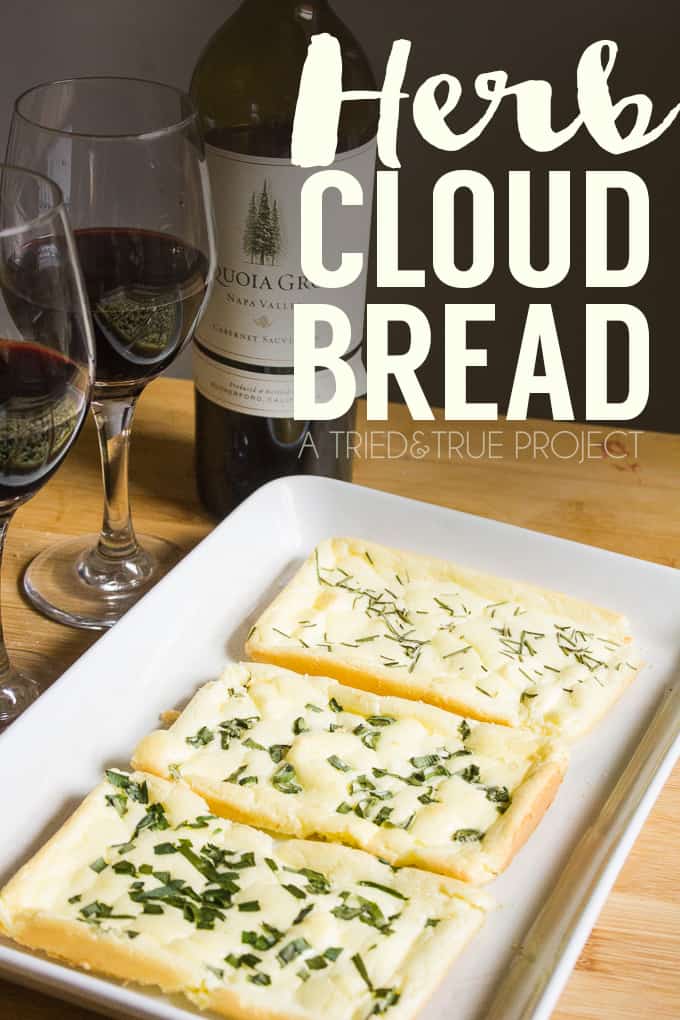 There are few things as relaxing as sharing a good bottle of wine over appetizers with friends. Life is hectic and exhausting sometimes so I'll take any opportunity to munch on some good food while laughing with people who remind me of the good in the world. Plus, you know…wine. Do you really need a reason for a nice glass of wine?! We had some friends who are gluten-free come over the other day and it was the perfect excuse to try out this Herb Cloud Bread!

I'm relatively new to the Cloud Bread market and oh my goodness, how crazy awesome is it?! You basically mix a little bit of cream cheese, egg, cream of tartar, and voila…Cloud Bread. It's gluten-free, sugar-free, and high in protein. Crazy, right? I made mine in rectangle baking sheets but most people just plop the mixture on a flat sheet and make round bun-like shapes. Perfect for gluten-free sandwiches!
I had a ton of fresh herbs (rosemary, garlic chive, green onion) just sitting in my fridge so I tried a variety on my Herb Cloud Bread. The flavor infused perfectly through the cloud bread! You can either leave these just like this or add cheese crumbles or fruit topping for an added layer of goodness. Obviously, since these are made almost entirely of egg, there's a definite egg taste to these. Just something to keep in mind in case you have guests that don't like eggs!
We served Sequoia Grove Cabernet Sauvignon with this Herb Cloud Bread and it perfectly balanced the strong flavors. I love knowing that Sequoia Grove is a family-owned winery located in the heart of Napa Valley's Rutherford, renowned for producing some of the finest wines in the world. One of these days I'm going to make it out to their gorgeous tasting room, nestled into one of the last remaining groves of the majestic Sequoia sempervirens (which is the sole living species of the genus Sequoia) in Napa Valley. Sounds like heaven to me!
Website | Online Shop | Facebook | Instagram | Twitter
Hope you guys give this Herb Cloud Bread a try for your next wine gathering! It really is so versatile and easy to make. I'd even love to try and turn it into miniature pizzas or desserts. Thanks for visiting and let me know if you have any questions!
Supplies:
3

eggs

separated

3

tbsp

cream cheese

softened

¼

tsp

cream of tartar

various herbs

chopped

salt and pepper to taste
Instructions
Preheat oven to 300 degrees.

Separate the yolks from the egg whites and mix with cream cheese in a stand mixer.

Remove and pour into a small bowl. Clean mixer bowl completely before moving on to next step.

Whip egg whites and cream of tartar until stiff peaks form.

Gently fold the yolks into the egg white foam until uniform. Make sure not to beat too much!

Scoop large spoonfuls onto baking tray sprayed with nonstick oil and sprinkle chopped herbs over.

Cook for 25-30 minutes until edges are golden.

Serve plain or with a variety of toppings with your favorite wine!