If you're throwing a May the Fourth Star Wars Party, this post is for you! We've got free decorations that will make your Star Wars Day party the best in the galaxy!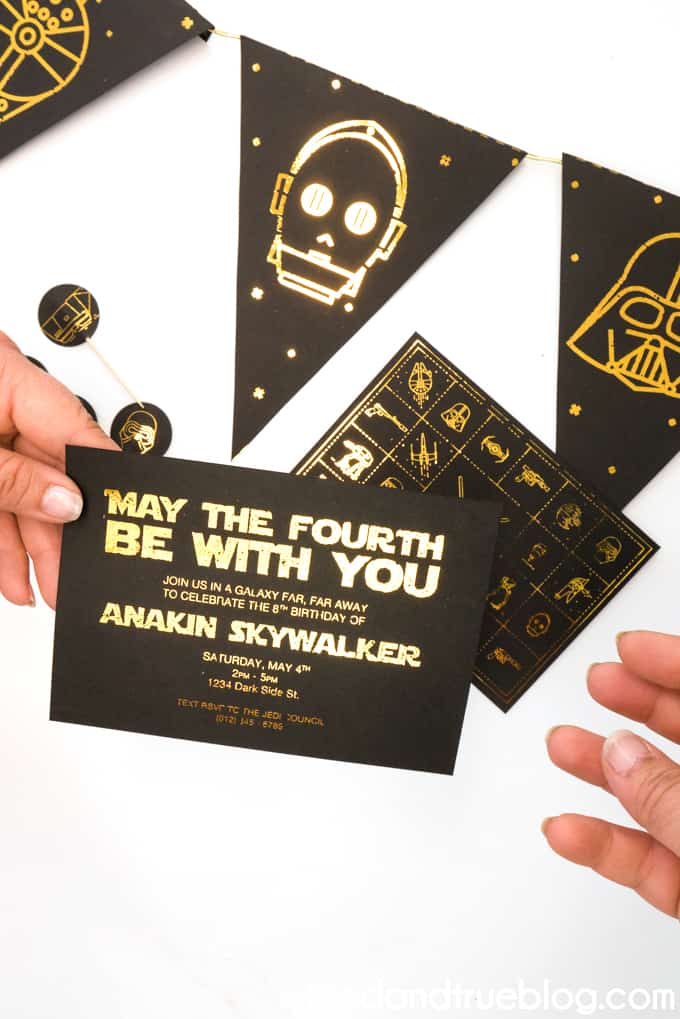 We have been planning for this May the Fourth Star Wars Party for 5 years when we realized that Star Wars Day would fall on a Saturday in 2019. Luckily, my son's 8th birthday was just a few days ago so having a Star Wars themed birthday party was perfect.
Of course, I just had to make some custom invitations and decorations for our May the Fourth Star Wars party! I wanted to make the files modern enough that anyone, regardless of age, would be able to use them. Wouldn't this be a great theme for a 40th birthday too?
May the Fourth Glam
Since I've never learned how to leave well enough alone, I thought it would be fun to add some gold foil to the May the Fourth Star Wars Party decorations. Lucky for me, Xyron has a new foil laminator out on the market! The Xyron Glaminator is perfect for party invitations and decorations like this. The only thing you need to keep in mind is that everything will need to be printed on a laser printer or else the foil won't stick.
This is the small, inexpensive laser printer I bought on Amazon!
Once you have your decorations printed correctly, you just layer the foil sheet (I used the Xyron Metallic Transfer Foil Pack) over the printed images and run through the Glaminator with the included plastic pocket.
I am absolutely IN LOVE with the results and was amazed at how the foil really made the images pop! So impressed at how the Glaminator was able to foil even the thinnest detail on the invitations.
Star Wars Party Prep
Assembling the cupcake toppers is super easy! Just use a 1.5″ hole punch to cut out the foiled images as well as the plain black backing circles.
You're going to have to put adhesive on the back of the circles so running them through the Xyron Creative Station is the absolute easiest way to do this!
Then all you need to do is sandwich a toothpick between the circles and then press to secure. May the Fourth Star Wars cupcake toppers done!
To make the banner, just fold the top edge of the pennant flag around a piece of string and secure in place with a piece of tape. Let's get this party started!
May the Fourth Be With You
With the invitations, cupcake toppers, and banner done, all you need now are a few rebel scum and your May the Fourth Star Wars Party will be ready! Hope you enjoy these decorations as much as we did!
Download the May the Fourth Party Decorations!
I'd love to see how you customize this project so make sure you tag me on my social media accounts!
Instagram | Facebook | Pinterest
Want more Tried & True projects? You're going to love these: