Add an extra bit of fun to any store-bought planter with this tutorial on how to paint on glazed ceramic. You won't believe how easy it is!
Today's CRAFTWEEK post is sponsored by DecoArt. Make sure to stop by my Instagram to enter the giveaway!
I can't tell you the number of times I've wanted to paint glazed ceramic. Whether it's a thrifted planter or discarded figurine, a little bit of paint can do wonders!
Keep on reading if you want to know how to paint glazed ceramic!
[feast_advanced_jump_to]
Intro to DecoArt Glass Paint
The secret to painting on glazed ceramic is DecoArt's new Glass Paint! They come in a ton of colors and are absolutely essential for painting on smooth surfaces like glass or glazed ceramic.
You even have the option of baking it for a dishwasher-safe option. I didn't use that option for this project but I'll definitely be using it in the future!
Instructions for Painting on Ceramic
To begin, you're going to want to prep your "canvas" a bit. I wiped down the front of my planter with an alcohol wipe to get rid of any residual dirt or oils. I am by no means a natural artist so I lightly drew an easy panda face on the front with a pencil.
Don't worry if you mess up while sketching, a damp towel will quickly erase any pencil markings.
Now for the fun part! Using an appropriately sized paintbrush, begin applying Glass Paint to the smooth surface.
You'll immediately notice the difference in the consistency of the paint! It's very thick and even after the first coat, covers much better than just average acrylic paint.
I ended up only painting two coats of black paint for full coverage and only one coat of coral!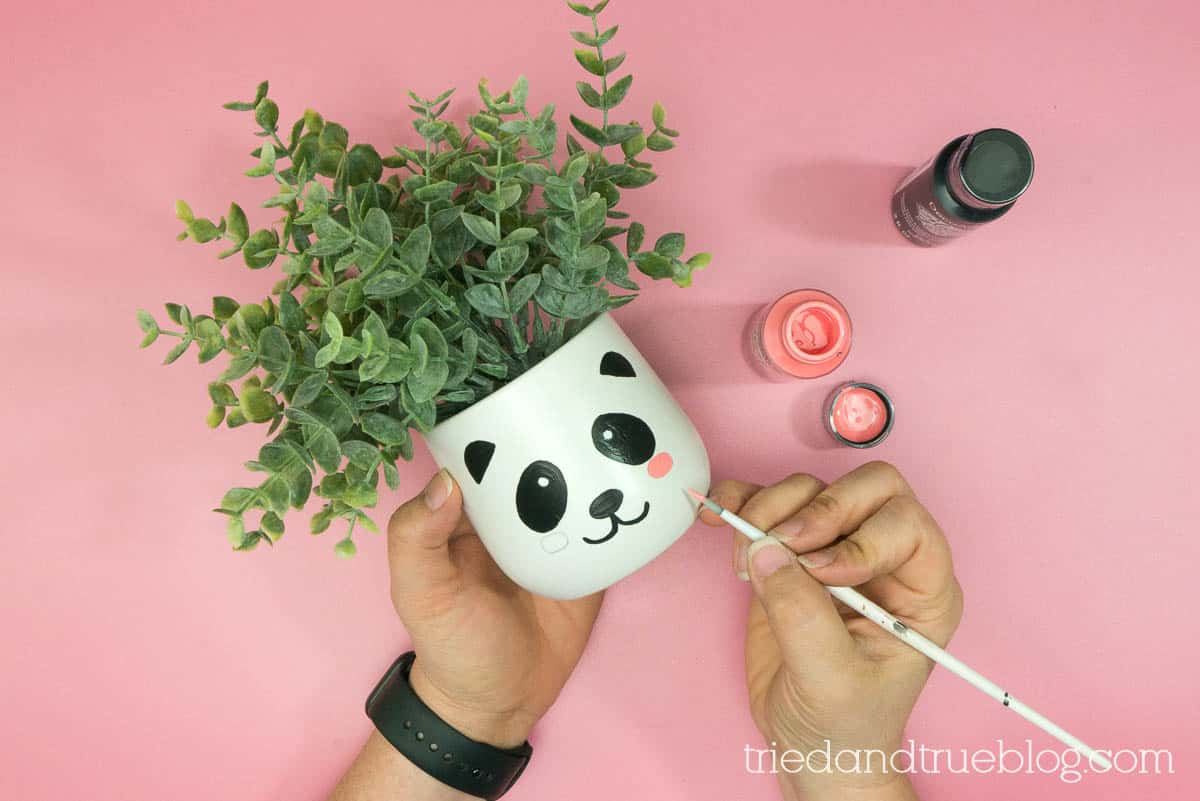 Display Your Planter
I absolutely love how adorable this little panda planter turned out. It's the perfect way to update planters found at a dollar or thrift store!
I hope you enjoyed this super easy tutorial on how to paint glazed ceramic. Can't wait to see all the amazing projects you do!
Want More Paint Projects?
More Tried & True Projects