Welcome a new season and your front porch guests with this Easter Bunny Spring Wreath. A whimsical Easter craft that will delight all!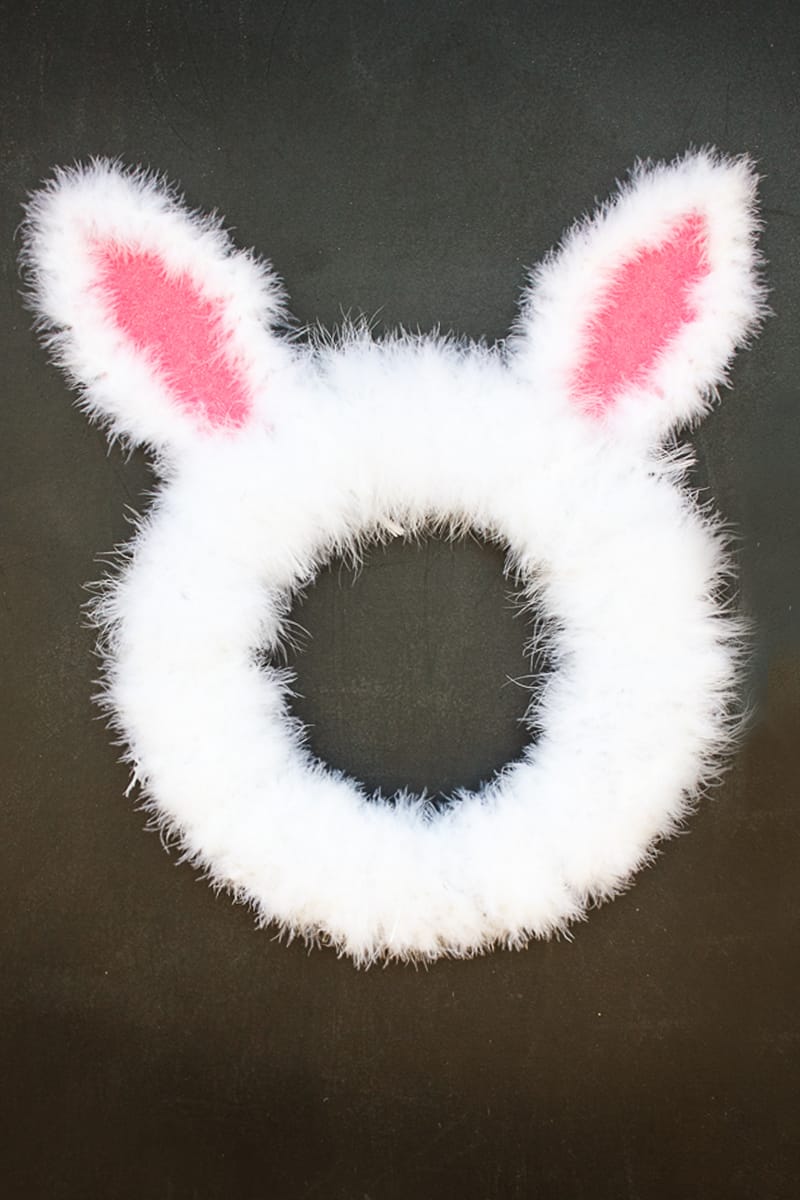 If you follow this blog long enough, you'll know just how much I love to make seasonal wreaths. This Easter Bunny Spring Wreath is no exception! It's seriously one of the easiest Easter crafts I've ever made. It only takes minutes to put together and just a few craft supplies. Projects this easy always make me happy…or should I say "hoppy?"
Supplies need to make this Easter Bunny Spring Wreath:
16″ Wire Wreath Form
(5) White Feather Boas
Felties Hot Pink Glimmer Felt
Hot Temp Glue Gun (this one's my fav!)
Making An Easter Bunny Spring Wreath
To begin this easy diy Easter wreath, we're going to start with cutting out ear shapes from the stiffened felt sheet. You can use unstiffened felt but you're going to have to add either a thick fabric stabilizer or cardstock to the back. Make sure you leave little tabs at the bottom to wrap around the wire wreath. Use hot glue to attach white boa to the outside edges.
Apply hot glue to the entire tab portion and wrap around the outer edge of the wreath form. You want to make sure that the glue completely surrounds the wire so that the ears are securely fastened to the wire form (ie. won't rotate).
With both ears in place on the wire wreath form, all you have to do now is wrap the boas around the wreath until it's completely covered. You can begin and end each boa with a bit of hot glue to keep it in place or just tie it around one of the wires.
Easiest Easter Wreath EVER!
I love how this Easter Bunny Spring Wreath is so easy to make but looks adorable hanging in your home or classroom. The feather boas really look and feel like the super soft fur of a bunny. Hope you have a Hoppy Easter!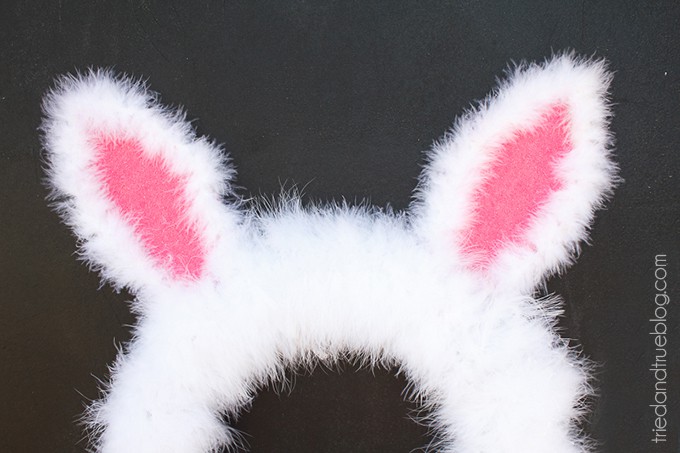 I'd love to see how you customize this project so make sure you tag me on my social media accounts!
Instagram | Facebook | Pinterest
Want more great Easter Crafts?
Fairy Garden Spring Basket | Easter Bunny Surprise Ball | Easter Bunny Carrot Plate