There's nothing like a bunch of crepe paper streamers to make a handful of random knick-knacks fun and exciting for kids and this Easter Bunny Surprise Ball is no exception! The process is super easy, in fact, the toughest part might be finding the small treats to fit inside. We went with mostly little toys and stickers found in the dollar section of Target but also added a few pieces of chocolate, much to my children's delight. You'll be surprised what you can fit in these!
As I mentioned above, these Easter Bunny Surprise Balls are super easy to put together. The only hints that might help are getting treats that are somewhat bendable and compressing the ball into a uniform shape with your hands after every other wrap or so. Both hints will help create a nice ball-shaped form for you bunny!
This post may contain affiliate links for your convenience and to assist in the maintenance of this site.
Easter Bunny Surprise Balls
Materials:
Step One. Assemble your treats to go inside of the surprise ball. You can make them as little or as big as you'd like, the ball will adjust to the size of your treats.
Step Two. You can put larger items (socks or easter egg fill with jelly beans) in the center and smaller/bendable items on the outskirts.
Step Three. Continue wrapping each of the treats into the ball. Use your hands to compress the streamer layers into a nice ball shape. If you accidentally tear a streamer or if you want to use smaller strips to make wrapping easier, reattach with a small piece of double-sided tape.
Step Four. Cut two small ears out of the white cardstock and cover with crepe paper. Cut two smaller pieces of washi tape and adhere in place.
Step Five. Fold a small piece of the ears over and tape in place at the top of the surprise ball.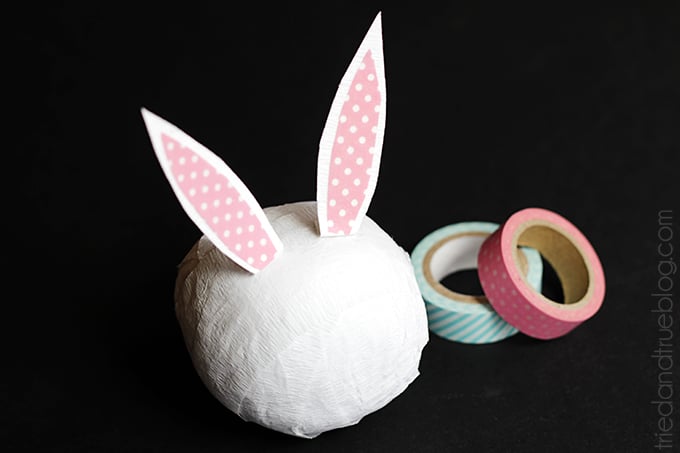 So cute and easy, right? These Easter Bunny Surprise Balls are such a great way to turn a few bucks worth of treats into a really fun gift for kids! Hope you enjoy making them and your kids destroying them!
Also, if you're crazy about bunny themed gifts, check out my Easter Bunny Favor Boxes as well!