The Cricut Foil Transfer Kit is finally released and it looks amazing. Get the full scoop on what it is, what you get, and how to use it.
I've loved every new product that Cricut has ever released and the Foil Transfer Kit is no exception. I was sent an advance copy of the kit to play with so believe me when I tell you, it's going to make adding foil to projects so fun and easy!
In this post, I'll cover all the basics of the new Cricut Foil Transfer Kit. You can either scroll through the entire post or use the links below to go to specific information.
What is the Cricut Foil Transfer Kit?
The Cricut Foil Transfer Kit allows you to easily add foil to a wide variety of projects with their new 3-in-1 tool that includes tips for bold, medium, and fine lines. Their system is pressure based and is perfectly integrated into Design Space already.
All you have to do is pop the new tool in your Cricut machine and you're good to go! No extreme heat that may harm your machine (and void your warranty!), no bulky cords, no extra adhesives…just beautiful foil that will add a layer of glam to any project.
The foil transfer tool will work in both the Cricut Maker and the Cricut Explore Machines. <Insert cheering crowd and confetti release!>
What is included in the kit?
When you buy the Foil Transfer Kit ($39.99), it includes everything you need to start right away:
1 Foil Transfer Tool Housing
3 Foil Transfer Tips – fine, medium, bold
12 Foil Transfer Sheets 4″ x 6″ (10.1 cm x 15.2 cm), colors vary
Tape
Switching out the different tips is super easy! Just push on the back of the tool housing and slide your desired tip in. You can differentiate between the tips with the number of lines they have. The fine tip has one line, the medium has two lines, and the bold has three.
Once your tip is inserted into the housing (you'll feel a little magnetic snap), just release the back of the tool and you're ready!
What materials can I use?
There are tons of great materials you can add foil to:
Light Cardstock – 60 lb. (163 gsm)
Medium Cardstock – 80 lb. (216 gsm)
Heavy Cardstock – 100 lb. (270 gsm)
Deluxe Paper
Watercolor Paper
Pearl Paper
Vellum
Printable Vinyl
Printable Sticker Paper
Kraft Board
Matboard
Poster Board
Copy Paper (Printing Paper)
Photo Paper (Glossy, 200g)
Photo Paper (Matte, 230g)
Faux Leather
Some of foil line types won't work with the Explore Machines. I suggest visiting the Cricut Foil Suggested Materials page for more details. You can also see all the suggested materials in Design Space under the Browse All Materials>Compatible section.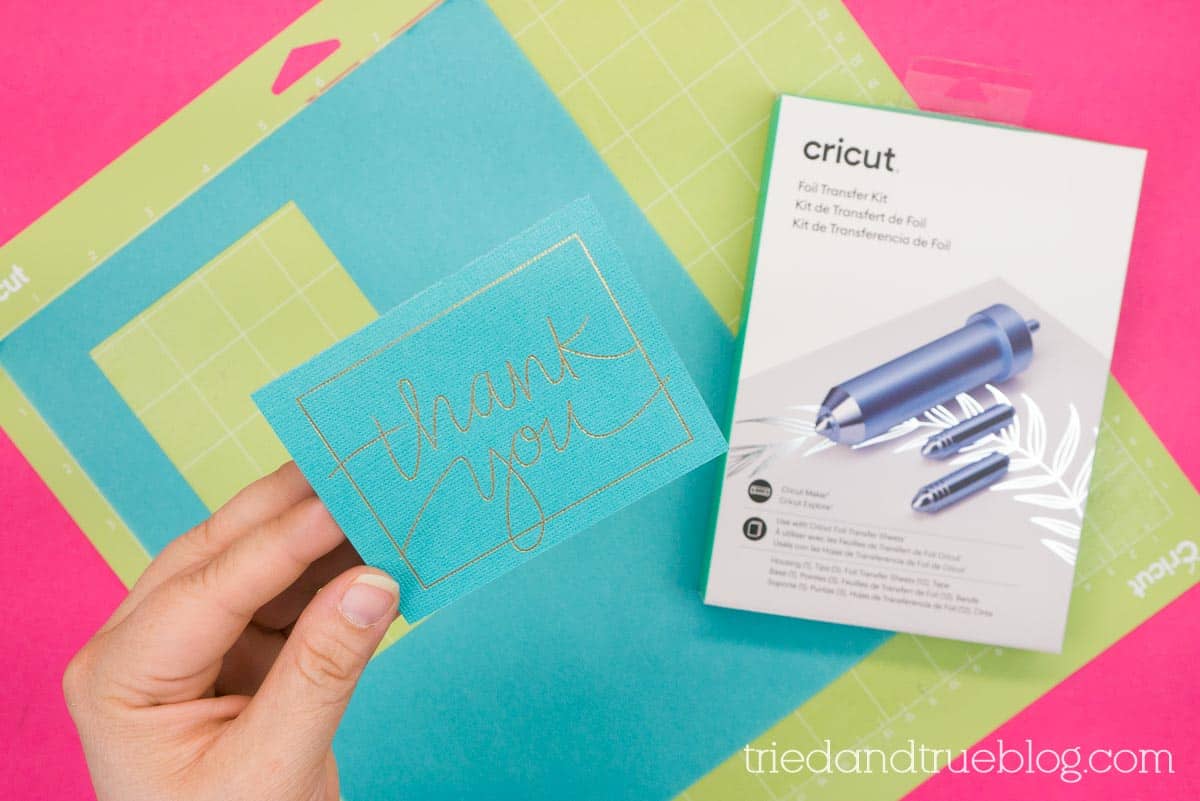 How do I start using it?
Now we get to the fun part! Design Space makes adding foil to your project an absolute breeze. For months now, Cricut has been secretly flooding their library with single line drawings so that you have tons of options to play with.
Once you've found a design you like, just use the Linetype pull-down menu to select the Foil option. When you hover over "Foil," a secondary menu will pop up and you'll be able to select your desired line weight (Fine, Medium, or Bold).
When you click "Make It," Design Space will send the project to your machine. Depending on the complexity of your project, you may have a number of prompts and steps to follow on Design Space.
Using my Script Thank You Card as an example, these were the steps:
Insert (Clamp B) and used the score tool to make the fold line for the card
Mat was released just enough for me to apply the gold foil sheet with tape (included in the kit)
Swapped out Score Tool for Bold Foil Transfer Tool (Clamp B)
Pressed the Cricut C/Go button to foil "Thank You"
Mat was released just enough to remove gold foil sheet
Swapped out Foil Transfer Tool for Fine Point Blade (Clamp B)
Pressed the Cricut C/Go button to finish cutting out card
IMPORTANT TO REMEMBER!!!
Move all of the spinning star wheels outside of the foiling area.
Make sure foil sheet is taped down as tight as possible.
Position design at least 1″ away from the mat edge to allow room for taping.
Make sure the foil sheet is large enough that no part of the foil design is under the tape.
If you run out of the provided tape, a low adhesive tape may be substituted (ie. washi). Make sure to test on your material first.
What are the foil color options?
Since this is a new product, the color options for foil transfer sheets are limited to 12″ x 12″ Gold and Silver Packs and a 4″ x 6″ Jewel Sampler (Aqua, Eggplant, Emerald). There were also (12) 4″ x 6″ sheets included in the Cricut Foil Transfer Kit.
Design Space has options for selecting Rose Gold, Red, and Fuchsia…
so good things are coming!
One thing to keep in mind, due to the unique pressure-based application, the Cricut Foil Transfer Tool only works with Cricut Foil Transfer Sheets. You can, however, use the transfer sheets with other foil applications though.
Are you ready to get your foil on?!
I hope this Beginner's Guide to Cricut Foil Transfer Kit has been helpful. There are really so many ways you can put this new product to good use.
Over the next week, I'll be sharing more tutorials
and free svg files to help you get started!
Let me know if you have any questions and I'll try to find the answer for you!
Want more fun Cricut projects?