Don't know what to make with the new Cricut Maker Tools? Don't worry! I've got four super fun and easy projects that will get you creating in no time.
This is a sponsored conversation written by me on behalf of Cricut. The opinions and text are all mine.
I was so excited when I heard that Cricut was going to release a new line of Cricut Maker Tools! In addition to the other blades already offered, there's now Engraving, Debossing, Perforation, and Wavy tools to complete any project. They are, seriously, so much fun to play with!
[feast_advanced_jump_to]
Introduction to Cricut Maker Tools
To introduce you to all the awesomeness, I thought I'd put together four easy projects for the Cricut Maker Tools. These projects can be made in less than 15 minutes each and only require a few materials to complete. The best way to get comfortable with new craft supplies is to just jump right in!
A couple things you should know before we get started:
The new tools are made specifically for the Cricut Maker and will not work with other models.
You only need one QuickSwap™ Housing and then just buy the different tips you need. Awesome because that's a difference of $20 per housing unit versus just the tip!
When working in Design Space, you can find all the new tool options under the "Linetype" menu.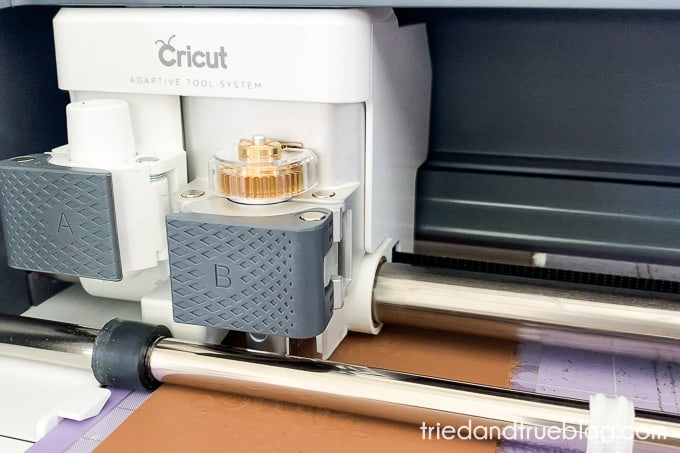 Fine Debossing Tip
I love embossing but sometimes I don't want to pull out all the needed equipment just to add a bit of embossed detail. Cricut to the rescue! The Fine Debossing Tip can turn any image into the stylized raised edges you've come to love from embossing folders. But without all the hassle!
My super easy project for this tip is a Debossed Teacher Keychain using Genuine Leather from Cricut. I ran it through a few times to get a deeper impression and then used a brown pen to outline the wording so that it would really stand out.
Grab the Debossed Teacher Keychain project HERE!
Basic Perforated Blade
Want to create a countdown chart or carnival tickets? The Basic Perforated Blade is going to be perfect for you. It does exactly what the name suggests…cuts perforated edges. You're going to love these Cricut Maker Tools!
I thought it would be fun to make a "Take What You Need" Tear Away Flyer that can be made entirely in your Cricut Maker. All you have to do is put the Basic Perforated Blade in the housing and sub out the markers when the program tells you too. Inspiration in just minutes!
Grab the "Take What You Need" Tear Away Flyer HERE!
Wavy Blade
The Wavy Blade has tassel written all over it! It's a super fun tool to add a bit of a wavy edge to any project on your list. I'm totally planning on using this tool to make a fringe backdrop for our next party!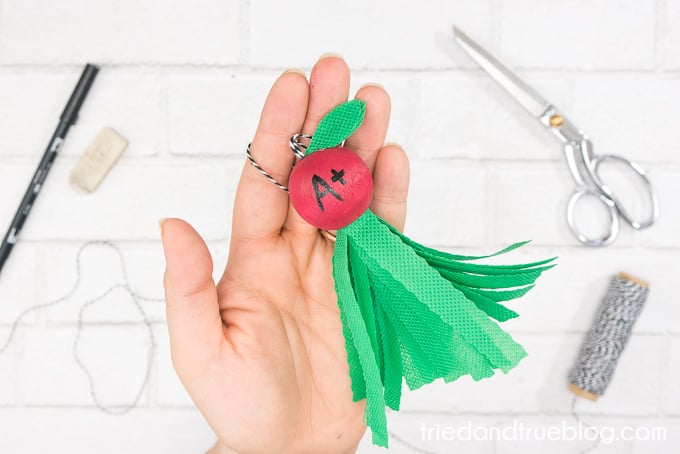 I made a super easy Teacher Apple Tassel with the wavy blade. It's a great project to customize for a back-to-school gift. The wavy borders on the tassel part are so much fun!
Grab the Teacher Apple Tassel project HERE!
Cricut Engraving Tip
Out of all the Cricut Maker Tools, the Engraving Tool might be the one people are most excited about. Now you have a super strong tool that can engrave your designs onto metal, acrylic, leather, and more!
While this project takes a couple more steps than the other ones, it's still really easy to make! I used a faux rusted sheet of metal that you can usually find at craft stores. Once your design is engraved into the metal, just use some picture holders to hang. Making succulent magnets is optional but totally cute!
Grab the Engraved Metal Memo Board HERE!
Enjoy Your Maker Tools
I hope you enjoy making these easy projects for Cricut Maker Tools! They're a great way to dive right into creating with these awesome new tools. Let me know if you have any questions in the comments below!
I'd love to see how you customize this project so make sure you tag me on my social media accounts!
Instagram | Facebook | Pinterest
Want more fun Cricut projects?