I've been making Peeps® Wreaths for 6 years now and honestly, this is one has got to be one of my favorites! I usually use the classic chick shape but couldn't find them in all the colors so I instead switched to bunnies. Aren't they cute? Make sure you scroll down to the bottom of this post to check out more awesome Peeps® projects and enter to win a fun prize pack!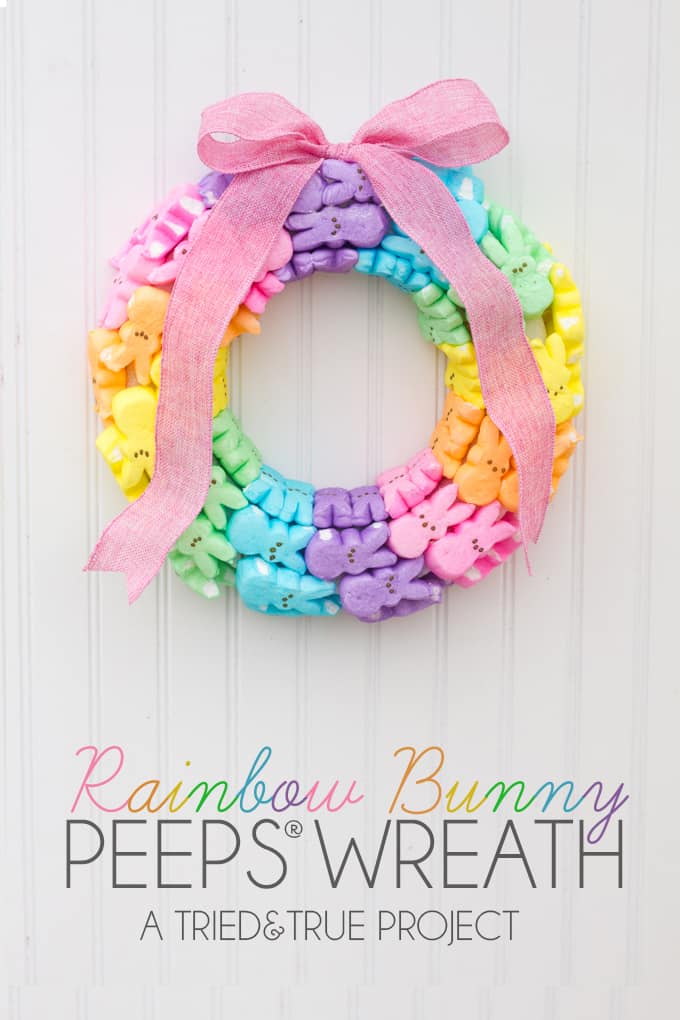 This post may contain affiliate links for your convenience and to assist in the maintenance of this site.
Rainbow Bunny Peeps® Wreath
Materials:
Step One. Ok, peeps, this isn't rocket science but there are a few hints that will make this project so much easier and enjoyable. First one: Completely remove the wrappers and let the Peeps® dry out for a couple days before making the wreath. They'll be much easier to work with if they're not so sticky!
Step Two. Next hint? Use two toothpicks per bunny to secure in place. This will prevent them from spinning on a single point and shifting on the wreath.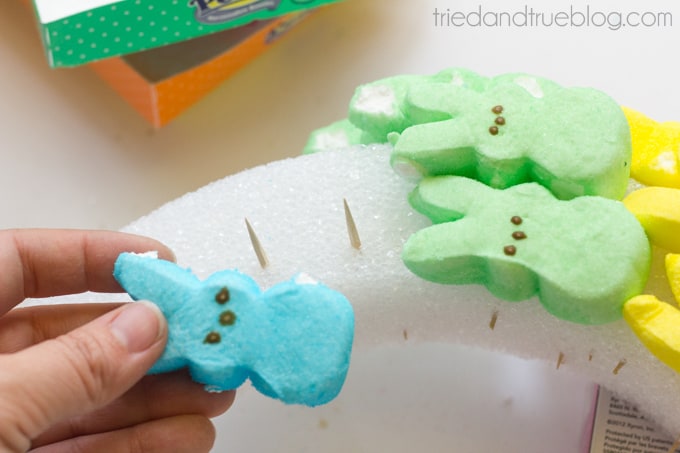 Step Three. Continue placing the bunnies in a circle around the front and outer edge of wreath. Once completed, fill in the center ring with vertically placed bunnies.
Step Four. Tie a large bow out of the burlap ribbon and insert a floral pin in the back. Secure in place at the top of the wreath.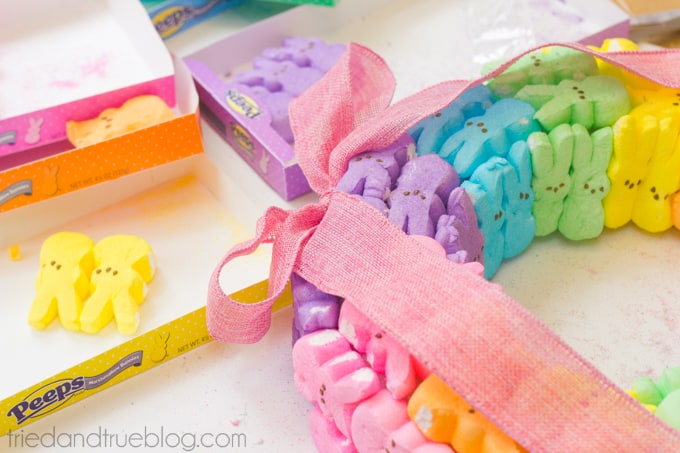 And that's it, your super "sweet" wreath is good to go! In the past, a few people have mentioned that heat or humidity have caused some of the Peeps® to fall off. If this is a problem, just dab a bit of glue to where the toothpick meets the sugary surface. Another issue that has been brought up in the past is the ant factor. I would highly suggest a couple coats of clear spray varnish if you know ants are a problem where you live.
More Tried & True Peeps® Wreaths:
Now onto some more amazing PEEPS® ideas! Hop through each post below to find delicious recipes, fabulous crafts, and more! Don't forget to enter to win the awesome PEEPS® Prize Pack brought to you by PEEPS AND COMPANY®!
PEEPS® Surprise Eggs from Creative Southern Home
PEEPS® Pops Centerpiece from An Alli Event
PEEPS® Candy Science from Schooling a Monkey
PEEPS® Surprise S'mores Cupcakes from The Crumby Cupcake
The Swimming PEEPS® Mocktini Drink from Our Mini Family
Preschool Pick a PEEPS® Memory Game from Prototype Mama
PEEPS® Ice Cream from Endlessly Inspired
PEEPS® Cupcakes from PB Pearls
PEEPS® Wreath from Tried and True
Easter PEEPS® Door Decor from 3 Little Greenwoods
Hanging with my PEEPS® Door Hanger from The Princess and Her Cowboys
Springtastic PEEPS® Trifle from House of Faucis
PEEPS® & Fruit Bouquet from The Hobby Collector
PEEPS® Cocktail from Love Bakes Good Cakes
PEEPS® Bunny Brownies from The TipToe Fairy
You can visit PEEPS® on Facebook, Twitter, Instagram, and Pinterest! Don't forget check out their website for more ideas and recipes, too!
PEEPS AND COMPANY® is sponsoring this awesome PEEPS® Prize Pack below! Did you know they had an online store full of all things PEEPS®? Check it out HERE!