How are you feeling tonight? Are you all tucked into your bed, cozy and warm with the monsters far away? Or is there a monster in the closet or under the bed who's waiting to scare you if you're not careful? It's always hard when it gets dark outside. But we have some great news for kids (and adults) who are scared of those scary monsters…Monster Spray!
This blog post will show you how to make this super-simple spray so those little ones can get a good night's sleep without worrying about their fears.
Calming Your Kid's Monster Worry
The best way to help kids that are scared of monsters is to be there with them. The parents need to spend time talking about the monster and helping their child feel comfortable enough to sleep. Setting out a chair by the door so you can watch them sleep or playing music may also help. You can also spray down their bed with "monster spray."
The monster spray is a great way to help them work through their worry.
If you have a small child, they may not be able to reach the bed from the ground. In that case, set up an additional spray station on their nightstand so it's easier for them to use. You can also make a monster spray in larger sizes and put it into decorative bottles with spritzers or pump containers if you have a baby or toddler.
Another way to help kids overcome their fear of monsters is to create new memories where monsters are fun. Check out this tutorial on how to make a "Feed The Monsters" Game!
Making Monster Spray
Monster spray is an easy DIY project that can be made from a few simple household ingredients. You'll need water, witch hazel, and 8-10 drops of lavender essential oil. If you find that the scent is too strong for your child, you can use other oils such as chamomile or eucalyptus.
You then simply fill up your bottle with the liquid combinations and tighten on a spritzer or pump container top. This way kids can easily access the liquid when they need to do their nightly "monster spray."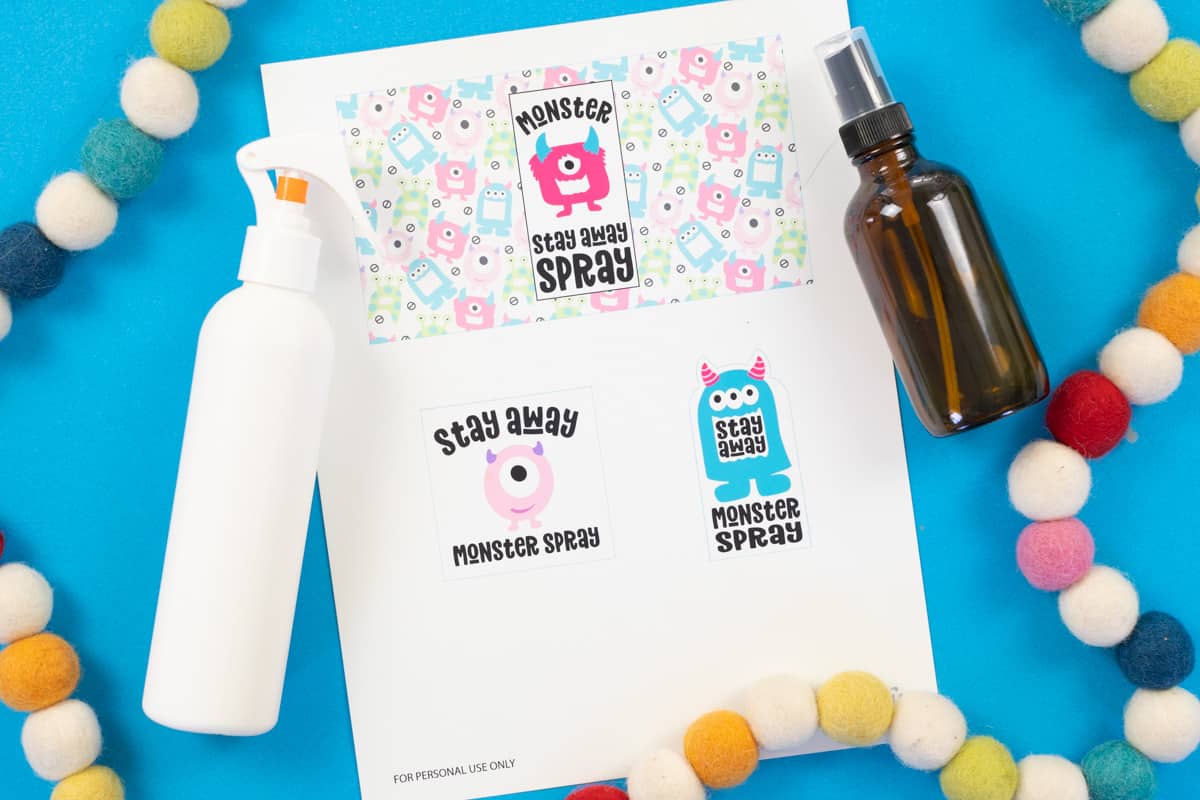 Supplies needed:
Spray bottle (I like to use glass containers but PET plastic bottles are a good option as well)
Water for diluting the essential oils
Monster Spray Free Printable Label (download below)
A Good Night's Sleep
In this post, you learned how to make monster spray. This is a quick and easy way for kids to feel safe at night without having to use any harsh chemicals or sleep aids. It's also fun! The best part of this process is that it doesn't require anything more than a few ingredients from the grocery store (or your own kitchen!). Plus, there are free printable labels included with these instructions so you can have them ready in no time.
Do you think your child would like their room sprayed? What other ways do you help children overcome nighttime worries? Share below and we'll be happy to answer any questions!
More Monster Free Printables
I've partnered with some of my favorite bloggers to bring you tons of monster-free printables. Click through the links below to download on each blog. Hope you enjoy it!