For all you longtime readers, I'm pretty sure you've noticed by now that we're pretty much a house of sci fi nerds. Most people think my husband introduced me to Star Wars and Star Trek but the truth is that I was a long-time fan of all types of science fiction long before I met him (Rocketship Galileo was my favorite book in middle school.) So, it should be no surprise that May the Fourth is always a fun day around our house! In case you're not a fan of Star Wars (gasp), the 4th of May is a play off of the famous quote "May the force be with you" and is celebrated by Star Wars geeks world wide. These Lightsaber Skewers are the perfect addition to any gathering!
This Lightsaber Skewers tutorial was originally written for Consumer Crafts and contains affiliate links. The small percentage I may earn off your purchase comes at no extra cost to you and helps T&T continue to offer free printables, tutorials, and more!
May The Fourth Lightsaber Skewers
Materials:
Step 1. Cut a 4″ x 9″ strip of the black foam, remove the protective backing, and wrap tightly around the base of a wood skewer. Continue wrapping until entire piece of foam is secure around the skewer.
Step 2. Cut a small circle to the approximate size to cover the end.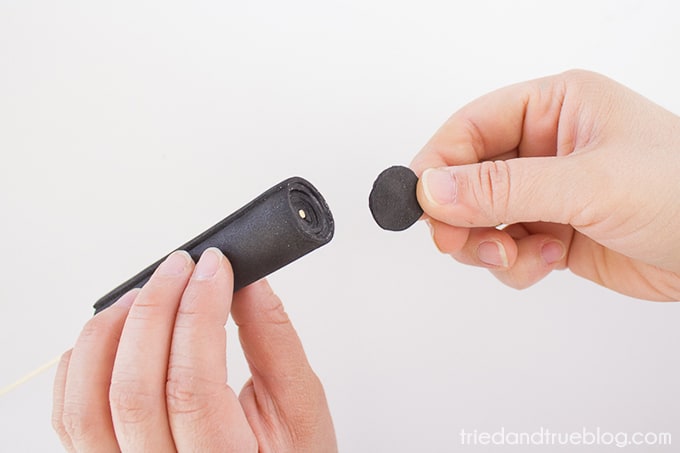 Step 3. Use two strips of silver duct tape to cover black foam. I liked the look of the shiny silver duct tape but the regular color of duct tape would work too.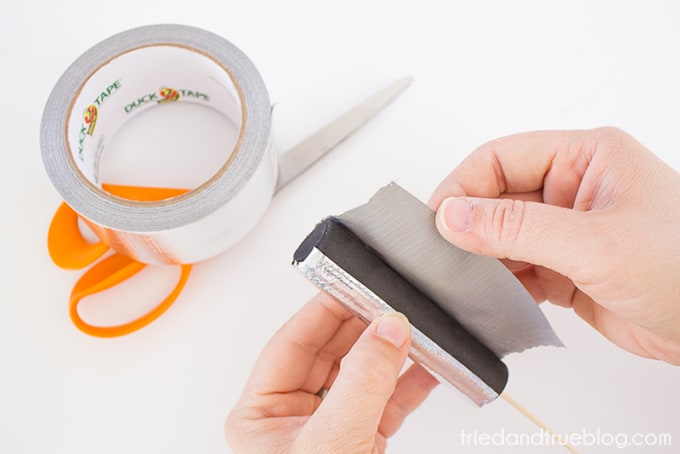 Step 4. Cut six small strips of black foam (approx. 1/2″ x 1.5″) and place evenly around the "lightsaber."
Step 5. Cut another slightly longer strip to wrap around the center. Trim off any excess.
Step 6. Add a small red circle to the top. Of course, you don't have to make yours look exactly like mine. Feel free to research different lightsaber looks and customize your skewer any way you want!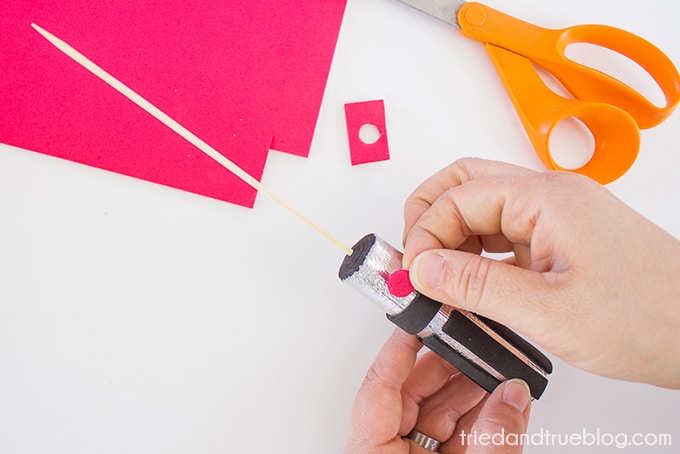 Step 7. Your Lightsaber Skewer is done and ready to be used!
We love filling our skewers with fruit and dipping them into yummy chocolate fondue but really, you can leave them plain and they're still awesome. Of course, since we're dealing with sharp sticks, you should be cautious when using these around children (or extremely immature adults.) Remember, lightsabers are an elegant weapon for a more civilized age….so take care!
Hope you and your friends have fun making these Lightsaber Skewers and remember…May the Fourth be with you!
Here's more fun geeky projects: