This is sponsored post by Lowe's.
When we bought our house almost 10 years ago, we knew it was going to be a long and tedious road to making it our own. You see, we loved everything about this house…almost. It was an old house on an acre of land with a separate in-laws quarters in the back that would eventually become my studio space. We loved the land, location, and nearby schools. The only downfall was that the entire interior of the house was painted bright primary orange. We've slowly replaced the orange paint in the house with more basic colors that fit our style. Read below to see how we fixed our dark hallway with a little help from the Lowe's paint department!


Here's a before picture to give you an idea of what we were working with. I actually didn't mind the color so much (which was a seriously understated orange compared to the rest of the house!) because it kind of complimented the colors on our living room gallery wall. The main issue was that it made an already small hallway look even more claustrophobic with ceiling to floor coverage. Plus, the previous owners used a textured paint that left the walls feeling just like sandpaper!


We knew that painting the hallway would make the biggest difference so the next chance for a three day weekend, we made our way to Lowe's and picked out the perfect white Valspar paint! Since we were coving a pretty dark color but in a relatively small area, I splurged on one-coat coverage paint which cut our workload down to 2 coats instead of 3-4. Plus, since I'm 6 months pregnant and planned on enlisting the help of my 8 year old, the zero VOC technology was absolutely essential! Plus Lowe's has an amazing paint guarantee that if you're not 100% happy with your selection, you can return the unused portion within 30 days and exchange it for another comparable paint selection or possible refund. (They reserve the right to limit guarantee at their discretion in the event of suspected fraud or abuse)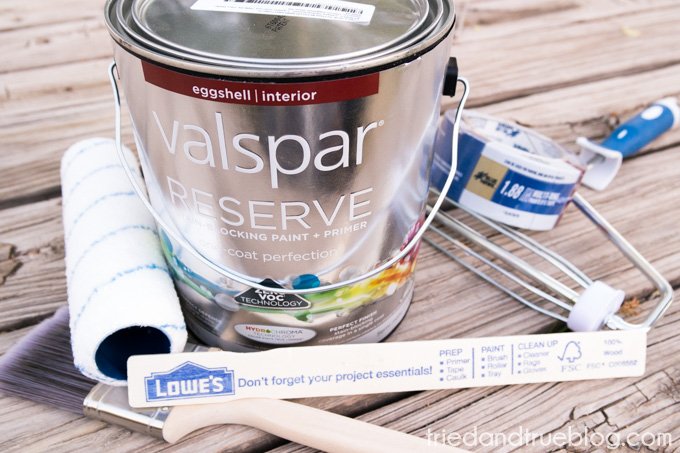 You guys, I cannot believe what a difference it made! Having a fresh coat of white paint on the walls, trim, and ceiling completely brightened up this previously dark hallway. I never realized the impact the dark paint had on even the living room since it was directly visible. Plus, I no longer have to worry about my kids scraping up against the side of the sandpaper walls!


Once the hallway was painted, I wanted to have a section where we could display some of our favorite pictures. Aren't hallway picture galleries the best? I knew I wanted the pictures to be easily rotated so I found some pretty copper frames that can easily be opened and closed when necessary. I love how the modern feel of copper looks against the traditional white!


There you have it! My once dark and very orange-y hallway is now clean and bright and I couldn't be happier. Next up…our bedroom! What about you guys? Is there an area of your house that could totally use a fresh new coat of paint?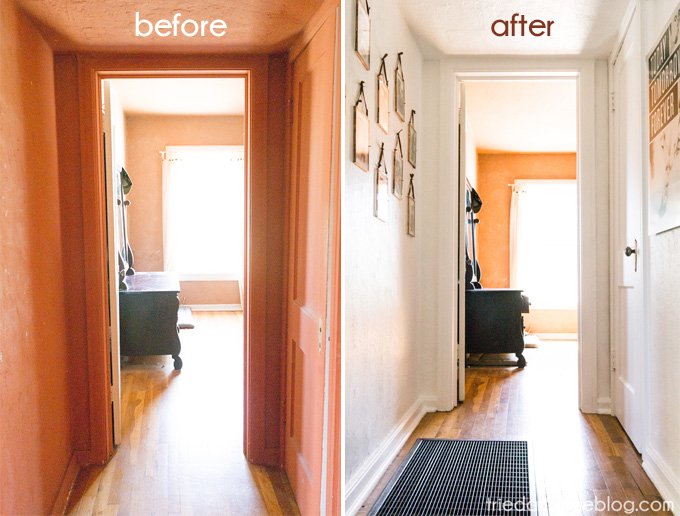 This is a sponsored post on behalf of Lowe's