Hello Young House Lovers, thanks for stopping by! Today is my birthday so seeing my I Love Everything printable on Clara's wall was the best birthday gift ever. Well, actually, the Banana Cake that my husband and boys are making me tonight will be the best gift ever but being mentioned on Young House Love comes in a close second! We'd love to keep in touch so please connect with T&T through Facebook, Twitter or Pinterest.

I am just stunned by the attention my little "I Love Everything" Print has gotten. Really. Thankful and happy but still stunned. I guess you all like coloring just as much as I do!
If you still love the print but want to make it a little more utilitarian, why not turn it into a magnet? All you need is the free printable, shrink plastic and some permanent markers. If you haven't played with shrink plastic as an adult, you're in for a surprise. It's just as fun and exciting to watch it shrink as when you were at summer camp! Follow this easy tutorial for a super sweet little gift.
"I Love Everything" Magnet
Materials:
– "I Love Everything" Free Printable
– Shrink Plastic
– Permanent Markers
Directions:
1. Decrease the size of the "I Love Everything" Free Printable by 1/4. To do this through GoogleDocs, just click on the Multiple button in the Print options box and set the Pages Per Sheet box to 4. You can play with these numbers if you want your magnet to be bigger or smaller. My finished magnet measures about 1.5″x2″.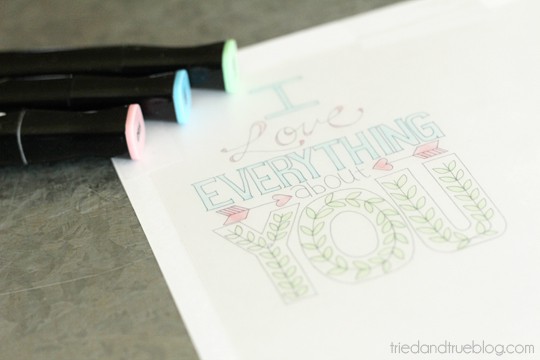 2. Tape a sheet of your shrink plastic in place over the printable. Use permanent markers to color in the image. Remember that as the plastic shrinks, all the colors will become more concentrated. Mine were so light in this stage, you almost couldn't see the image!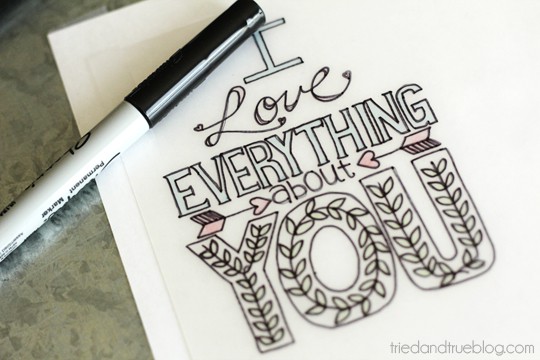 3. After everything is colored in, draw in the outline with a black permanent maker. Don't worry too much if you go out of the lines a bit. We're going for a handmade look here!
4. Trim off any excess plastic and round the corners. Follow the heating instructions for the shrink plastic. (You see what I mean about the colors being so light? Don't worry, they'll look just fine in a few minutes!)
5. Tada! Did you sit at the oven and watch it shrink like I did? Magic, huh? All you have to do is stick a magnet on the back and you're good to go. Wouldn't it be super sweet to get this inside of a Valentine's Day card?
Thanks again for visiting! Hope you all have a happy day!