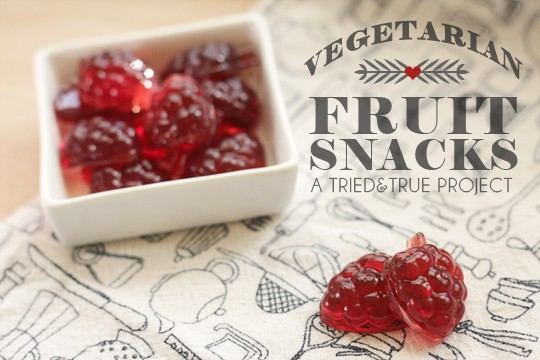 Gelatin is one of those sneaky non-vegetarian things. That's a huge bummer since it's in fun things like tons of candy, marshmallows, Jell-O and fruit snacks. That last one is especially dire if you're the parent of two crazy little boys who just happen to LOVE fruit snacks. I mean, really. What kid doesn't?! Luckily, pectin based fruit snacks are becoming easier to find. Annie's Fruit Snacks are some of our favorites but we can easily finish an entire box in one sitting! That's ok if it's the only way your kids will chill out and let you walk around Target for a bit but they definitely can get expensive as a daily snack. But…
<cue the fanfare> Agar Agar to the rescue! It's a plant based thickening agent that is often used in Asian cuisine and a vegetarian mother's best friend. You can find Agar Agar flakes in the Asian section of most grocery stores. This recipe calls for Agar Agar powder which is a bit more difficult to get your hands on. I suggest checking out your local Asian grocery store. I love that place!
I hope you and, more importantly, your kids enjoy these! Even if you're not vegetarian/vegan, if you've got agar agar and some fruit juice, you're halfway there to a super quick and healthy snack. Any mother can appreciate that! 🙂
Vegetarian Fruit Snacks
(adapted from LadyMake)
Ingredients:
– 6 T Agar Agar Powder (not flakes)
– 2 C Unsweetened Fruit Juice
– Pinch of Salt
– 2 T Granulated Sugar (not a liquid sweetener since it'll change the consistency)
– Silicon Ice Cube Trays (I got mine in the dollar section of Target)
Directions:
1. Gather ingredients. The juice I bought was sweetened already so I omitted the sugar. In a pinch, even Kool-Aid would probably work. Not as healthy but would probably taste pretty good. Edit: I just found out that the Golden Coins Agar Agar Powder I bought isn't 100% Agar Agar. You'll probably need half the amount listed in this recipe if you're using pure Agar Agar.
2. Mix 4 T of the Agar Agar and sugar into the juice in a small sauce pan until completely dissolved.
3. Lay out your trays on a nice and even flat surface.
4. Heat liquid to a rolling boil. Continue for about 7 minutes until the liquid becomes the consistency of cough syrup. Add up to two tablespoons more Agar Agar if necessary. The original recipe said it would become as thick as glue but I never got to that stage. Allow to cool slightly (not too much or you'll have one big fruit snack!)
5. Poor into ice cube trays and allow to cool completely. You can pop these in the fridge if you want to speed up this process. Who am I kidding?! You're going to want to pop these in the fridge to get them into your kiddos outstretched and impatient hands ASAP! Should take around 10 minutes or less.
Hmm, I wonder how these Vegetarian Fruit Snacks would taste infused with vodka…mmm. ;D