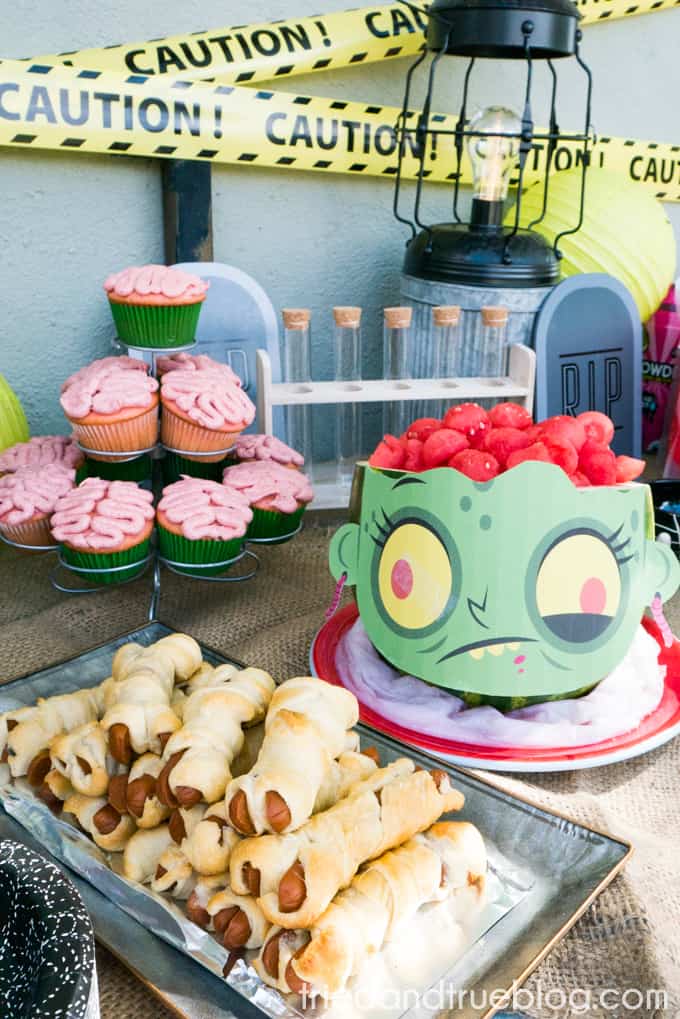 I'm a long-time fan of all things zombies but when my kids asked if they could have a zombie-themed party, my first reaction was "absolutely not!" Realistic zombies give my kids terrible nightmares which means that come 2 am, they're in the bed with us and I'm getting terrible sleep. And this mama needs her sleep. Seriously. So, instead of super scary, we went super cute with this Halloween Zombie Party for Kids! I partnered with Goblies to share this fun, kid-friendly party that kids are guaranteed to love and is perfect for Halloween. Mmmm, braaaaaains!

This post contains affiliate links for your convenience and to assist in the maintenance of this site.
Ultimate Zombie Party Experience
Since my boys would be inviting their friends, I knew that there would be a range of kids aged 7-10 at our Halloween Zombie Party for Kids. Perfect for enjoying Goblies and water guns! Although Goblies is specially formulated to not stain clothes, I made sure to mention that we would be getting messy in the invitations (which you can download below). We also provided blank white t-shirts from Consumer Crafts that the kids could wear over their clothes for easier clean-up and goggles to protect their eyes. Turns out, zombies don't have great aim so even though we told them not to aim at faces, the goggles were a necessity!
They had so much fun playing with both the Goblies Play Paint in the these water guns and the Goblies Throwable Paintballs! We put up some Halloween gravestones that the kids had a blast running through as they were getting "zombiefied." They got soooooo messy and loved every second of it. I was a little worried about the amount of red dye that was all over our backyard but a couple of hose-downs after the party was done got rid of everything!
Zombies Love Braaaains
Of course, no Halloween Zombie Party is complete without brains and bones to munch on. Not to mention toxic sludge and gooey blood beverages to quench a zombie's thirst! I found tons of items over on Consumer Crafts website to decorate the table with: burlap sheets, test tubes, galvanized buckets, metal trays, lanterns, vintage lantern, and serving bowls. Who knew that Consumer Crafts was so perfect for a zombie party?!
I took the easy way out with these Brain Cupcakes and made them with just a store-bought mix. I wanted to stay away from using even more red food coloring for the frosting so instead, blended up some freeze-dried strawberries and added the powder to a basic frosting recipe. The frosting ended up being the perfect color and thickness! The "bones" were just veggie hot dogs sliced on the ends and covered in crescent rolls. You can get the full recipe and tutorial for those here.
As for the beverages, I got this awesome Skull Drink Dispenser that was perfect for the toxic sludge (or as humans would call it: Squirt & lime sherbet punch). The other drink offered was strawberry lemonade with mushed up fresh strawberries to add to the gore factor. Both were guzzled down quickly by all the zombies in attendance!
Zombie Party Free Printables for You!
Are you ready for tons of Halloween Zombie Party free printables to help you throw your own party? From invitations to games, I've got it all covered! Click HERE to print out the following items:
Pin the Brain on the Zombie Game
Zombie Photo Booth Props
Food Table Signs
As well as customizable invites and cupcake wrappers not pictured here!
Couldn't let the zombies leave empty handed! I accidentally ordered these wedding favor bags and didn't realize my mistake until it was too late. No worries, just a quick edit with a red sharpie and they were perfect to fill with zombie-themed candy.
I hope you all enjoyed a behind-the-scenes look at our Halloween Zombie Party for Kids! I know my kids loved the entire party but their absolute favorite was playing with the Goblies Play Paint and Throwable Paintballs. You can find Goblies at Michaels, Walmart, Amazon, Five Below and ConsumerCrafts.com. I know your little zombies are going to love playing with it as much as mine did!
Here are more fun zombie ideas for you!