Call me old-fashion but I love sending birthday gifts through the mail! I know it would be 10x easier just to send a gift card though Facebook but where's the fun in that? One of my best friends is having a birthday next month and I thought it would be fun to ship her a Birthday Party in a Box, complete with pennant flags and confetti!
I created the Birthday Party In A Box tutorial as a member of Lifestyle Studios. Feel free to use my super secret code, "TRIEDTRUE" for 20% off any purchase at the We R Memory Keepers/Lifestyle store! This post may contain affiliate links for your convenience and to assist in the maintenance of this site.
The Birthday Party In a Box concept is easy to recreate when you've got these adorable Rainbow Birthday Party free printables from Jen Goode from 100 Directions! How cool is it that someone with so much talent is giving these away for free? Seriously, Jen is the best! I got the box and all the little gifts from our favorite budget buster…Target, of course.
I used my handy dandy We R Memory Keepers Crop-A-Dile Power Punch (1/16″) and some Sew Easy Aqua Baker's Twine to make small hinges in the back of the box and to attach the super cute pennant flag to the top.
Can I say how much I adore this punch? It's crazy strong and can punch through cardboard and metal like buttah. I've even cut through round wood chips to make a necklace hole with it. Seriously, you get one of these punches and all you want to do is walk around punching holes in things…hah, that sounded so violent! But really…holes everywhere.
Don't forget to use the code "TRIEDTRUE" for 20% off everything in the We R Memory Keepers Store!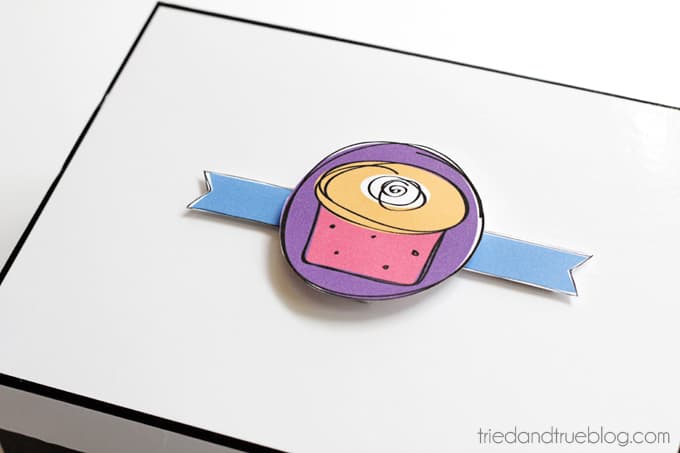 After finishing the inside, the last thing I did was cut out and affix a couple more of Jen's super cute printables to the top of the box and my Birthday Party In A Box is good to go! I'll wrap the whole thing in brown craft paper to protect the decorations while en route. You've got to love brown paper packages tied up with string, right?!
Here's what my package looks like after adding all the sweet little gifts. Lots of chocolate, some lip balm, a note pad, and a fortune telling pen. None of it is crazy expensive or huge but I'd like to think it'll make a totally amazing person and friend smile on her birthday. That is totally worth the 15 bucks I spent on this and so much more!
How about you, what's your go-to little birthday gift?
Don't forget to stop by 100 Directions to print out your Rainbow Birthday Party free printables!

And since we're on the subject, don't forget to check out some of my other fun birthday party ideas!
Cracker Jack Party Free Printables
Decorating a Cake With Absolutely No Experience!
Little People Birthday Party Free Printables
Cupcake Chalk Birthday Favors
Max's Busytown Birthday Party