My sweet little baby is one and to celebrate we threw him a Busytown Birthday Bash. And by "threw him a Busytown Birthday Bash," I really mean "threw me" because while he thoroughly enjoyed his first taste of cake, he definitely didn't notice that it was in the adorable shape of Huckle (more on the awesome cake later). I'm such a huge fan of Richard Scarry and I knew that my opportunity for a Busytown themed party was slowly disappearing as the years and superhero obsessions grew. Yay for nonvocal, oblivious one year olds! 😀
I had a hard time coming up with these invitations but eventually went with a super simple design with Lowly Worm front and center. Who doesn't just love that sweet little well-accessorized nematode?! We looked into getting the invites professionally printed on one page but it was easier (and cheaper) to just print them out at home. It's just three half page sections (8.5 x 5.5) taped together with one of those scrapbooking double sided tape dispenser. We folded them where the papers were connected so you couldn't really tell that they were just taped together.
Decorations were pretty low key and all inspired by Pinterest (Check out my Busytown Birthday board!) I tried out using vinyl tablecloths instead of streamers (via CafeMom) and it worked wonderfully. So much easier!
I also scanned, printed and taped together large images of some of the Busytown characters. I'm so glad that I worked on these the week before because finding images that looked like they were flying or hanging was actually quite time consuming. Good thing I had 8+ thrifted books to choose from. Thanks Brooklyn Bride for the round-about idea!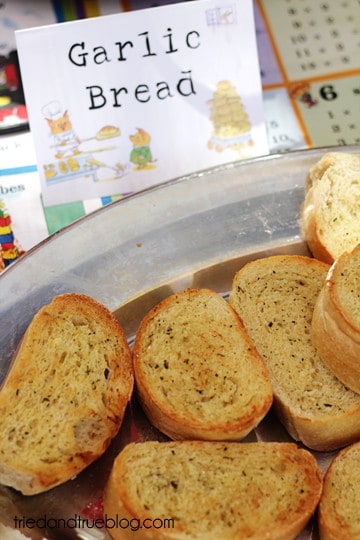 We did spaghetti and meatballs for lunch since it was super easy to make a large batch of noodles, sauce and animal/veggie meatballs. I had labels on most of the food that had coordinating Busytown images. The apple appetizers had heart cutouts (Cutout Apple Slices, Jewels of a Child) and were dipped in a Caramel Sauce (BHG). The punch was a June Bug recipe from Better Homes & Gardens. Quite refreshing and even tastier with a little bit of rum! 😀
My absolute favorite part of the party was the amazing Huckle cake that my friend, Judith, made! I almost didn't want to let Max dig into it, the cake was just so perfect. I wish I could tell you how she made the cake but other than the rice crispy ears, I have no idea. It's a little crazy that one woman can be beautiful, smart, sweet and crazy talented with cakes! Thank you so much, Judith.
I was kinda worried that the super cute Huckle cake was going to be completely destroyed so I also whipped up some apple shaped green cupcakes to go with the whole Lowly Worm/Apple Car idea (just type in "Apple Cupcake" into Pinterest, tons of ideas!). It's a good thing because the kids did, indeed, demolish the cake!
My absolute favorite part of the day was watching Max dig into his cake with his hands and then laughing as the rest of his little friends did so as well! I think some of the parents even got in on that action. 🙂
The favors were mini crayons and two coloring sheets squeezed into small flip-top containers I found at Michael's.
Thank you to everyone who helped us celebrate our little busy man turning one! He and we are so lucky to have such amazing little friends.