I've been waiting for a long time to cut my hair and I finally did it on Friday! (Check out my new do on the Tried & True Instagram feed) It was really fun being able to play and braid long hair but I found myself becoming so attached to it. Am I the only one that feels about their long hair like that?! It becomes a sort of security blanket that even if nothing else is right in the world, at least I have this beautiful long hair to fall back on. So silly, I know!
Once I got over the initial shock of cutting my hair so short, I was thrilled to know that the years of growing it out would go to a much better cause than my ego. I highly suggest you check out Locks Of Love if you're interested in donating your hair!
So, in honor of totally chopping off my hair this weekend, I thought it would be appropriate to share this tutorial for Washi Tape Hair Pins that I originally wrote for Crafts Unleashed. Perfect for a tween or teen (or a grown woman who likes fun hair accessories like myself!), these fun and bright hair pins seriously come together in a matter of minutes and are sure to delight!
Washi Tape Hair Pins
Materials:
– Silver Bobby Pins
– Washi Tape
– Dimensional Magic Mod Podge
– EK Success Cutter Bee Scissors
1. First things first…you'll have to decide which of all your incredibly cute washi tape you should turn into hair pins! Tough choice, I know. Because the hair pins are pretty thin, it's probably best if you keep to small patterns or solids.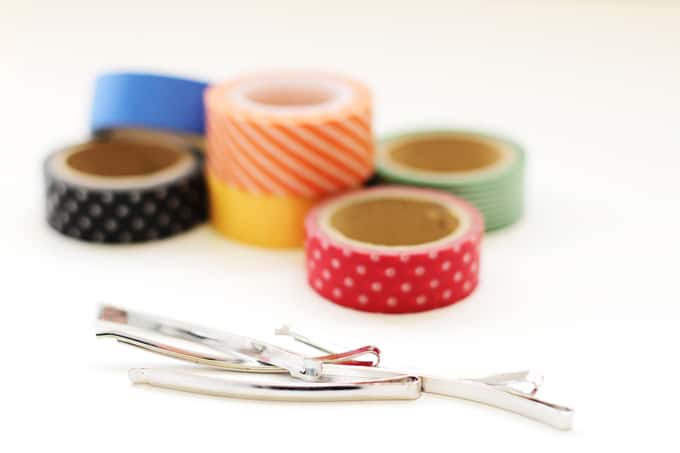 2. Lay a strip of washi tape over the hair pin and trim with sharp scissors. These EK Success Cutter Bee Scissors are some of my favorites because they're small, sharp, and non-stick!
3. Slide the hair pins onto a piece of cardstock (I used the packaging the hair pins came in) and apply a layer of the Mod Podge Dimensional Magic. Allowing the hair pins to dry on the scrap will prevent them from being sealed shut with the Dimensional Magic. You can wipe away any excess Dimensional Magic while it's wet. Don't worry if some puddles occur off the edges. You'll remove them in the next step.
4. Allow the Mod Podge Dimensional Magic to dry for at least three hours before removing hair pins. You can just trim off the excess Dimensional Magic with your finger nail or scissors.
I've been using these like crazy ever since getting my super short haircut because they're really good at keeping hair back. And plus they're super cute! Win/win right? With so many fun washi designs out there, just think of all the possibilities! What would you decorate your hair pins with?