Yay, it's Tried & True's 5th Anniversary this week and I'm throwing a virtual tea party! I am surround by boys and superheroes so this is the only chance I have to throw a girly party. Bring on the pink! There will be daily tutorials on fun tea party crafts and recipes for yummy finger foods. Also, don't forget to come back each day for awesome giveaways from my favorite craft companies. How do you like that? It's T&T's birthday but you get the gifts!
Today's giveaway is sponsored by the wonderful Consumer Crafts who donated a huge Scrapbooking Gift Basket! I love working with this company and their extensive craft website. Reasonably priced and quick delivery, Consumer Crafts should be your go-to store for buying craft supplies online! Scroll to the end of this post to enter.
First things first…we need to send out the Tea Party Invitations!
This post may contain affiliate links for your convenience and to assist in the maintenance of this site.
"Smell The Roses" Tea Party Invitations
Materials
Instructions
1. Use the Free "Smell The Roses" Tea Party Invitations Studio Files – (01, 02) to cut the invitation from your decorative scrapbook paper. Consumer Crafts has so many scrapbook papers, you're sure to find one to match your Tea Party theme!
2. Spray adhesive on the back of the invitation wrapper and glue in place.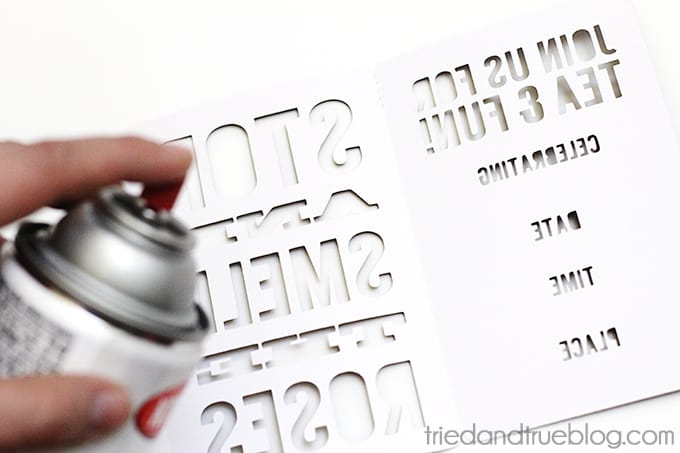 3. Press down firmly on the entire card to make sure all the small corners and crevices adhere to the inside paper. Be careful with the smaller pieces of the letters. Not sure when I lost the little part of my "H." 🙁
4. If you decided to use a dark paper for the invite, use a white gel pen or permanent marker to fill in the back. Hope you enjoy the tea party!
And that's it! All you have to do now is buy some standard envelopes to fit a 4×6 card and you're ready to invite the world to your party. Join us tomorrow as we work on the Tea Party Favors!
And to start off this week's 5th Anniversary Festivities, I'm happy to offer this amazing Scrapbooking Basket graciously donated by Consumer Crafts! You can connect with Consumer Crafts via Facebook, Twitter, YouTube, Instagram, and Pinterest. Just follow the instructions in the Rafflecopter widget below to enter. Good luck!
Want to Check Out More Silhouette Projects?
My Silhouette Challenge buddies and I are all sharing projects on our blogs today, so peruse the projects below for a wealth of Silhouette inspiration!
1. Create & Babble // 2. Kate's Paper Creations // 3. Please Excuse My Craftermath // 4. Tried & True // 5. unOriginal Mom // 6. Mama Sonshine // 7. Adventures in All Things Food & Family // 8. The Experimental Home // 9. The Outlandish Momma // 10. Whats Next Ma // 11. Dream a Little Bigger // 12. Silhouette School // 13. Creative Ramblings // 14. Our Rosey Life // 15. Bringing Creativity 2 Life // 16. Practically Functional // 17. Minted Strawberry // 18. Two Purple Couches // 19. Simply Kelly Designs // 20. Grey Luster Girl // 21. TitiCrafty // 22. My Mom Made That // 23. Architecture of a Mom // 24. My Paper Craze // 25. The Sensory Emporium // 26. Ginger Snap Crafts // 27. Mabey She Made It // 28. McCall Manor //