We are smack in the middle of Spring Break so this week's Craft Lightning theme of "Busy Bag" could not be more perfectly planned! The idea is to make a project that will keep kids occupied for 15 minutes or less so that parents can jump in the shower or finish that much needed morning cup of coffee. This Cardboard Basket Weaving tutorial is perfect because you can scale the template down to make a small bowl that can come together quickly or keep it large to take up even more time!
This post contains affiliate links for your convenience and to assist in the maintenance of this site.
Super Easy Cardboard Basket Weaving
Materials:
Cardboard Basket Weaving Template (find below!)
Assorted Yarn
Craft Felt
Glue
Clothespins
Step One. Use either a cutting machine (I love my Cricut Maker!) or a sharp pair of scissors to cut the Cardboard Basket Weaving template from thin cardboard. I suggest using Cricut Kraftboard but a cereal box would work well too. Remember to scale the template down if you want a project that takes less than 15 minutes. Also, I'm not counting this step toward the 15 minute stopwatch since I usually just have a bunch of these store away until needed.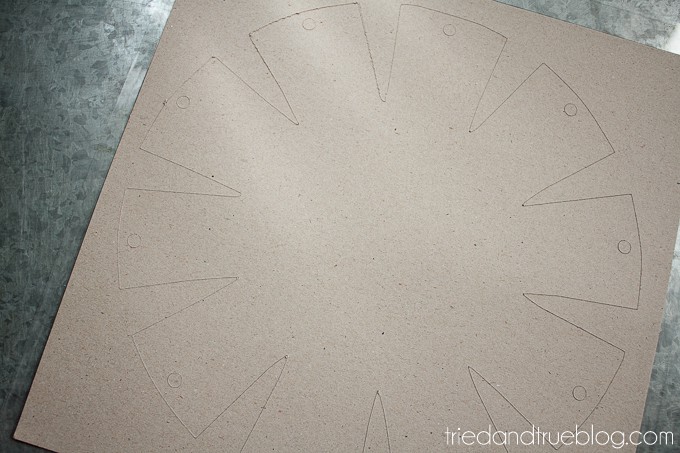 Step Two. Use the Cardboard Basking Weaving file to cut a felt circle that will be glued to the inside of your basket. You can also glue one to the bottom if you'd like.
Step Three. Tie the yarn end to one of the cardboard spokes and begin to weave in and out each panel.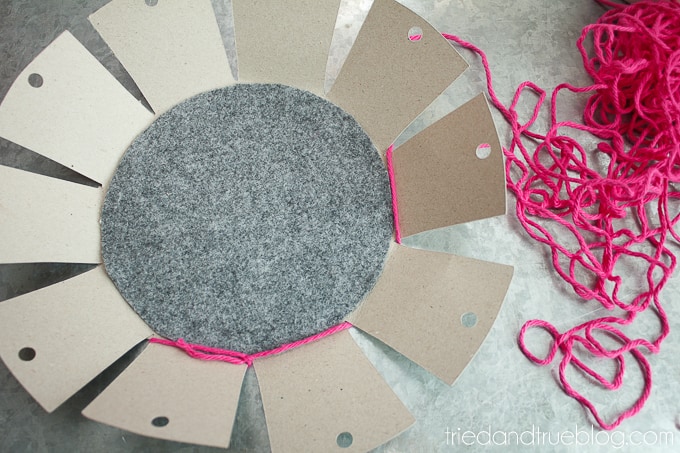 Step Four. Continue weaving until you're ready to add another color. You can switch out the yarns by just tying one to the other and continuing weaving around bowl.
Step Five. Once you've made it to the top, wrap a good amount of yarn around the top of the basket and secure with a few clothespins. Depending on the age of your child, you might have to help him with this step.
Step Six. Begin working on the top by inserting a needle through the bottom until the loose yarn end is secure. Work the needle to the top and begin weaving around the edge, in and out of the circles at the top.
Beautiful Baskets
And there you have it, an awesome little basket that your kids made with their own two hands! Depending on the size, these can either be made in a quick 15 minute session or longer if the basket is bigger. Either way, they'll be super proud of their creation!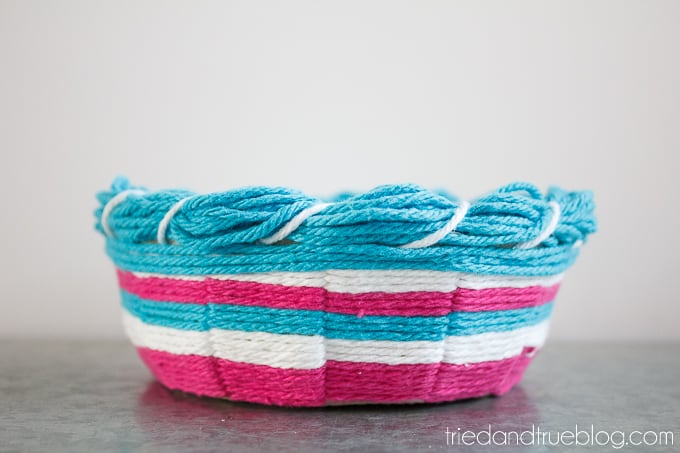 DOWNLOAD THE CARDBOARD BASKET WEAVING FILE!
Once you add your information, there'll be two different files you can choose from. Use the JPEG if you plan on cutting the template out by hand and the SVG if you're using a digital cutting machine.
Thank you to 30 Minute Crafts, The Country Chic Cottage, and Glued To My Crafts for hosting Craft Lightning!
I'd love to see how you customize this project so make sure you tag me on my social media accounts!
Instagram | Facebook | Pinterest
If you liked this project, you'll love these too: