This "Spring Flower Vases" tutorial contains products (Mod Podge Stencils and Glitter) I received to review.
All opinions are 100% my own.
You know Spring is in the air when I post two flower vase tutorials within a week! We didn't get a single flurry of snow here this year and yet I still find myself longing for warmer weather. Regardless of the temperature outside, you can always warm up the decor in your house with this Spring Flower Vases tutorial!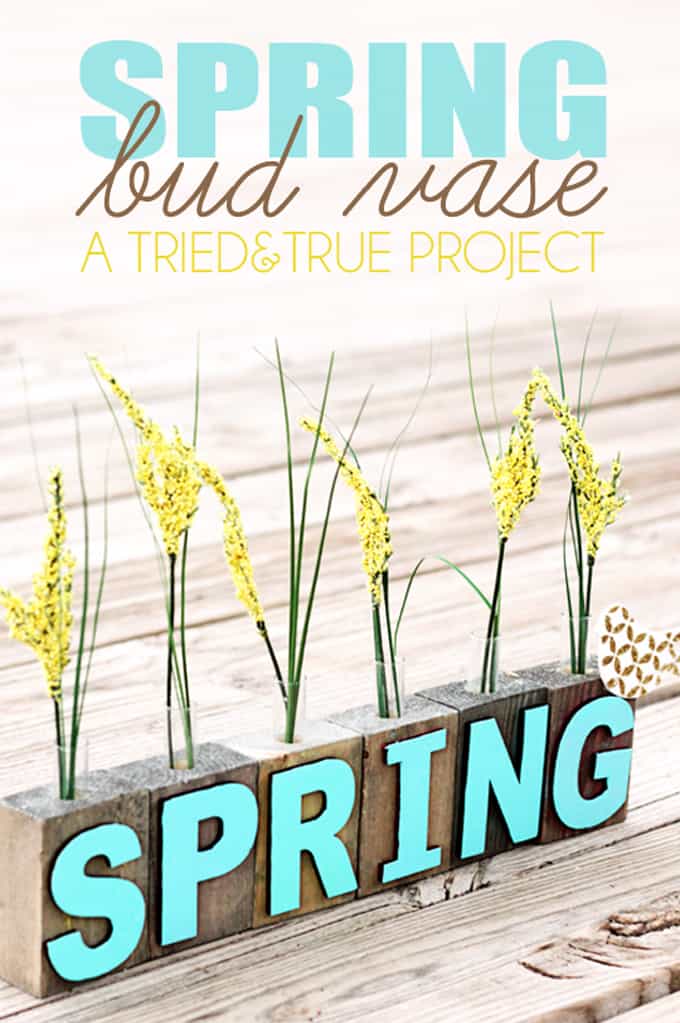 Those colors are killing me! I love the turquoise of the letters, mixed with the yellow flowers and the pop of gold on the bird. Amy Anderson of Mod Podge Rocks designed the stencil I used for the bird and I'm absolutely in love with it! It has just enough detail to be visually appealing but not so complex that the glitter doesn't stick. You can find all six Mod Podge Stencil designs online and at Michaels.

Spring Flower Vases
Materials:
– Block Letters (I got mine in the $1 section at Michaels but you could easily make your own!)
– Paint (Turquoise)
– Mod Podge Stencil (Tangier)
– Mod Podge
– Mod Podge Spouncer
– Mod Podge Glitter (Gold)
– Drill/Bits
– Test Tubes
Instructions:
1. I found these awesome wood blocks at Michaels a while ago and finally found the perfect use for them! I wasn't thrilled with the layout of the colors so I decided to give them a couple coats of turquoise paint. I also added a layer of white paint to the little wood bird cutout. Isn't he cute?
2. After the bird dried completely, I placed my Mod Podge Stencil over the cutout and applied Mod Podge. I highly suggest using a spouncer! Gives you the perfect amount of paste without too much of it seeping underneath the stencil.
3. Ok…this was my absolute favorite part. I usually hate working with glitter (I know. A craft blogger who hates glitter? Blasphemy!) but the little squeeze tubes the Mod Podge glitter comes in makes it super easy to just puff the glitter exactly where you want it. I totally wish all glitter came in squeeze tubes!
4. While the bird is drying, take the wood blocks and drill an appropriate test tube size hole in the top. If you don't have access to glass test tubes, you can always use those thin tubes they have floral/flower arranging department. You can even omit the containers if you're not planning on using real flowers with water.
5. Use a glue gun to affix bird to the front corner of the letter "G." I absolutely love the pattern on the bird!
All that's left to do is insert the test tubes, add some fresh flowers, and cross your fingers that Spring will be here soon! Hope you enjoy your Spring Flower Vases!