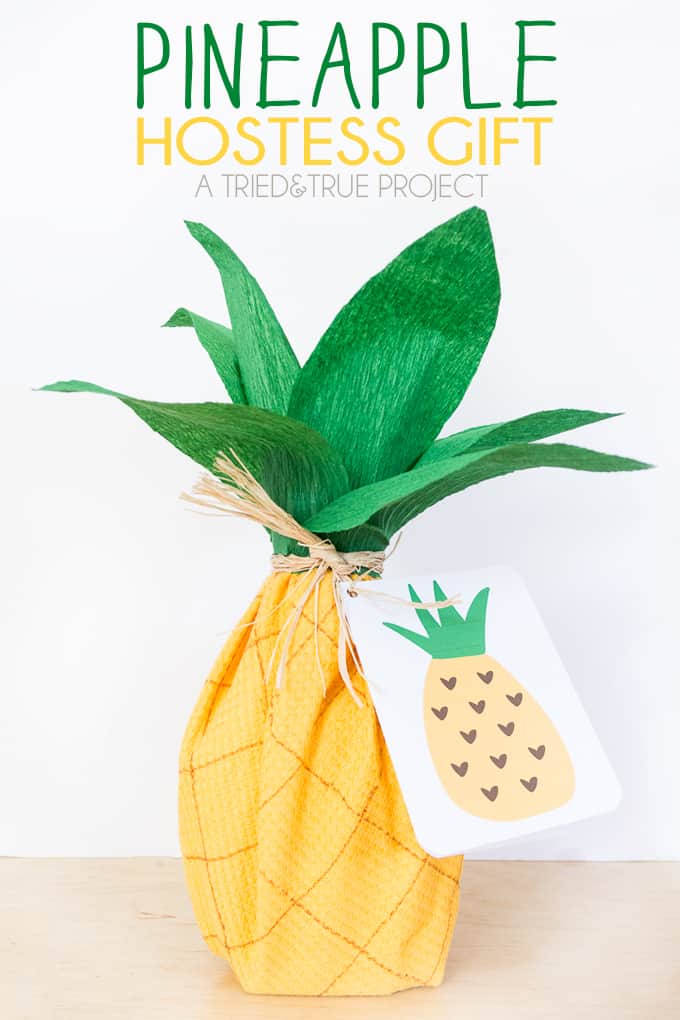 I'm a huge fan of taking consumables as hostess gifts when friends invite us over. I don't have to worry if they have too much of one thing or don't like the color of another, alcohol or any other yummy beverage is always welcomed! This Pineapple Hostess Gift is an easy way to add a little bit of pizzaz to a basic bottle of alcohol that will still be useful long after it's used up. I thought a bottle of tequila worked particularly well so I included a free pineapple themed card with a recipe for Pineapple Chile Margaritas on the back!
Pineapple Hostess Gift
Materials:
Yellow Dish Towel
Brown Fabric Pen
Tan Raffia
Green Crepe Paper
"Pineapple Hostess Gift" Free Card (download below)
Step One. Lay out the dish towel on a flat surface and begin to draw "pineapple" diagonal lines with the brown fabric pen. Use a ruler if you'd like to make the lines perfectly spaced.
Step Two. Place your bottle (alcoholic or not) in the center and wrap the towel edges up to cover. You can fold over the tips if the towel is too big.
Step Three. Use a piece of twine or rubber band to secure the top.
Step Four. Fold a 24″ x 8″ strip of green crepe paper a few times until it is approx. 4″ x 8″. Cut a leaf shape out, making sure to add connecting strips to the bottom. (see picture below for shape)
Step Five. Wrap the leaf chain around the top of the bottle (covering the twine/rubber band.)
Step Six.  Use a piece of tan raffia to secure the leaves in place. Trim raffia to your preference.
Step Seven. Print out the free "Pineapple Hostess Gift" Card and attach to a small piece of the raffia. (download below)
Hostess With The Mostess
Now you don't have to worry about showing up empty handed to your next get-together! I went with our favorite tequila but you, of course, can substitute wine or sparkling juice if that's more your thing. I made sure to leave one of the cards blank just in case!
[wpdm_package id=12289 template="link-template-default.php"]
Thank you to Wayfair for partnering with me to bring your this fun tutorial and free printable. Hope you enjoy!