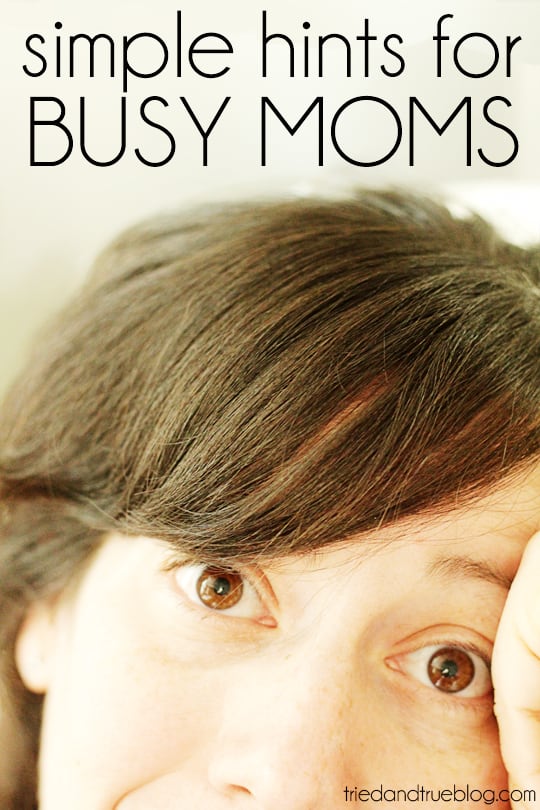 I've got to be honest with you all…I'm struggling with being a busy mom lately. I'm not talking about the "Oh bother, my souffle fell" kind of struggle. No, this is more like a "Is 10 am too early to have a beer?" kind of thing. My son started going to preschool a few weeks ago and our schedule has pretty much been flipped upside down.
My days have become so hectic, I've taken to staying up way too late to get my blog posts up and the resulting bags under my eyes are proof. (I was obviously not of sound mind when I decided to post a picture of me, without make-up and looking so extremely tired. Go get some sleep, woman!)
So, in an effort to pull it all together, I've come up with three super simple hints to help me maintain the last shred of sanity I have left. Hopefully they'll help some of you as well. And if it doesn't work out…at least we can be crafty and crazy together! 😀
This post may contain affiliate links. The small percentage I may earn off your purchase comes at no extra cost to you and helps T&T continue to offer free printables and tutorials!

Simple Hints for Busy Moms
1. Just Say "No!" – Life seemed so much easier when it was just me and my boys hanging out at the house. Now we've got to sell tickets, bring food, go to birthday parties, sign up for kung fu…where did all our free time go?! At some point you have to be ok with saying "no" to some things. Another mother once told me that when you're juggling this many balls, it's important to remember which of them are rubber and which are glass. Say "YES!" to the things you truly want to do and politely refrain from everything else.
2. Shortcuts – I love working through intricate and complex recipes but there are some days when I just need to get food in my boys' mouths quickly. If you haven't prepared yourself with a few shortcuts to a quick dinner, you're going to end up in a fast food drive thru line! These crazy easy BBQ Cups were made with Grands! Biscuits, Beyond Meat Feisty Crumbles, and Annie's Natural BBQ Sauce took less than 15 minutes to prepare and was on the table in 30. I was able to make them vegetarian friendly by simply substituting fake meat crumbles. Shortcuts, you gotta love them!
3. Go Easy On Yourself – Transitional times are never easy. I remember when the kids were babies and they would change up their sleeping or nursing habits and it was as if my whole world was rocked! After a few days or so, we would get use to the new changes and often find they worked better for us in the long run. Acknowledge that change is hard and that it's ok that you're struggling, it's ok that you haven't done laundry in a week, it's ok that there are bags large enough for an international trip under your eyes. It's all ok. The world will not gasp in horror because they've been there themselves!
So, those are my little hints on surviving this crazy gig called motherhood. What are some of your hints? I'd love to hear any and all that you have! Goodness knows, I need them.