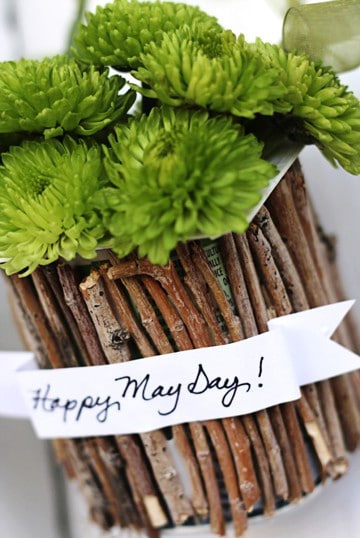 Happy May Day everyone! Here's a quick and easy May Day basket tutorial that comes together quickly, depending on the age and maturity of your child. Extra points for using up some of those old yogurt containers you keep hoarding!
As you can see from the following pictures, there's only a few steps until you have an adorable "basket," ready to fill with flowers and hang on a special somebody's door!
Recycled May Day Baskets
Materials:
– old yogurt container (or any other recycled container with straight sides)
– twigs
– glue
– white paper/pen
– ribbon
– flowers
1. Gather some twigs from outside. (I think this may have been Jack's favorite part. Gotta love outdoor adventures!) Snap twigs to the approximate size of the yogurt container and glue to side. Allow glue to mostly dry before moving on to another side. Or, if you're making multiples, work on another "basket" while the first one dries. (Note: this is where Jack cut out and I had to finish. He had fun snapping the twigs and gluing them in place and then this three year old's attention span (or lack there of) kicked in and he was off to playing soccer. I love this crazy age!)
2. Punch holes in two adjacent corners. This was kinda tough but just keep on squeezing, it'll pop through eventually.
3. Cut a .5 x 4 inch piece of paper. Cut the ends and fold inward to resemble a banner.
4. After writing May Day message, glue in place over sticks.
5. You're pretty much done! Super easy, right? All you have to do is add the ribbon to the back, add water, some flowers and hang on a friendly neighbor doorknob. What a sweet and unexpected surprise right?!