This Outdoor Folding Bar Shelf is super helpful for when you need an occasional shelf to hold food and drinks. Easy to put up with just a few supplies!
From the second we viewed our house, we knew that some attention was needed on the outside appearance. Since it's a fairly old home (1937), the outside back wall is made up of varying shades of moss green, wire pipes are everywhere, and I'm pretty sure there's been a field mouse or two scurrying by.
Nothing that a little paint wouldn't fix but since we had a first child shortly after moving in, giving attention to the back wall keeps on getting pushed back on the list of important things to do for the house (Right after adding a faucet to bathtub. Who puts in a tub without a faucet!?)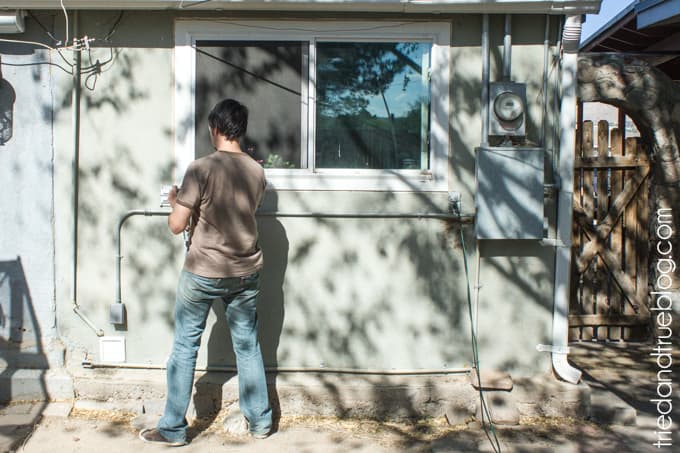 As you can see, this back wall is far from pretty. In fact, it's down right UGLY! So, what do we do when there's an eyesore in your backyard? Call attention to it, of course! Ok, maybe that's not what everyone does. It's what we did when we added an Outdoor Folding Bar Shelf just under the window and it was the best idea ever.
This post may contain affiliate links for your convenience and to assist in the maintenance of this site.
Awesome Supplies
First things first, you're going to need some Folding Shelf Brackets (mine were 16″). Unfortunately, I wasn't able to find them in either of the home shops in my city. Luckily, good ol' Amazon came to the rescue.
You might be able to rig together a similar set up with some extra wood and hinges. I just clicked and waited for them to show up on my doorstep. Goodness, isn't technology great?!
Ugly Pipes!
Because we had that horrendous wire pipe running through the center of our wall, we had secure the brackets to small wood planks that pushed them flush with the pipe. A pretty annoying extra step but I can't complain too much since it's nice to have electricity and all! At this point, all we had to do was screw a cut piece of wood to the top of the brackets to complete the Outdoor Folding Bar Shelf.
Add Some Color
Next step was to cut and adhere "The Good Life" to the shelf face. I used contact paper and a Cricut machine to create the words. I'm wishing I had invested in quality removable vinyl though. I guess contact paper from the 70's that you may have picked up in a garage sale loses it's adhesiveness over time. It was a total bummer to work with!
Besties
Once the cut-out letters were in place, all I had to do was start applying RECLAIM paint to the surface and allow to dry before adding the second coat. This was my first time working with the paint and can I just say what a dream it was? Honestly, I'm the absolute worst at painting large pieces. I just get so distracted and usually start sloping paint on, hoping that it'll dry evenly (which it never does!)
RECLAIM is my new best friend! It rolled onto the wood surface wonderfully easy. Since the colorant they use is super fine, it'll resist fading in the hot southwest sun. Plus it's eco-friendly, low VOC, and water based. There isn't anything this paint doesn't have!
Beer Goggles
After the two coats of paint were dry, all you have to do is remove the vinyl cut-outs to reveal your gorgeous work of art! Or in my case, reveal all the spots where my crazy old contact paper didn't stick to the wood enough. I'm just hoping that most people who get close enough to the Outdoor Folding Bar Shelf won't look closely. More than likely, won't even notice the slight mistakes.
Cross Off the List
I can't wait to put my Outdoor Folding Bar Shelf to good use during the Summer! It'll be a great way to keep adult beverages away from little hands. Since it's right below my kitchen window, I won't even have to go outside to serve from it. This idea has been something I've wanted to do since moving in. I couldn't be happier about finally getting it done!