This post is sponsored by Consumer Crafts but all opinions and ideas are my own. Affiliate links may be present for your convenience and to help in the maintenance of this blog.
I've got a crafty confession to make…I'm a terrible scrapbooker. I have the best intentions but I just never get around to them! I look at other people's amazing pages and always vow to start scrapbooking more but it's just never worked out. With two small kids, you'd think having them would make me better at documenting everything but it's actually made me worse. One day I might regret it but as for right now, I'm just too gosh darn tired to start another hobby! 😀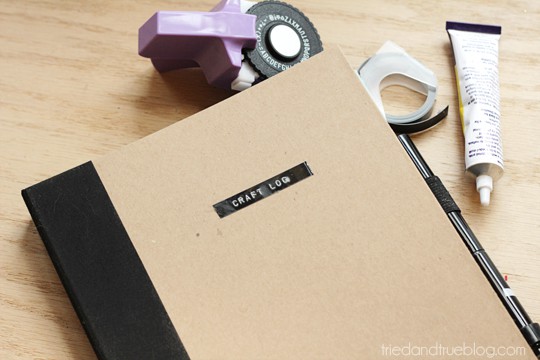 One thing I will never regret, however, is my insane love affair with scrapbooking supplies! It's all just so well-designed and useful…for things other than scrapbooks. Take for example, K&Co. SMASH line of scrapbook supplies. It's a great way to scrap on the go or when free time just isn't that plentiful. I've seen beautiful SMASH folios done while on vacation (which I'll totally be doing the next time we go somewhere!) but I've taken to using my Smash book for a completely different use…A Craft Log!
As crafters, you know how we're constantly being inspired by the world around us, which usually means we have an insane amount of magazine cut outs and fabric scraps just floating around, waiting to be put to good use! I use my Mod Black SMASH Folio to store and organize those ideas.
As seen in the picture above, I was able to sketch and design the Plastic Canvas Desk Robot that I made for Crafts Unleashed in my SMASH book. The opposite page stores the original pattern with the specific dimensions to complete the project. I hate to say it but I probably would have lost or accidentally thrown away that page a million times if I didn't have my SMASH book to protect it! (We're not messy, we're creative, right?)
I'm a little embarrassed at  just how happy it makes me to mark "completed" on my project papers with the Smash Date Stamp. Sure it helps me organize which projects have been completed and which are still just ideas but really? It's just fun to pretend your a librarian. 😉
I even use it to organize my possible sewing projects. Like this idea for Papel Picado Pillows. I got the original idea from a catalog but wanted to change it up a bit to reflect my own style and my huge addiction to Dia de los Muertos. I haven't actually made these yet (maybe in September!) but when I do, I know I'll be able to come back to this page to gain inspiration and direction. I've already picked out the colors, fabric, and design. All that's left to do is convert it to a Silhouette file and sew!
Whether you're storing creative ideas or family photos, one thing everyone loves about SMASH is how compact and versatile all the products are. You can create amazing pages with just a few supplies! I even sewed a pencil pouch to the SMASH Band so that I could easily transport my most essential pieces: SMASH Stick (Pen/Glue), Travel Cutter, Various SMASH Tapes, Various SMASH Stickies. Now I can store my Craft Log in my purse to capture any and all of those sudden moments of creativity!
What about you all? What would you all use a SMASH Folio for?