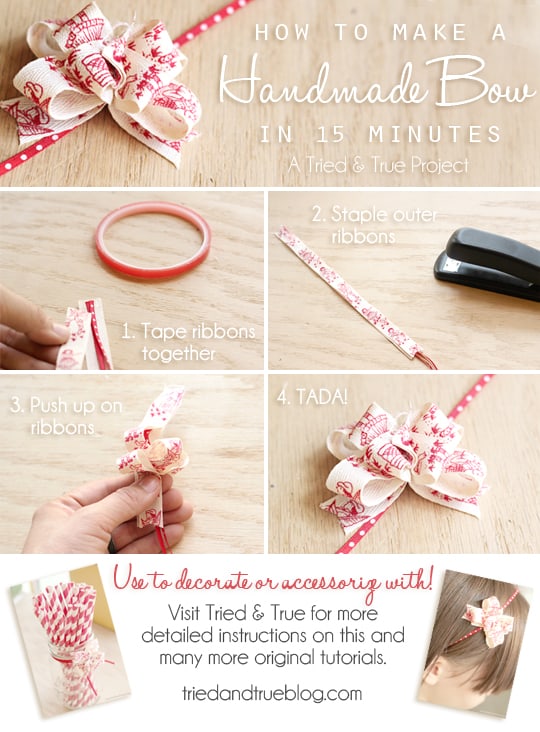 This tutorial may contain affiliate links for your convenience and to help maintain this blog.
I'm back with another fun project for Craft Lightning, where bloggers everywhere try their hand at the 15 Minute Craft Challenge! Previous projects of mine include a Glittered Rainbow Frame and Mouse Trap Clips. Today I'm going to show you how to make a really basic but totally useful project: A Bow!
I know what some of you are thinking…"I already know how to tie a bow and can do it in a few seconds!"…but this one is really cute and different than your standard bow! And after you get the hang of it, you could make a ton of these in 15 minutes and just have them ready to go. The most obvious place to use a bow like this would be on presents but you could also tie one onto a mason jar for decoration or make a cute headband for a little girl. See?! Pretty cool, right?
Make a Bow in 15 Minutes
Materials:
Instructions:
1. Pick out your ribbon or paper. (I've cut up left over wrapping paper and some of the kids' discarded artwork into 1/2″ and 1/4″ strips to make tons of gift bows that I store flat with my gift wrap.) Cut two 8″ lengths of the 1/2″ and 1/4″ ribbons or paper strips. If you're planning on making a hair bow, cut the 1/4″ ribbon twice a long (16″) so that you have plenty to tie around the head.
2. Adhere all the ribbons' ends together with a piece of strong double sided tape.
3. Staple the outer ribbon, making sure that you don't catch any of the smaller ribbons. If you staple straight on, the bow will also be straight. Stapling at an angle (like in the image below) creates a bow that goes out in all directions. Just play around, you'll see what I mean after you make a few!
4. Push up on the larger ribbon while securely holding the thin ribbons in place.
5. And that's it! So fun and easy, a great addition to any special event!
Here are some ideas for your bows:
Use to decorate a utensil jar
Wrap around a gift (I used a recycled paper grocery bag for this bow)

Tie around your hair.
The possibilities are endless! So,what are you going to make a bow for?
Thank you to Country Chic Cottage and 30 Minute Crafts for hosting Craft Lightning. Don't forget to stop by both blogs to check out tons of other fun crafts you can make in less than 15 minutes!