I'm so excited! Just as I was about to sit down and write this entry, I got a wonderful call from my mother…Baby Miles is here! Yay, I'm an Aunt. Which means I get to spoil this kid rotten and not have to worry what it will do to his routine! 😀
Since we were expecting about 40+ people at the Little Golden Books shower we threw my sister and brother-in-law, the cost of favors was going to be a bit tricky. We wanted to do something either edible or useful. I'm not a real big fan of knick-knacks that sit on a shelf, constantly reminding me that I don't dust enough…or ever, really.
So we went with small pockets made from Little Golden Book pages (idea grabbed from diywedding.org) and filled with "book worms." I bought two 4.5 lb packages of sour gummy worms off Amazon and had more than enough to fill about 60 favors. Just be careful if you're a big fan of sour things…do not open the bag before you need to fill the pockets! You will inevitably eat one and will not be able to stop. Holy sugar high, Batman.
You can, of course, just make the pockets without any labels but if you're also throwing a Little Golden Books shower, feel free to download the free printable tags below: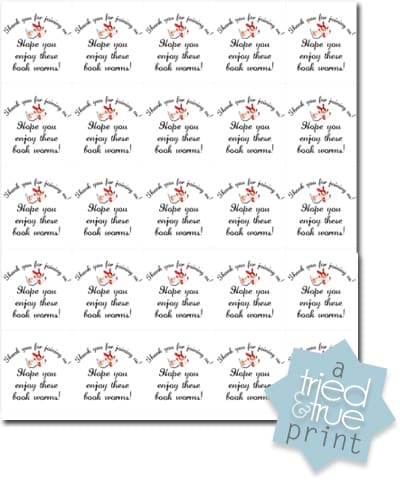 Pocket Bookworm Favors
Materials
– Little Golden Book pages
– x-acto knife
– sewing machine
– gummy worms
– printed and cut labels (optional)
Instructions
1. Remove desired amount of pages from book (each page will make two pockets) with an x-acto knife. Cut each page in half.
2. (Optional) Print and cut out the tabs you'll be sewing in. I layered the white tab over the blue paper (see next instruction).
3. (Optional) Punch out a decorative border so that the blue paper underneath is visible.
4. Gently fold sheet over onto itself, taking care to not crease the middle. Sew along the upper edges.
5. Get your gummy worms ready!
6. Place around 8-10 gummy worms in each package. "One for the pocket, one for me…"
7. Fold the unsewn edge of the pocket in the opposite direction, place your label in the center and sew in place. Repeat 60 more times! Whew. (Actually, it's much easier if you go step by step (assembly line style) if you plan on making a large amount of these. I was able to finish sewing the first part of the pockets and then stuff and finish them a week later when the worms showed up)
Ok, I'm off to eat some more gummy worms in celebration of my new little nephew!