Celebrate your love of reading with this Book Lover Coloring Page! Perfect for readers of all ages!
I remember when we had a brand new little reader in the house and it seriously sent shivers down my spine every time I overheard him sounding out his words. I was an avid reader as a child (and as an adult!) and have such fond memories of curling up next to a book, wishing it would never end. That's why I made this Book Lover Coloring Page!
Creating a Book Lover
A few years ago, I found a box of old books that had kept me company during my childhood. Flipping through the worn pages was like reconnecting with long lost friends! I want my kids to know that joy.
Some of the things that I feel have helped my boys become book lovers:
We buy tons of books from thrift stores. Hard to say there isn't anything that interests you when there are books everywhere!
Reading time is never used as a punishment. In fact, we've done the opposite. Reading time as a family before bed is a luxury and reward for getting all other responsibilities done in a timely manner.
They get to choose what they want to read. Even if it's the latest adventures of Farty McBottoms or whatever. It may not be what I would choose to read but they have to have some control.
We limit screen time so that there's room in their life for books. Even as an adult, it's hard to say no to a screen. Can you imagine as a kid?
Here are some more simple ideas on how to get your kids to love to read from Like a Bubbling Brook!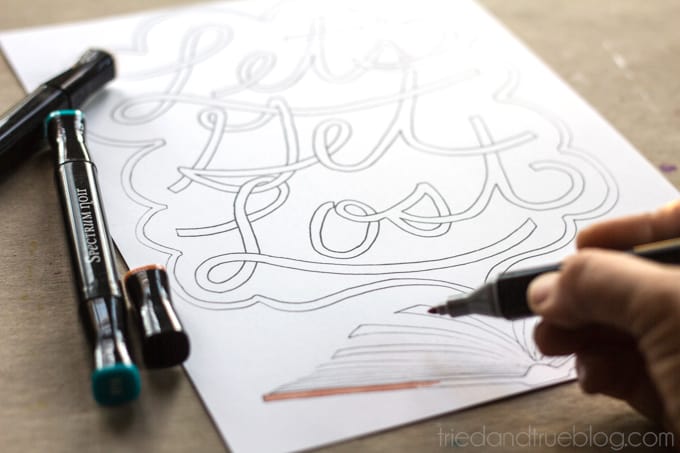 I made this Book Lover Coloring Page to celebrate the love of all things literary. Is there anything quite so lovely as getting lost in a book? I think not. Hope you enjoy coloring it!
Download Book Lover free coloring page!
I'd love to see how you customize this project so make sure you tag me on my social media accounts!
Instagram | Facebook | Pinterest
Want more fun coloring pages?