This post may contain affiliate links for your convenience and to help maintain this site.
I wrote a post about Kool-Aid Dyed Playsilks three years ago and it's still one of my most popular tutorials. The only problem is that it's not technically a tutorial! There's only one picture and no actual instructions on how to make them (I obviously was still getting the hang of a craft blog!) Since I had to make a new set of playsilks for nephew, I figured I'd revisit the Kool-Aid Dyed Playsilk tutorial and add some actual instructions for you all!
Kool-Aid Dyed Playsilks
Materials:
Instructions:
1. Based on the colors you want, assemble your Kool-Aid packs. You can reference the handy chart at the bottom of this post to determine which color combinations you want.
2. Place silk scarves in a pot of hot water with 2 tablespoons vinegar for 30 minutes to help the fibers absorb the colors. Remove one scarf at a time to dye.
3a. Stove Method: In a separate pot, pour 2 cups of water, 1/2 cup of vinegar, and Kool-Aid packs. Dissolve thoroughly over low heat.
3b. Microwave Method: In a glass bowl, pour 2 cups of water, 1/2 cup of vinegar, and Kool-Aid packs. Dissolve thoroughly.
4a. Stove Method: Place silk scarf into pot and stir to disperse dye. Continue stirring occasionally for 10 minutes, making sure the scarf is absorbing the color evenly.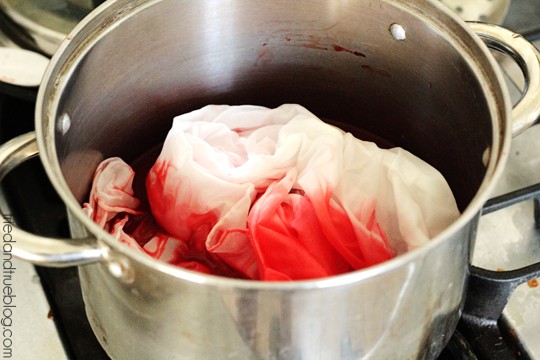 4b. Microwave Method: Place the scarf in the glass bowl and cover with plastic wrap. Microwave on high for three minutes and allow to sit for three more.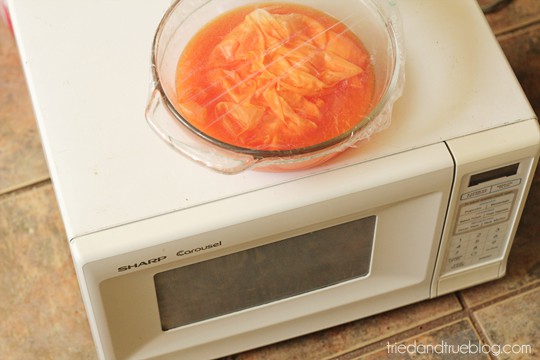 5. Allow scarf to cool. Over a colander, begin to rinse/wring your scarf until water runs clear.
6. Set your scarves to dry in the sun while you endlessly try to keep your kids away from them! 😀
Notice how the scarf on the right in the picture above has more of a tie dye effect to it? That one was done in the microwave and the one on the left was on the stove. It seems that the scarves I did on the stove top had more uniform coverage than the ones done in the microwave. I like the way both of them look but you can decide which method you prefer!
Assembled in a box with a pretty little card, Kool-Aid Dyed Playsilks make wonderful gifts! And in case you're wondering what kids do with playsilks…
And here's that handy little chart of Kool-Aid Dyed Playsilk colors: